2015 Ireland to Czech Republic
On June 29, 2015, Will Bulla, Mike Howell, and Jeb Hunt set out on a continental cycling journey across Europe. These three cyclists flew from Pensacola, Florida to Dublin, Ireland where they began their bicycle adventure in the Old World. Their bikes took them through flowered fields, by historic castles, and along winding rivers. During this trip they experienced diverse cultures, warm hospitality, and breath-taking beauty of a wonderful continent. For one month they lived as nomads, traveling through cities and towns, never knowing what was around the next corner.
View Photo Gallery of Europe Bicycle Tour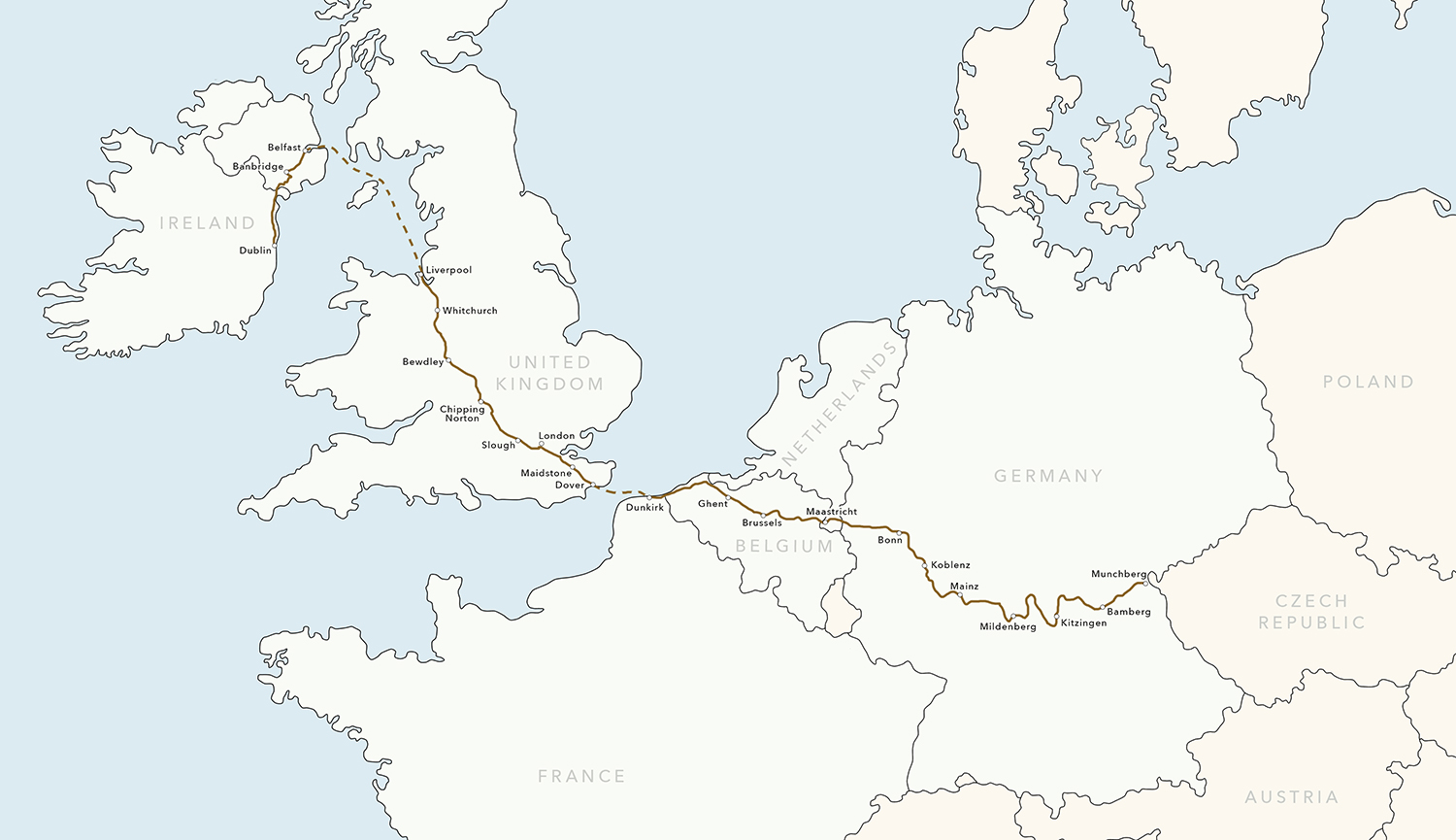 This blog details the 2015 bicycle tour of Jeb Hunt and Mike Howell from Ireland to Germany.
May 9, 2015 | Don't Forget
People have short memories. We so easily forget things. I'm not talking about forgetting where you put your keys, or not remembering to move your clothes from the washer to the dryer. I'm talking about something different.
Last week I had the opportunity to spend the weekend at an orphanage in Ouanaminthe, Haiti. This was my first time in Haiti. The Haitian landscape is beautiful. The people of Haiti are loving and friendly. However, poverty is abundant through the country. The orphanage where we spent most of our time is really making an impact in the lives of 36 children. It was a wonderful thing to see and be a part of.
I'm pretty sure almost everyone reading this blog is from a developed, Westernized country. As westerners, it's so easy for us to forget that 50% of the worlds population lives in a third world country. It's easy to forget that 80% of the worlds population lives in poverty. I needed a reminder of how fortunate my life is. I needed a reminder of how much more I should be doing to help. If you have never gone on any form of mission trip, you should find a trip right now. It'll adjust your priorities in an instant. I've been on numerous mission trips before, but it has been a few years since my last one and I had forgot so much. It is sad how quickly I had forgotten.
Fifty days from today I will be heading to Europe to start my second continental bike tour. It feels a lot different preparing for this trip versus preparing for my first bike tour across America. Though it'll be very different, I know what to expect this time. But I do need a refresher on many of the lessons I learned on my 2013 bike trip.
My journey on the TransAmerica in 2013 taught me so much, but it seems I've forgot so much in less than two years. I learned to slow down and take a day at a time. But within six months of returning I had returned to my "normal" busied pace of working life. I learned to disconnect and be more attentive to others. However, I still find myself always on my telephone, often at the detriment of those around me. Oh how quickly I forget.
Thankfully I have remembered a few things. I have remembered to be hospitable, even to strangers. When I returned from the 2013 adventure, I encouraged First UMC of Pensacola (where I work) to start hosting cyclists traveling on the Southern Tier ACA Route through Pensacola. Since December 2013 the church has hosted more than 150 weary touring cyclists. I've had the opportunity to take almost all of them out to breakfast the morning they leave the church and hear all about their adventures. It's a great, niche ministry the church is doing and I'm glad to be a part of it.
With only fifty days until I get on an airplane to fly across the pond to Ireland, it's time to really start stepping up the training. This morning Mike and I went for a 60 mile training ride. We left at 6:00am. The weather was perfect. The breeze was cool in the morning but the sun quickly warmed things up. I had initially planned to travel 50 miles to commemorate the 50 days until the start of the Europe bike adventure, but instead the ride ended up being closer to 60 miles. Every single part of the ride was beautiful. Towards the end of the ride we even passed by a lemonade stand run by three young entrepreneurs. We couldn't pass up the opportunity to enjoy the sugary drink. For just a dollar they freshly squeezed you a generous portion of lemonade. It was the perfect conclusion to a great ride. In some weird way the lemonade was a subtle reminder of the many unique experiences ahead as we find our way through 15 countries on a continent much different than our own. It will be an adventure and I'm so excited about it.
I'm hoping you'll follow our European bike adventure. I'll blog a few times a week in the days leading up to our departure and hope you'll continue reading in the days ahead. Until then…..50 days and counting…
May 29, 2015 | One Month Until
"When do you leave?" This is the main question everyone is asking me right now. Thankfully, the question never gets old. I love the anticipation and the excitement that comes along with the buildup to a great adventure. I enjoy the planning and training almost as much as the trip itself. (almost…)
Cycling across Europe isn't as easy of a trip to plan as cycling across the United States. The Adventure Cycling Association (http://www.adventurecycling.org) makes planning a long distance bike trip in the US very easy. On their website you can buy maps with literal turn-by-turn directions for 27 different long distance bike rides. The ACA is a great organization providing incredible bike touring resources.
The European equivalent of the ACA is the EuroVelo Bike Association (http://www.eurovelo.com/en/eurovelos). They have pieced together 15 routes across Europe. They also have maps available. However, they are not nearly as detailed. And this time we plan on taking a combination of routes to make our way across the continent. We have planned the general route using the EuroVelo system. But with only a month to go, a lot of nights and weekends are spent researching roads and cities in Europe, planning my own turn-by-turn directions for the upcoming adventure.
You don't necessarily have to have turn-by-turn directions planned out to have a successful bike trip. That's just the way I personally like to do it. Will is more of a "go where his bike leads him" kind of rider. I think Mike will be somewhere between Will and I. One of the main reasons I want to have detailed directions for this trip: I want to go fast. Almost like a race. I want to see how fast I can ride across Europe with a loaded touring bike. This might mean that Will, Mike and I won't ride together for the whole trip. We may even split up very early on the trip. But we are all prepared for that. I think we all have slightly different goals on this trip. Mine is to challenge myself as much as possible in the shortest period of time it takes to cross a continent. Going as fast as I can just sounds really fun to me. I suspect Will and Mike probably wouldn't give you the same answer.
I am fortunate to have spent almost six months in Europe previously. I spent a semester in 2001 visiting my sister Joy when she lived in England. We would travel around the European mainland on weekends. In 2002, my whole family took a vacation to see my sister while she was still living in England. I never thought my dad would actually travel oversees. I'm so glad he and the rest of the family did. It was such a fun time. And then in 2004, I had the opportunity to help two friends, Kelly Reeser and Patrick McBride, record a documentary in Europe. This trip allowed me to visit even more of the continent than I had previously visited. A few of us attended the Olympics in Athens, Greece. We spent some time in the beautiful city of Split, Croatia. We took a long train ride to Budapest, Hungary. And we were able to visit a lot of major cities like London, Paris, and Rome too. All this to say… I have been to Europe before. I don't feel like I need to see the main attractions this time. I am more interested in traveling the small roads and visiting the small towns on my race across the continent. This too is a different story than Mike and Will, both whom haven't spent time in Europe. They need to see the big sites, the main attractions. I hope to cycle as much as possible with them, but I also want everyone to finish the trip feeling fulfilled and satisfied that they have reached their own personal goals.
In the coming week or so I will write more about the specific route through 14 countries that I plan on taking. I look forward to sharing the adventure, and even the planning, with you.
"When do we leave?" One month from today the adventure begins again. Our plane leaves on June 29th for Dublin, Ireland. This second major bicycle tour has been in the planning stages since the finish line of the first trip. That has been almost two years. It's hard to believe in just 31 days it all starts again.
June 13, 2015 | The Route
A lot of people have been asking about our route. This should give you a general idea. Ireland, UK, France, Belgium, the Netherlands, Germany, Czech Republic, Austria, Slovakia, Hungary, Serbia, Romania, Bulgaria, and Turkey. Approx 2700 miles. Begins June 29th.
June 29, 2015 | Home By Another Way
The trip started at 3:20am. I wanted to be at the airport at 4:30am for our 6:00am flight. I actually slept pretty well and only woke up a few times from excitement. I woke up a few minutes before my alarm went off and headed to my parent's house by 4am. From there they drove me to the airport, where I later met Will and his parents. Check-in and security went fine. Before we knew it (and before most of you were probably awake) we were in Miami. Now we sit and wait. Our next flight doesn't leave until after 5:00pm. We didn't always have such a long layover, but when you buy a ticket so far in advance, flight times tend to change. And our first flight just happened to be bumped to an earlier flight. A much earlier flight.
So today I'm spending a lot of time in the Miami airport. I'm not complaining. I'm actually enjoying the slow start. It's giving me some time to decompress before the trip really gets going. It's also giving me some time to read for pleasure.
Before I left home Ms. Betty Olliff, the sweetest lady I've ever known, loaned me a book to read on the trip. A huge fan of Barbara Brown Taylor, Ms. Betty loaned me "Home By Another Way" which is a collection of sermons based on the liturgical Christian year. I had read some select chapters from the book before, but I had yet to read it all the way through. So I started reading from the beginning.
It's now halfway through our layover wait (around 1:00pm) and I just finished the fifth chapter. After reading this chapter I couldn't help but stop and blog a little about my thoughts of the upcoming trip. Chapter five is about the Epiphany, or the journey of the wise men and titled by the same name as the book. In the chapter BBT writes of these mysterious three characters who were sitting in their own countries minding their own business when a bright star lodged in the right eye of each of them. The point was, something beyond them was calling them to go and to search out for this something greater...
Now, please don't take this comparison too literally. I'm not trying to say that Will, Mike and I are the three wiseman. We are probably as far from that as we could be. But I can't help but translate the epiphany journey into my own journey that I'm about to take. I'm not sure what I'll find on this adventure, but I know I'm supposed to go. I have a general idea where I'm going, but honestly that may change. I'm just following the star. Will, Mike and I are starting this journey together but may very well be looking for three different things. And not one thing is better than the others. Our stars may take us in the same direction or they may not. But I do know we are all in search of something bigger, something more.
Finally, in the Epiphany chapter BBT writes "It's not that facts don't matter. It is just that they don't matter as much as stories do..." I'm going to let this insight help guide my blogging. I want to provide enough details so that I can remember the trip 20 years from now, and so you, as a reader, can get a feel for the trip. But this time I want to do a better job of telling a story.
When I waved goodbye to my parents early this morning, I said that I'd be back home in what seems like just a short time. In fact as soon as I start biking tomorrow or Wednesday I'm actually starting the journey home. It's just a journey home by another way. A way filled with breathtaking landscapes, diverse cultures and stories that have yet to be written. My hope is to open myself to fully experience this trip. I want to allow the stories of this trip to become a part of who I am and become a part of my own personal story as I follow my own star to lands far away in search of something greater than myself.
(Sent from my iPhone)
June 30, 2015 | Waiting and a "Beautiful Day"
After waiting all day in the Miami airport we finally loaded the British Airways 747. About an hour before we started loading, I enquired about my seat assignment. We're we checked in it had automatically assigned Will and I seats. One was a window seat and the other one a middle seat beside it. I wasn't excited about trying to sleep in a middle seat for 8 hours. The gate agent was very accommodating and switched me to an open exit row seat directly behind first class for free simply because I asked politely. I was very thankful. I tend to have pretty good plane karma I guess. The seat had copious amounts of leg room and only one passenger beside it instead of 2. And added bonus. A few minutes after sitting down Will texted me. Accidentally I had thought I had been assigned the middle seat, when actually his name was on the middle seat ticket. So now I had given away my window seat beside him no he was in the middle. I felt really bad about the mistake. However no one had been reassigned to my old seat and he was able to move over and have an empty seat next to him for the entire flight. So it all worked out.
The passenger next to me was named Lauren and she was from Ft. Lauderdale. She was probably in her mid 20s and very easy to talk to. We had some great conversations and I thoroughly enjoyed sitting next to her. Greta seat. Great company. It was a win-win situation. As we walked on the airplane it started to pour outside. Lots of thunder and lightning too. Of course this closed down the runway while we were taxing to take off. We sat on the runway for about 1 hour when the captain came on the speaker and said they were turning off the engine to conserve fuel. He wasn't sure when the runway would open. Thankfully right as he said that the runway opened and we were in the air soon thereafter.
I watched half of the movie "The Theory of Everything." Dinner was served at the halfway point and I just never continued watching it. I chose to sleep instead. It was a quality red-eye sleep. I wouldn't wish it upon anyone, but at least I did get some sleep.
Because of the delay we were an hour late getting into London. After going through customs we had missed our connecting flight to Dublin. These seems to happen quite often and they were very efficient in rescheduling. When we realized our change in schedule I texted Mike and figured he would check it when he arrived in Dublin and was wondering where we were. Sure enough that is what happened. Mike arrived in Dublin, quickly found his bike and the proceeded to the waiting area. That when his waiting began. We did finally arrive in Dublin about 2 hours later than originally planned and waited for our bike boxes. After waiting for nearly and hour we were finally informed that they didn't make it on the plane from London to Dublin and were on the next flight which arrived two hours later at 2:45pm. We left the baggage area and met up with Mike to wait. They did at least give us food vouchers. When the plane did arrive at 3:15pm we called about the bikes using the baggage courtesy phone, but no one would answer. So I had to track down an agent who finally told us where to go. More waiting in a back "staff only" hallway. Finally about 5:00pm we got our bikes.
We transported our bikes out of the airport near the car park. We found a a corner and started putting them together. Mike had mostly put his together in the same spot during the wait. When I received my bike from the airline it had been opened and gone through and not reshut. I was concerned that something was missing, but thankfully nothing was. We were able to put out bikes tougher with relative ease. Mike had a gear shifting issue, but was able to at least ride it until he figured it out the next day.
At this point we were exhausted. Jet lag and lack of sleep were catching up. During the long wait I had booked an inexpensive bed and breakfast near the airport. We needed to get some rest before starting. We finally biked the few miles north to the B & B and checked in. It was nothing fancy, but they did give us a room with three beds.
We unloaded our gear and went in search of dinner. Mike and I found a place called "Hogs and Heifers." It was delicious. Will was exceptionally tired and decided to instead skip a meal, grab some snack from a convenience store and head back to the room. During dinner "Beautiful Day" by U2 started playing in the background. It was nice to hear some U2 in the very birthplace of the band. And the words rang true too. No matter how tired we were, we had made it, put our bikes together and were about to set off on something great. But first we needed to sleep.
When we got back to the room Will was nearly asleep. Mike feel asleep soon after getting back. It was only about 8:00pm. I was able to stay awake until about 9:30pm. And it was still light outside. Yeah, it doesn't get dark until about 10:15pm. That's good for riding, not that great for sleeping though.
July 1, 2015 | The Sun Never Sets
Day 1 | Dublin to Banbridge | Jeb and Mike | 86.3 miles | 8 hrs 41 mins | 5567 feet ascent
No matter how tired we all were we still all woke up at 4am. Partly because of jetlag and partly because the sun starts rising around 4:30am. It's wonderful conditions for biking when the sun is up for nearly 17 hours. It's terrible conditions for sleeping though.
Mike was pretty concerned about his rear dérailleur on his bike and wanted to go to a bike shop before leaving town. I wasn't crazy about the idea, just because that would put us leaving town at 11am or noon. I wanted to cover a lot of ground and I was anxious to get going. So was Mike, but he was concerned about his bike, which I completely understand.
After tinkering with it a little in the morning (after being more rested than the day before) he was able to fix it rather quickly. That was great news for everyone. We anticipated that Will might split off from us and go into Dublin, and that is exactly what happened. Will ventured south into Dublin while we headed north towards Northern Ireland and Belfast.
The ride started out beautifully with rolling hills on country roads by wide open Irish countryside. You could see the excitement on Mike's face. This was the first time he had experienced this type of life. It really is a wonderful way to travel and see the country from ground level.
We started off moving at a pretty good speed. An Irish commuter cyclist pulled up beside us and asked where we were off to. We shared our short term goal of Belfast and our long term goal of Istanbul. "Well you are moving at a pretty good clip. Keep 'er up and you'll be there in no time." And then he sped off with his back pack and much lighter road bike.
As the day progressed we did slow down. Cross continental cycling is an endurance sport, of course. It's important to get in the miles, but you have to do it without wearing yourself out too quickly. Our scheduled goal was to get as close to Belfast as possible. Belfast is about 115 miles from Dublin. Yes, I'm still going to tell you distances in miles and not kilometers. I haven't converted yet. Yet.
I was relieved to find that gas stations existed in other parts of the world. Mainly I was relieved to find places to refill our water bottles along the way. Sure enough, just like in America, you can find gas stations spaced out conveniently to fill up along the way. That's good news. During one of our stops we purchased 2 pieces of fresh baguette bread, some packaged ham and 5 slices of red cheddar for lunch later. They were so great. Food just tastes better when your are starving and on these tours you are always hungry.
As the day continued on we entered into the hill country. I doubt it's actually called that, but the hills really did pick up. By the end of the day the GPS we are using for direction calculated that we had climbed 5567 feet. That's a lot. While it wasn't just one straight up climb, you could definitely feel the climbs.
The GPS is a new addition to this tour. When biking across the U.S. I used turn by turn maps from Adventure Cycling. These don't exist for cycling across Europe. So I bought a Garmin Edge Touring GPS with Europe map which is made for touring cyclists. It's absolutely wonderful. It gives you turn by turn directions, selecting the most cycle friendly roads to your destination. I don't know what I'd do without it (probably be lost a lot or spend a lot of time figuring out directions.)
I was happy to see (or hear, I guess) that Mike also makes animal noises while passing animals on the road. I tend to do that a lot also. Mike does sometimes get startled by the animals though. One fenced in horse unknowingly began galloping beside Mike while riding and he was clearly startled. His bike may have even made a slight bunny hop.
At about mile seventy Mike was getting fatigued. I wasn't completely aware what Mike's pain threshold was and I felt like it was my job to test his limits. When we arrived in the city of Castlewellan, Mike suggested we call it a night. But I wanted to continue on. It was around 7:00pm, but that still meant we had at least 2.5 hours of sunlight left. So he reluctantly agreed to continue. I did briefly forget that we had woken up at 4am. Cycling til dark makes for a long day.
The itinerary I wrote called for 2 days to get to Belfast. I'm going to try to go faster than my itinerary whenever possible. So that's why I wanted to push on. With about 25 miles left until Belfast we realized we weren't going to make the 100+ ride to Belfast in one day. Mike was done and I was fading fast from being up so long. We had pushed it really hard. Camping is enjoyable when you've had an average to easy day, but it can be less than enjoyable when you are exhausted from cycling longer than expected. So without much urging at all, both of us agreed to find the nearest bed. That nearest bed turned out to actually not be very near. It was about ten miles off route in Banbridge. But once you have a comfy bed in your mind, there is no turning back. So we ventured on.
We ended up arriving in Banbridge about 10pm right as the sun was setting. Thankfully the decent into town was long and unexpected. Initially I was worried because the hotel looked closed. But we were just at the wrong entrance. After finding the correct entrance we now needed to find someone to work at the reception desk. We ventured into the attached bar and finally found someone who was able to help. The guy was pretty sure they were all booked for the night, but we insisted that they could find something. Eventually he did find two single rooms. At this point they could have charged us anything they wanted, but thankfully it was reasonably priced at 50 pounds. (Not sure where the pound symbol is on my keyboard.) We were really hungry, but nothing was open that late. So we went straight to bed. Up from 4:00am until 11:00pm. More than 8hrs of that was constant cycling. Day one was a success, but a tiring success. Tomorrow we continue to Belfast which will be a much shorter ride. And we have all day to do it because the ferry leaves at 10:30pm to Liverpool. Sounds like a plan.
July 2, 2015 | Found and Lost
Day 2 | Banbridge to Belfast | Jeb and Mike | 35.1 miles | 3 hrs 13 mins | 2198 feet ascent | Total Trip Miles 121.4
I woke up at 4am again. It's that dang sun spilling light into the room before 5am. When do people ever sleep around here? I guess they must have good blackout curtains. Thankfully I was able to go back to sleep until about 6:15am. I still needed to wait for breakfast though, which didn't start until 7am. And I was starving from the previous night.
When we walked into the breakfast area, which took us a while to find, all we saw was cereal, milk and some fruit. It seemed like that's all you had to choose from so I helped myself to some corn flakes and a banana. We were pleasantly surprised when the waitress asked us what we would like to order for our hot breakfast. Mike ordered the classic meat and eggs breakfast, while I had eggs benedict with hollandaise sauce over toast. Man, oh man, did it hit the spot.
After breakfast we packed up and headed out. The ride to Belfast started out great. It was a fast ride over rolling hills on back roads. Mike was feeling much better than the day before and had recovered nicely. And if things couldn't get any better, they did! I found a Irish license plate on the side of the road. I hadn't decided what I was going to collect on the trip this time, but I just couldn't pass it by. I may collect something else too, we will see. When biking across the U.S. I got really good at spotting them. I lucked out that this one was laying face up right next to the road. They are definitely a different shape and material. It will take some practice to spot any more of them.
Some of the rolling hills built into a few major descents. Halfway down one of the descents, Mike was so excited that he stopped and pulled out his Go Pro to record the rest of the descent. He held the camera up in his left hand while gripping the handbars with his right. All was well until I saw Mike stop at the bottom of the hill and turned around. "What happened" I yelled as I biked closer to Mike. "I hit that bump at the bottom and dropped the Go Pro. I had to chose between crashing the bike or dropping the camera." Surely we will be able to find it we both thought. It was in the protective case and those things are nearly indestructible.
Two hours, 3 borrowed rakes, and 3 additional Irish helpers later, it still couldn't be found. Mike was pretty sure it dropped right at the bottom of the hill but it landed on his front pannier briefly. And he was going about 30 mph. It could have bounced a lot of places. Both sides of the road had thick bushes all around. Multiple cars stopped and asked if we needed help. One lady insisted on helping. She brought her own rake and helped us borrow two more from a neighbor. She helped rake through and underneath the bushes on both sides for at least 20 minutes. Still there was no sign of it.
Our one last hope was hearing the 7 beeps that it makes when the battery runs out. We estimated that would take at least an hour to an hour and a half. Mike sat quietly trying to listen for the beeps. No such luck. Finally we asked the neighbor whose yard it most likely landed in to be on the look out for it in the future. He said his wife is an avid gardner and if it was to be found, she would find it. Mike left his number and address just in case it was found. So now there is a Go Pro hidden somewhere on Mill Street in a nice neighborhood in Northern Ireland. If anybody finds it, it's Mike's.
We reluctantly got back on our bikes and continued towards Belfast. Before long we had arrived. It is a beautiful city, and though there was lots of traffic, the roads were made with cyclists in mind and we greatly enjoyed cycling through downtown. The drivers are also incredibly courteous to cyclists. It's quite a change from the states.
Once arriving in Belfast we made our way to the port to try and secure out tickets for the ferry to Liverpool. The bike across town took us a lot longer than expected, but we did arrive to the port around 4pm. The ferry office was actually closed and it was suggested that tickets needed to be bought online. So we journeyed away from the ferry terminal in search of dinner and some WiFi to purchase our ride to England.
The first pub we found was the Port Side Inn and it looked like it would be the perfect stay for the afternoon until the ferry left. The staff was incredibly friendly and we secured a seat outside in the beautiful weather next to our bikes. I ordered pan fried chicken with champ (mashed potatoes) and Mike asked for most Irish thing they had. They suggested the steak sandwich and chips (fries).
While eating dinner I tried to buy tickets for the ferry online. However their website was not cooperating. We eventually decided we should call instead and Kirsten, one of the waitresses in the pub, was actually kind enough to call for us. Before we knew it we had two tickets to Liverpool and a cabin to sleep in on the overnight ferry.
I was also impressed that all the TVs in Ireland and Northern Ireland are currently tuned into Wimbledon. I'm a huge tennis fan and it's great to be around other fans. I saw Nadal lose and enjoyed conversations with some of the other patrons while watching. My dream goal is to successfully queue in line for tickets to the men's semifinals on Wednesday when we arrive in London. Wish me luck.
We hung out at the pub until about 8:45pm then made our way back to the ferry terminal. We checked in and were escorted to a trailer where our bikes were to be placed for carriage unto the ferry. We grabbed the items we needed for the ferry ride, wished our bikes a short farewell and boarded the bus which took us to the boat.
I'm always impressed with how nice ferry boats are. Our room was comfortable and had all the amenities you could want including a TV, shower, and WiFi. Plus it felt so good to be traveling while sleeping.
Upon arriving in the room we each got a shower, placed all our electronics on chargers and then went to bed. It wasn't a long day, but it was a successful day. We are still on schedule and everything is going great.
July 3, 2015 | The Unsuccessful Parting of Ways
Day 3 | Liverpool to Whitchurch | Jeb and Mike | 45.6 miles | 5 hrs 10 mins | 1853 feet ascent | Total Trip Miles 167
We were super excited about our lodging arrangement on the ferry, however for some reason Mike didn't sleep very well. I slept fine besides the fact that we arrived in Liverpool at 6:30 and had to vacate the boat.
Will was also in Liverpool at the time and there was talk of meeting up with him when we arrived. For some reason that didn't happen. As we were going through customs, we asked the officer where a good place to grab breakfast might be. He suggested McDonalds and gave us directions. Not sure if he chose McDonalds because he personally liked it or because he assumed that is what every American wants. Anyways, we went to the McDonalds he suggested.
Mike was still planning on trying to meet Will at his hostel after breakfast. The two of them were then probably going to ride to Manchester which is northeast. I wanted to keep following my original plan heading towards London, so we decided to split up. We said our good byes and both headed off in different directions.
Once Mike left I programmed the GPS to take me to Birmingham. However the GPS was having issues finding suitable biking roads. It was also taking a long time to calculate. I headed off in one direction only to realize that I had missed the turn. Then it had to recalculate again, which took a while. I decided to pull off to the side of the road and actually look at the physical map I had brought with me. While I was looking at the map Mike rode by. I waved at him and he stopped. Strangely enough a similar situation had happened to him. The GPS was trying to take him on a 20 mile route to Will's hostel which was only 2 miles away. I guess the GPS isn't designed for big cities.
After a few minutes of discussing where Will's hostel was, I just convinced Mike to stick with me and head to the Birmingham area. We decided that it would probably be more fun to stick together anyway.
We plotted out which direction we needed to go using the map and headed that way. It was slow going. The traffic in Liverpool was heavy. The journey out of town was slow. We got stuck on some interstate like roads with lots of traffic and fast moving cars. There was a headwind. My chain briefly got stuck, but I was able to fix it. I dropped my iPhone and cracked the screen. It was not an enjoyable ride out of town. We both decided we liked open fields and lots of sheep around more so than congested streets and lots of cars around. We were anxious to get out of town. It's mornings like this one that make you question everything.
After about ten very slow miles we stopped for lunch in the town of Chester. We were both pretty hungry and craving pizza. Luckily we found a Dominos and ordered a large pizza to share. We walked the pizza and our bikes over to a neighboring park and ate the pizza in the grass. We were desperate to turn this day around.
We could feel the fatigue setting in our bodies. Endurance trips like cycle touring require that you push yourself both physically and mentally. Today was pushing us to the limit of both. We convinced ourselves that a nap was in order after our pizza lunch. So we laid down in the grass next to our bikes and dozed off. I happened to catch plenty of people walking by looking at what must have looked like two homeless people camping out in the park. We didn't care.
About an hour later we were ready to give the day another try. We tried to program the GPS again and this time it gave us a nicer route. The ride was full of some pretty steep climbs and strong winds, but luckily as we got out of the city the traffic settled down.
One of the roads we traveled on was particularly nice. One one side was a canal full of long and skinny house-type boats. One the other side was train tracks which was frequented by many commuter trains. And on our road were plenty of other cyclists. I knew we would run into other cyclists on our trip, but I didn't expect there to be so many. It appears everyone in Europe owns and rides a bike. It's a beautiful world over here. The bike is king.
The rest of our ride involved lots of open fields, sheep, small towns with churches at the center, old graveyards, tractors passing, and streets only big enough for one car (even though 2 cars and bikes try to use them, sometimes all at the same time). It was so much better than the morning ride.
After the slow morning we knew that we probably wouldn't make Birmingham. And at this point we weren't even sure we wanted to go through Birmingham because it is also a big city like Liverpool. So we decide to amend our route.
We set our eyes on the smaller town of Whitchurch and plugged that in as our final destination. Thankfully the sun had been out all down. I noticed I was starting to get a sunburn especially on my shoulders. I decided to ignore it for a little while. I had put on sun screen, but I guess it had worn off.
The descent into Whitchurch was great. I noticed that they tend to either build cities on hills or in the valleys. When they build them in the valley you always have a dramatic, fast paced descent into town. It's always a great way to make an introduction.
We decided to eat at the White Bear Pub and make decisions about where to sleep. We both order fish and chips and the portion size was huge. We made plans for the coming day and started requesting to stay at Warmshower homes tomorrow. So far we had been behind on using Warmshowers, mainly because it just takes a little preplanning and knowing when and where you will arrive.
We had hoped to travel twice as far today. So now we are behind schedule. That is ok, but something I have to keep in mind. I made the plan ambitious enough that there was room for error. And there can be plenty of errors that happen on a bike trip. It is all about dealing with the situations as the arrive.
We found another motel to stay at for the night. So far we have stayed at three motels and slept on a ferry. We need to camp sometime soon (because we have all our stuff and it's cheaper) but the situation hasn't been suitable for camping yet. Hopefully that changes soon. Thankfully we did receive word that we did have a Warmshower host say we could stay with them the following night. We made plans to make our way to their home tomorrow night in Bewdley and called it a night.
July 4, 2015 | Making Friends with the British
Day 4 | Whitchurch to Bewdley | Jeb and Mike | 57.2 miles | 5 hrs 51 mins | 4074 feet ascent | Total Trip Miles 224.2
I guess sunburn art is a thing on Instagram. At least BBC morning news says it is. BBC was playing in the background during breakfast. "I wonder if our cyclists sunburns would count as sunburn art?" I thought to myself. I decided probably not. "Coffee or tea?" asked the waitress. "Tea" I responded. I figure I should drink tea and not coffee while in England. A few minutes later the waitress also brought Mike and I both a full English breakfast. I like the eggs and toasts. Still not convinced about the baked beans. Mike isn't a fan either.
After breakfast we headed out and began our ride towards Bewdley. During the morning ride I found another license plate, but it wasn't in very good condition. I wasn't sure if I should pick it up or not, but I decided to anyway. I can always throw it away if I decide I'm only collecting ones in good condition.
The ride started with gentle hills and we were able to cover 20 or so miles before lunch. Around lunch time we found a nice stopping spot near a bridge and river. Wade lunch using supplies we had in our panniers and enjoyed the sounds of the running water. Mike noticed a large egg in a nest near the shore of the river. "What kind of egg is that?" Mike asked. I had no clue. It was larger than a typical bird egg and it was in a nest on the shore and not in a tree. I guess we were just going to have to look it up later online.
A few minutes later a lady rode by on a horse. "Do you know what kind of egg that is?" I asked the horse rider. "A swan egg," she said. "The other 4 have hatched. That is the last one." Swan egg. Why hadn't I thought of that. Made perfect sense. Nice to know. I stood on the bridge looking down at the egg hoping that it would hatch while I was standing there eating my lunch. I had my camera ready. However I guess right then wasn't the moment. So we finished up lunch and moved on.
The ride was a little windier after lunch, but thankfully it was a side wind mostly, and not a head wind. It was also a little more overcast than the previous days, but the sun did break in often.
After lunch we experienced some steep climbs and steep descends. Many of the descents were inside of towns. These kind of downhills make me a little nervous because you never know when you are going to need to come to a stop for a stop sign or another car. And on my bike I need a few seconds to stop. So I tend to be overly cautious in towns. I tell myself that isn't a bad thing.
We also experienced our first ride through what appeared to be a national (or protected) forest. It was a beautiful, shaded ride. Quite a few people were stopped at the rest stops in the forest. It was a lovely Saturday and the British were enjoying their time off.
We passed so many beautiful churches and one was having a wedding on this Saturday. A fancy, classic car was waiting outside for the ceremony to finish. About 5 minutes after we passed the church the steeple bells began to ring out in celebration. They rang for 5-10 minutes announcing the new marriage. Part of what I love about bike touring is being able to experience the surroundings with all five senses. You never know what is about to happen around you. It makes you feel so alive.
In the same town as the wedding church, we found a house to get water. We were nearly out and a lady had just arrive home and was getting out of her car. We weren't sure how far the next store was, so we asked if we could fill up our water bottles. She was kind and said yes. "I really like your jeep," said Mike. "It's a Land Rover. Jeeps are American. Land Rovers are British made." I laughed a little bit. I use the word jeep to describe that style of vehicle. I forget that it is an actual brand name (sort of like Kleenex). I would have made the same mistake. She was nice about it.
Thirty-six miles into the trip I was feeling pretty tired. Mike was still going pretty strong. Thankfully at the top of a hill on the outskirts of one of the towns was a Texaco. It might not sound like a big deal to you, but at the time it was like a mirage. I was hungry and I now had food options. I went inside and found a chicken sandwich, some ice cream, and some fruit. This was going to help. I knew it.
After snack time we pushed on to Bewdley and our Warmshowers host. Every experience I've had with Warmshowers has been great. I was interested to experience it again. Once again the rest of the ride was hilly. Even more hilly than the morning. When we arrived in the center of Bewdley, we asked around for directions and found directions to where our hosts lived.
David and Bernie Lock lived at the top of the world steepest hill. Ok, maybe it wasn't as steep as some of the San Francisco hills but it sure was close. At this point we were pushing our bikes up towards the directions we had received. Thankfully we soon arrived and knocked on the front door.
We were greeted by David and Bernie who let us put our bikes in their garage before showing us around their spacious English home overlooking a beautiful back yard. They showed us to our rooms, which were for two of their kids who were now gone away to college or older. They invited us to take a shower and get comfortable before the BBQ dinner they had prepared in honor of their American guests on the Forth of July. David's mother and David and Bernie's son also joined us for dinner.
We ate outside on their veranda overlooking the beautiful countryside. You couldn't see any other houses in the distance and the view seemed to never end. Once the sun was behind the trees it cooled off and became a lovely evening. Dinner started with bagel and fresh salmon, before a main course of steak, sausages, potato salad, green salad, and rolls. And for dessert we had a cake from from David's mom's charity bake sale she was at during the day. It was all delicious.
The conversation was wonderful, discussing British and American politics and other comparisons between the two countries. During the conversation David quickly referenced when he was MP. I realized that this meant he was a representative to the British Parliament. How cool for us to be staying at the home of a former MP. Once I realized this I had so many other political questions and David was happy to answer them all.
In addition to being a former MP, David is currently a type of civil rights trial lawyer and Bernie is a doctor. They are both very experienced bike travelers too. They have taken so many bike tours including one through the U.S. during the same time I rode across the U.S. We compared our blogs from our U.S. trips and I realized that we were only 100 miles apart from each other at some times. Crazy how small the world is, riding a bicycle will remind you of that.
In addition to providing us a place to stay and preparing a wonderful feast they also washed a load of clothes for us. Such a treat. After dinner and great conversation we retired for the night. It was such a wonderful evening and I didn't want it to end. I should have never had that last cup of tea though. The caffeine kept me up until about 1, much later than my body wanted. But eventually I drifted to sleep in my bed at Hitterhill house in Bewdley.
July 5, 2015 | It Seemed Like a Good Idea at the Time
Day 5 | Bewdley to Chipping Norton | Jeb and Mike | 60 miles | 5 hrs 50 mins | 3835 feet ascent | 284.2 Total Trip Miles
Morning came much too early after not falling asleep until after 1:00 am. Around 8:00 am everyone in the house did begin to stir and we knew it was time to wake up. We had some cereal while we compared travel blogs with David.
Last night we had discussed the best route for the day and David had suggested a route to Chipping Norton via Stratford-upon-Avon, the famed home place of William Shakespeare. It seemed like a great route for us. We also figured out how to change a few settings on our GPS. We switched from "quickest route" to "least elevation." We decided the fewer climbs the better.
After our breakfast Bernie packed us 2 bagels with cream cheese for the road. It was an incredibly thoughtful gesture and we looked forward to enjoying a second breakfast of bagels at around mile 10.
As I mentioned in the last blog, bike touring is a multi-sensory sport. You get to experience your surroundings using all your senses. As we passed one field in particular it smelled strongly of spring onions. I love the smell of onions. I guess the onions made us hungry again because soon after we stopped and devoured the bagels.
At around lunch time, or a little earlier, we stopped at a shop in the town of Freckenham. A few local cyclists had stopped also and we chatted about our trip. Everyone we've meet has been super nice and supportive of what we are doing. It's always a nice addition to the trip to meet people and talk about the experience.
The shop had some hot beef pasties for sale and I picked one up for an early lunch or snack. I wasn't sure what a beef pasty was, but it was similar to a beef pot pie. The pasty was tasty. After our snack or small lunch we continued on.
That afternoon one of the roads in the following towns was completely overrun with water. We both stopped and looked at what we were supposed to do next. Did cars just drive through? Were we supposed to just wade our bikes through? Eventually we noticed a sign next to it that read "Cyclists advised to use footpath" That was helpful. So we just went around. We ran across a few more of these flooded roads with alternate paths. I like how instead of fixing the original road, they just deal with it by making an alternate path.
Later in the afternoon we did arrive in Stratford-upon-Avon and it was bustling with people. People everywhere. In addition to being a tourist attraction because of William Shakespeare, they town was also having a boat festival. Mike and I sat down on the side of the park in town and people watched. A few of them asked us about our trip and we shared our route and stories. As we rested for a little bit, we soaked in all the activity around us.
After walking through the park a little and taking a few pictures, we decided to continue on our journey via a well used bike and walking path. We had our rain coats on for a lot of the day because of the multiple 5-10 minute showers. It never really rained hard, just light sprinkles. But we did find that it was raining hard enough that we needed to keep our jackets handy.
By late afternoon we were both getting extremely worn out and tired. We realized that we had never had a substantial lunch. We had snacked a little, but our calorie eaten to calorie burned ratio wasn't good. And we could tell it. We were fatigued.
After a few more climbs we could tell we were getting close. The turn before Chipping Norton was called Over Norton. The climb to Over Norton was substantial. "Surely Chipping Norton is downhill from Over Norton," I mentioned to Mike. "If it is not, then the city was given a very stupid and misleading name." Thankfully the name was accurate and we were in Chipping Norton soon there after.
After finding a place to stay for the night we needed to find something to eat. Thankfully there were plenty of places to choose from. We were both so hungry that we wanted to find and buy the most food that we possibly could. The best option seemed to be to order a pizza and take it back to the room. We found a pizza place on the edge of town and walked to it. We ordered a Hawaiian style pizza and an order of cheese sticks. When the order was complete they threw in an extra set of cheese sticks with mushrooms. It appeared they had got the order wrong initially and decided to give us the mistake order too for free. It was going to be impressive if we could eat all this food. I was so hungry, I felt like i could.
Once we got back to the room we quickly started devouring the food. It didn't take us long to slow down though. It seemed like a good idea at the time, but eating a lot of pizza after riding 60 miles and right before bed is never a good idea. You live and you learn. Surely we won't make the mistake again. Who am kidding? It'll probably happen again.
July 6, 2015 | Taking It Slough
July 6 | Chipping Norton to Slough | Jeb and Mike | 69.3 miles | 6 hr 32 min | 3634 feet ascent | 353.5 Total Trip Miles
The pizza didn't seem as good of an idea in the morning. We both had a pretty rough start, but me especially. I didn't want any breakfast really, but I forced myself to have some eggs, toast and tea (or about 1/3 of a full English breakfast.) We still had about a large box worth of pizza left and Mike was convinced we shouldn't waste it. I liked the idea, in theory, but I wasn't planning on eating any more. Anyways, Mike strapped the entire box using bungee cords to the front of his bike. "I feel like a pizza delivery man!" commented Mike. He actually did look like a pizza delivery guy with the pizza strapped to the front. I can only wonder what passerbys thought.
I let my stomach get settled before we headed out for the day. Once on the road I was fine. I love how much fresh air we get to intake everyday. It's so nice to be outside for the majority of, if not the entire day. Mike did end up eating a few pieces of pizza during the ride that morning, but quickly got tired of it and threw the rest away.
Our ultimate destination for the day was London or somewhere nearby. We knew we would have to push to make it to London, but we desperately wanted a rest day the following day. So we pushed.
Sometimes the GPS can take us on strange trails. A few days ago she took us down a huge set of steps thinking it was a bike path. It wasn't fun carrying the heavy bike down. Actually Mike really didn't seem to mind the upper body workout. I didn't like it at all. Today she was taking us down what appeared to be a private dead end road. We would have turned around, but we were way too far in it before we realized the situation.
The road lead us into a cow pasture where some of the cows were sitting in the road. This was the first time where we could have direct contact with the animals if we had wanted. There was always a fence between us and them before. As we got close all the cows walked away while acting annoyed at the inconvenience of having to move. The road continued on. "What if this is someone's really long drive?" Mike asked a few minutes later. Five minutes later we rounded a bend and could see a massive mansion. It was huge. Almost castle like. Mike was right. Somehow the GPS had considered this persons estate to be a big enough road to route us on it. I slowly biked by and admired the beautiful house. I was sure this was the home of some London billionaire who enjoyed the convenience of London with the privacy of living outside the city. Small fact: I read an article recently that London is the home to more millionaires per capita than any other city in the world. I knew people had to be rich, because it's expensive to live and visit there.
As we got to the front of the driveway of this massive estate, there was a massive gate and entry building. We weren't quite sure how we were going to get out. Luckily we were already on the inside of the gate which had an automatic triggering that opened to let cars out. We wouldn't have been able to experience the massive estate from the other direction, but somehow we snuck in the back way and out the front gate. It was a mistake, but a really cool mistake.
During our next little section of ride I did find another license plate. This one was is great condition and was actually made out of the same material that our license plates are made from. I've noticed that is not always the case over here. Some are made of plastic. Those aren't nearly as durable. So now the plate count is 3 (or 2.5 if you count the bad condition of the second one.)
Our route took us through the historic college town of Oxford. When we arrived in Oxford we were ready for a lunch break. We stopped at a nice deli called deli-licious and the food was great. I ordered some tea and a wheat baguette with turkey, bacon, brie cheese and raspberry chutney. I wish I could take credit for the creation. I can't though. I asked the cashier what she recommended and that is what she came up with. I commented how great it was afterwards. "It sounded so good that's what all of us are going to have for lunch too," she said while she was pointing to the other workers.
The rest of the afternoon went well. We stopped in the mid afternoon at a gas station for an ice cream break. I've found that an ice cream bar is a good 3:00pm break if the situation allows. Mike hadn't experienced the beauty of an ice cream break until today. He was impressed. Now all ice cream breaks are for two.
After our break we went through a small river side town. We soon learned that the river was the Thames. This was our first view of the Thames on the trip. I knew we were getting closer to London now. We could have loaded our bikes on a boat in town and paddled instead of pedaled into London.
We kept on pushing from this city to where we considered sufficiently close enough to London. We never had a desire to really stay inside the city of London. First of all, it would be much more expensive. We figured we could stay on the outskirts, leave our bikes for the day, and train to the center of town. I didn't want to have to deal with watching all my stuff and the bike with all the people around.
As we were biking towards London, in one of the cities, I did loose a screw in my bike shifter. I couldn't find it once it popped out into the road, but my gears wouldn't shift without it. It wasn't a great situation. I tinkered around with it for a few and thankfully Mike found an extra screw in his bag that was the same size. It didn't completely fix the problem, but it made most of the gears functional again. I'll need to get it checked out at a bike shop eventually, but it's working for now. Crisis one averted.
We decided to stay in an western suburb of London called Slough. It's near Heathrow airport. We looked into a few hotels, but they were all booked. Then we found another and it too had no vacancy. Well, this wasn't going well. Finally I found a small B and B called the Datchet Mead Hotel available on the outskirts of town and we biked to it. Thankfully they did have one room available. And we could stay for two nights. Crisis two averted. Tomorrow is our off day and we are looking forward to it. We have been on the road for week and can tell we need a break.
July 7, 2015 | Wimbledon
July 7 | Rest Day in London | Jeb and Mike
Both Mike and I needed and wanted a rest day. We have been on the road for a week without a break and our bodies are crying out for a little bit of relief from the constant daily struggle of pushing a 75lb bike beast up and down hills, in and out of cities and traffic, dodging sheep and cows. It was going to be nice to be able to leave our bikes at the hotel for the day.
I knew what I wanted to do on my off day. I wanted to get tickets to Wimbledon. I knew that day of tickets were possible, but could be hard to get. Ideally I wanted to get tickets to see Federer or Murray the following day, but I wasn't sure how early you needed to arrive at The Queue. The Queue is the line process for trying to get day of tickets. Mike wasn't interested in going to Wimbledon but we rode together from the train station at Slough to the Wimbledon Park tube stop. The transit took about an hour with us having to switch trains at Paddington Station. Mike grabbed some Burger King while at Paddington Station.
While traveling on the queue we realized that July 7, 2015 was the 10 year anniversary to the day of the London transit bombings. At 10:30 there was a moment of silence. It was slightly surreal to be using the transit on an anniversary like that. I remember hearing about the bombing during a mission trip side trip to Uruguay.
Once we arrived at Wimbledon Park we started walking towards the queue. Mike realized that he wouldn't even really be able to see the stadium from the queue so he turned around and headed back to the city center to do some sightseeing on his own. I had brought a bag full of supplies to camp overnight. I had read that camping overnight in the queue is your greatest chance to get day of tickets. Once I found the queue all my bags went through security and were scanned. I was confused because they told me I couldn't take my tent or flashlight. They made me check them at a luggage station. I figured I'd just have to camp without them. They then gave me a voucher telling me what number I was in the queue.
I continued following the directions of the stewards who were directing the queue. Before long I realized I was at the Wimbledon ticket booth and they were asking which tickets I wanted to buy. It was at this point that I realized I was too early to buy tickets for the following day. The overnight queue didn't begin until the play from the previous day was over. Little did I know that I was being too ambitious. I was used to getting in the Best Buy line very early for Black Friday sales. I was experienced at the waiting in line process. I just overshot this one.
I inquired what tickets were available for the day. The ticket operator informed me that he had just been given an 8th row ticket for center court. I couldn't turn it down. When else would I have the opportunity to watch a Grand Slam from the 8th row of center court at Wimbledon. I was excited to say the least.
I wasn't even sure what time the matches started or who I was going to watch. I knew that it was the ladies quarterfinals on center court, and regardless of who it was, it was going to be a neat experience. I found my seat and within 30 minutes the players were walking on the court. Then they walked off after warmup, because it started to rain. They quickly covered the court. Then it stopped raining. They uncovered the court and the players came back out. That must happen all the time.
There was so much to look at. Tennis commentators and TV cameras were on the side. The royals box was in view for everyone to see. I couldn't recognize anyone in the Royal's box though. The ball boys and line judges all worked with supreme precision. I knew I was going to enjoy this
The first game was Sharapova v. Vandeweghe. Sharapova is known for her screeching while playing. Yep. It is as loud in person as it is on TV. The game went to three sets with Sharapova winning. They both played very well with the game only going towards Sharapova at a few key points. The game seemed closer than the score shows.
The next game was Serena Williams v. Azarenka. Serena is currently rated number one in the world and was a sight to behold. She lost the first set, but came back to beat the 23rd seed in the next two sets. I was so into watching the games that I had forgot about lunch and I was getting hungry. I quickly went and grabbed some food and brought it back to my seat during the switchover.
Combined the two games lasted between 5 and 6 hours. I had got to Wimbledon before noon and it was now after six. I was convinced that I had successfully used my rest day. Before leaving I visited the Wimbledon shop, bought a few light trinkets and then walked around the grounds for a bit. I then decided I should probably start the journey back to the west suburbs of London. I knew getting back to the hotel might take a while.
It was about 7pm when I left the stadium. As I was walking back to the station the police stopped a guy on a motorcycle in front of the stadium and then realized he was some kind of suspect for something. When the officer radioed that the suspect was in sight he threw his bike down and began running. The cop started chasing and a cop car followed soon behind. I have no idea what he did, but they wanted to get him. All the crowds on the street were watching. I had to step over his ditched motorcycle as I walked up the hill. It took me about 30 minutes to walk back to the train stop, about an hour on the train, with a switch again at Paddington Station and another 30 minute walk from the train station to the hotel. With all the walking, I feel like I had still got in some pretty good exercise even on the rest day. It was probably good for my legs to be using slightly different muscles. I got back to the hotel around 9pm.
Thankfully our rest day in London feel on July 7th. On July 8th and 9th the transit workers were striking and it was going to be very hard to get around. That is another reason I'm glad I got tickets for today and not tomorrow. I was fortunate on all accounts. Glad we avoided that crisis.
Mike was back in the hotel and he told me about his day. He had done some sightseeing and then came back to the hotel. He had ordered some pasta from the hotel restaurant and I ate the leftovers. Since I was able to get Wimbledon tickets for the day, we didn't need to take an extra rest day like we had originally planned if I had got tickets for the following day. So we went to bed at a reasonable time and prepared to start biking again in the morning from Slough.
It was a great rest day. I am incredibly thankful that I was able to visit Wimbledon and see a few games from a great seat on center court. It was definitely a bucket list item. Check that one off the list.
July 8, 2015 | The Tour of London's Southern Suburbs
July 8 | Slough to Maidstone | Jeb and Mike | 65.2 miles | 5 hr 54 mins | 4363 feet ascent | 418.7 Total Trip Miles
We decided to sleep in a little bit the morning after our rest day. A slow start seemed like a good transition into the riding world. We went down to breakfast about 8:00am and ordered our regular of eggs and toast. (Also known as: Please don't give us the baked beans and tomato and the other stuff we don't like from the full English breakfast.) The waitress for breakfast, who also worked the front desk sometimes, asked me about Wimbledon. We had told her about what I was trying to do the day before. I explained how I was able to get tickets and she asked me to tell her all about it. It was fun to talk to her about it.
"Where is your car?" the lady at the front desk asked as we brought all our bags down to place on our bikes. We explained to her that "We don't have a car. We are on bikes." "Then where does all that stuff go?" she asked. I guess all our bags can look a little much. We showed her how they clipped on to the bikes and she was amazed.
Slough is on the far west side of London near Heathrow airport. We were hoping to make it all the way to Maidstone where we had Warmshower hosts for the night. We figured a lot of our ride would be through the southern suburbs of London and we were right. The day was full of lots of city riding. However we had a generous tail wind for the first time and that made everything better.
We passed Heathrow airport as we left the Slough/Datchet area. We stopped for a second breakfast a little later and enjoyed some doughnuts and chocolate milk. I had been looking for chocolate milk since the trip started. I finally had found some.
I was pleasantly surprised when our route took us through the Wimbledon area again. I showed Mike some of the areas I had walked and waited in line. The route didn't take us right by the stadium grounds but it did take us through the city, which was also decked out in celebration of the Grand Slam.
We ended up making a lot of stops and taking a lot of breaks throughout the morning. The constant stoping and starting of city riding can almost wear you out more than the constant grind of rural riding.
Sometimes the GPS gets confused and thinks that stairs or horse paths are bike paths. In one of the cities the GPS tried to send us up some steps. We chose a different route and she rerouted from there. However, she rerouted to another route that chose a horse trail that had barricades to keep bikes out. We had already gone too far to turn around. So we lifted the bikes over the barricades. It was a nice trail and there were quite a few walkers on it. We inquired a few times whether this trail would lead us back to a main road. They assured us it would eventually.
The path eventually took us to two foot bridges over the train tracks. We had to carry our bikes up the steep steps. At the top we decided to eat lunch. We had bought sandwich supplies again and enjoyed the food. Afterwards we carried the bikes down and up another footbridge and back down. Finally the path ended up in a neighborhood and the neighborhood connected us back to the main road.
The good new is, after getting lost we were out of the big cities. We had reentered the world of rural towns and were thankful for it. The traffic was much better and the riding more enjoyable. We even enjoyed a few 5-6 mile rural down hills. That's always nice.
As we were getting close to Maidstone a group of middle school aged kids were gathered near a playground. "You have a flat tire!" one of the kids yelled in his childish English accent. I was surprised and looked down with worry. "Made you look" the kid yelled as they all started laughing. Some things are universal. That's one of the things. Another universal thing is disrespectful drivers. Overall 99% of European drivers have been incredibly courteous to us. Much more so than US drivers. However, that afternoon we did have our first "get off the road" yell. I just waved at him.
It sprinkled on and off throughout the day, just like it had done in the days past. That is basically how English weather works. You should always bring your raincoat with you. That evening it did completely clear up and the sky turned a magnificent blue. By about 8:00pm we had made it to Maidstone and found our way to the Lovegrove home.
Julie and Mark Lovegrove are also experienced bike tourists. They have rode across the United States twice with the most recent trip ending only a few weeks ago. On their most recent trip they stayed at First UMC, where I work in Pensacola. Since my 2013 cycle trip we have been hosting cyclists at the church who are biking around the southern tier. We have host about 150 cyclists since 2013. This was a neat experience staying at the home of someone I had meet a few months earlier. Warmshowers is a great idea and I feel like this was the perfect example of the reciprocal relationship of hosting.
We found their house and knocked on the door. Sure enough it was them. They greeted us warmly and let us place our bikes in the back yard. They invited us in to have a seat and prepared us tea. The TV was on the Le Tour de France and I was able to catch up with the latest of le Tour. I also heard that Federer had one his game at Wimbledon. I'm always happy when Fed wins. After tea we unloaded our bags into the room where we were staying while they prepared dinner.
It was a delicious dinner of a bean and sausage stew with green beans and bread. For dessert we had a fresh peach crumble with sour cream and custard. It was even more delicious, if that's possible.
After dinner we were exhausted. We had done a great distance of 65 miles and now with full stomachs we could barely keep our eyes open. We retired early to our room. I spent an hour or so trying to get more caught up on the blog. I was able to write one blog that night and one more in the morning. I then dozed off and went to bed.
July 9, 2015 | Goodbye England, Bonjour France
July 9 | Maidstone, UK to Loon-Plage, France | Jeb and Mike | 52.1 miles | 4 hr 48 mins | 3758 feet ascent | 470.8 Total Trip Miles
We knew today would be a shorter day because we only had 40 or so miles until we saw the English Channel. Making it to Dover seemed like a big deal. It will mean we have successfully biked across England. That's a good first step.
We ended up leaving the Lovegrove house around 8:15am. They were great hosts and we wish them the very best. Julie even gave us the leftover lemon cupcakes to eat on the ride. To-go food is always the best.
Though the ride wasn't long it was still hilly. It's like England wanted us to remember the hills and gave us one last day of repetitive ups and downs. It was hard, but I am still feeling pretty good. My body has grown accustomed to the lifestyle again. My beard is starting to grow out too.
We did our usual lunch again of sandwich meat, delicious English cheese and bread. It's our go-to sandwich. They didn't have two smaller baguettes when we bought our sandwich supplies so I bought one full sized loaf instead. I felt really European as I strapped a full stick of baguette bread to the back of my bike. You can't get more classic than that.
Finally after some huffing and puffing up a few final hills we did make it to the white cliffs of Dover. We followed the signs in the city to the passenger ferry terminals. As we biked the long route to the ferry, you could see Dover castle sitting high above one of the cliffs overlooking the city. Dover is a pretty town right on the English Channel know best for it's white cliffs and ferry port.
As we got closer to the ferry terminal, signs instructed cyclists to follow the red line. Eventually the red line lead us to where we could purchase tickets for the ferry. We had been advised by more than a few people to take the ferry to Dunkirk and not to Calais. Calais was having strike issues and the last thing we wanted was to get stuck on the ferry and not be allowed to unload. So we bought two spots on the ferry for about $50 each. The journey was only supposed to take a few hours.
The next ferry to leave was scheduled for 4:00pm. It was around 3:00pm. We were told to go to lane 50 and wait. There was over a hundred lanes and many of them were lined up with cars ready to be loaded on the ship. We were the only bikes in lane 50, which appeared to be especially for bikes. We did learn to lean our bikes up against each other so they could stand by themselves. That was a first.
Eventually a few vans pulled up in lane 51. We sat in their shade while we waited for our turn to load. We had no idea that the vans were actually support vans for a group of about 40 cyclists. The cyclists were all workers from Lexus Nexus and we're spending three days cycling from London to Amsterdam. They all wore matching bike jerseys. The guy directly behind us in lane 50 was a motorcyclist from Glasgow. He was a super nice guy. He actually had just bought a house in central France and was heading there after completing a motorcycle tour. He even checked on us when we got off the ferry and had stopped to check our maps. Cool guy.
We were almost the last group to load on the ship. It was fun to ride our bikes onto the boat. I must say that it was the first time I have rode a bike on a ship before. It made me laugh because a lot of people asked if I was going to pedal in place during the ferry ride so that I could claim to have fully cycled across Europe, even over the water. No, I didn't pedal in place. And yes, I still plan on saying I cycled across Europe when I finish.
The few hour ferry ride gave me time to get almost completely caught up with the blog. I enjoy doing the blog but sometimes it can seem like a chore to do when I'm so tired from cycling. However, it helps to know that people are actually reading it. It also helps me remember the details of the trip for the future. Both of these facts force me to continue writing. It's a labor of love.
After the ferry arrived in France, I realized that since we were the last on the ferry we were going to be the first off. Sure enough the huge ferry doors opened and we spilled off the ramp onto the docks. We started pedaling and knew that we needed to continue going for a while because an army of vehicles was about to unload. We didn't know which direction we should be going. We just knew we needed to find a place to sleep and some dinner.
Eventually we made it out of the dockyards and the traffic spread out. We stopped to reprogram our GPS and find a place to stay. We actually had to turn around because we had passed the closest hotel. The first hotel we checked at was booked. The second was available.
By the way, everything is different now. English is no longer the primary language. The money is now the Euro. The electrical outlets are different. We bike on the right side of the road again now. This is all going to take some getting used to.
I basically know enough French to get me in trouble. But at least I'm trying. Anybody I try to speak to quickly switches to their broken English rather then dealing with my horrible French.
Once we brought our panniers to the room (which was only one bed and incredibly small...see what I told you about my French skills) we walked next door to eat. We ate at a Poivre Rouge (Red Pepper) which we determined is a chain restaurant similar to Applebee's. I ordered the French Burger (basically just a good cheeseburger and Mike ordered fish and chips (I guess he hadn't had enough English food yet). I told Mike the food was going to be better on the mainland. I was right. Even the chain restaurant food was delicious. And I know that is just the beginning.
During dinner I overheard a mother talking to her young child. I was able to understand everything the mother and child were saying. That being said, my French is about on the same level as a 3 year old. That makes me feel good.
Mike was thinking about taking a train from Dunkirk to Brussels where I am meeting friends of mine. He would like another few days off the bike. However, after a little research he realized that option wasn't going to be that easy via train. So he decided to ride with me tomorrow. An additional break off the bike is going to have to wait. We are hoping to get in a lot of miles tomorrow and make it out of France to Belgium. After dinner we made the short walk back to the room and went to bed.
July 10, 2015 | Bicycle Traffic Jam
July 10 | Loon-Plage, France to Ghent, Belgium | Jeb and Mike | 83.7 miles | 7 hr 00 mins | 2198 feet ascent | 554.5 Total Trip Miles
Today was great. Every aspect of it, from beginning to end. Everything was nearly perfect. After a good breakfast of delectable French treats at the hotel (Pain au Chocolat) we headed off. Once we got off the ferry yesterday we noticed how flat the northern part of France was. We were really hoping that would keep up all day.
France was a good area to ride. There was ample space for cyclist to ride and bike lanes even had their own tiny stop lights letting them know when to go and stop. It was the first time I had seen that. We passed a few tiny French towns and before we knew it we were in Belgium.
Let me tell you, Belgium has set the bar very high. Belgium is a cyclists dream. I can't even exaggerate the point of how great it is. There are dedicated bike lanes everywhere. It's so flat. Everyone owns a bike. Everyone is riding their bike. It's the one place in the world where there is probably more bike traffic than car traffic. It's great.
Soon after entering Belgium we stopped at a shop to grab some food supplies. I walked in and quickly realized we were in the wrong shop. "We aren't getting food from there unless our lunch is going to include cigarettes and alcohol" I told Mike. The store was obviously a cheap smoke and drink shop that the French drive across the border to visit and save money.
A few miles ahead we found a gas station, but they didn't have much food either. The clerk was really nice though and told us their was another place with more food up the road. On the journey up the road Mike hit a curb wrong and took a pretty good tumble and roll on his bike. He was fine, but the crash looked pretty impressive. Two people even came to check on him. He walked it off and was back on the bike in no time.
We've noticed that more people speak English more willingly in Belgium. I suppose it has to do with necessity. Mike enjoyed saying hello to cyclists as they rode by. He would count the different languages people would respond in. Most would use English. There was an occasional bonjour.
We were making excellent time and keeping a great pace. The wind was a light side wind. We stopped in the absolutely beautiful city of Veurne, Belgium. We sat outside at a table near our bikes on the main town square. Our bikes were the only ones when we arrived. We chatted in English to the tables around us. We first sat down around 11:30am. By the time our lunch was finished the cafe was much busier and our bikes had become part of a bike parking lot. Again, I can't believe how many people ride bikes. It's incredible.
I enjoyed listening to the church bells and clock tower as the time changed to noon. It's another part of experiencing the trip. All the different sounds make the experience so enjoyable. It's a beautiful thing. After lunch I purchased 7 or 8 handmade Belgian chocolate candies from the shop and bagged them up for later. That's a perk of cycle touring through Europe.
At the pace we were going, we thought it might be possible to reach Brussels in one day. That would be a very ambitious single day ride of 120 miles. At about 80 miles we had about 3 hours of sunlight left and were going to push on. We let April and Dusty (my friends now living in Brussels) that we would be there late, but were on our way.
The next big town we entered was Ghent. I didn't realize how big of a town it was. We were making great time riding between towns, but city riding can be slow. At about 85 miles we weren't even out of Ghent yet so we decided to instead just find a place to stay in Ghent and finish the route to Brussels in the morning. It was a good decision. It would have been very late and one of the longest rides I have ever done if we continued. The only reason we were able to do as much as we did in 7 hours was because of how flat Belgium is.
We found a hotel in Ghent (we hope to camp soon, but it just hasn't been convenient yet) and a burger place for dinner. After we finished eating we realized the restaurant wouldn't take either of our credit cards because they don't have a chip in them. Chipped credit and debit cards are the norm in Europe. The U.S. still uses swipe cards for some reason. Most places have the ability to swipe cards also, but this place did not (or didn't know how to). Luckily we had just enough euros to cover our bill. I got a mocha ice cream cone on the walk back to the hotel. I had enough euro coins to cover that too. Those one euro coins can add up quick.
Tomorrow we will visit April and Dusty. It will be nice to see familiar faces. We plan on attending church with them on Sunday and experiencing briefly their new Belgian lifestyle. They only moved to Belgium a few months ago. Tomorrow should be fairly easy day. Here is hoping.
July 11, 2015 | Familiar Faces and Fancy Food
July 11 | Ghent to Brussels | Jeb and Mike | 40 miles | 3 hr 44 mins | 2608 feet ascent | 594.5 Total Trip Miles
We decided to skip breakfast at the hotel and just get on the road to Brussels. It has been at least a few years since I have seen April and Dusty and I was looking forward to seeing familiar faces in an unfamiliar place. Mike really wanted to stop and get a Belgium waffle somewhere on the way, so we kept our eyes open as we biked out of the town of Ghent. When you are looking for something, you can never find it though. Of course, no waffles could be found anywhere during the first 10 miles of our route. And after 10 miles we were ready for some food. It's hard to bike on an empty stomach.
The first place we found was a gas station. We tend to eat food from gas stations a lot. Thankfully gas station food in Europe seems somewhat higher class from the corn dogs and Hunt Brother's pizza of US gas stations. I bought two pain au chocolates for breakfast and a chocolate milk. Mike found a few doughnuts. We were both pleased with our purchases. Mike is hoping to get his Belgian waffle soon though.
Once we made it out of Ghent our pace picked up again as we traveled from town to town via dedicated bike paths. Our route once again took us through some rural areas. The wind was blowing about 10-15 mph and was mostly a side wind. It wasn't uncommon for us to ride through a cloud of Belgian dandelions as they gracefully danced in the breeze. It was another beautiful, full sunshine day and we did everything we could to not continue getting too much sun.
There are some things you only see in Europe. In one of the small towns between Ghent and Brussels I passed a fresh baguette vending machine. I have no idea how the process works. However, I do know you could insert your euros and out would pop a full loaf of baguette bread. Only in Europe.
After 30 or so miles we had made it to the outskirts of Brussels. Brussels is the headquarters of the European Union, so it's sort of like the capital of Europe. It's a pretty big city. April and Dusty live in the Etterbeek area, only a little bit to the west of central Brussels. Coming from the east, our route to April and Dusty's home took us through much of Brussels. It took us a while to navigate the city and we finally arrived to their home around 1:00 or 2:00pm. The ride had a few more short lived hills then the day before, but it was a relatively easy day of only 40 miles.
It was so nice to see April and Dusty. They have only lived in Belgian a little over 2 months. April accepted a position with her job which moved her and Dusty to Brussels. April has a complicated job that I will never explain correctly, but it involves the promotion of global education. If I tried to explain it any more, I would get it wrong.
Their house is absolutely beautiful. The inside is a 3-story modern, open floor plan with a mixture of bricks, stone, glass and steel. It really is beautiful. I made my home on the third floor loft, where they had set up a guest bed.
After getting a quick shower, April and Dusty took Mike and I on a brief tour of the city. They took us by one of their frequented lunch spots, where we enjoyed empanadas, quinoa, and quiche. We took the food to go, and ate it on the steps of the Cinquantenaire, a major landmark in the city. Dusty took Mike to find a Belgian waffle for desert and you could clearly see that Mike was the happiest he had been the entire trip. I tried a little of April's waffle and I could see why it made him so happy. I'm going to definitely have a few more of those before I leave.
After lunch we walked around the city. It was Saturday and a modern dance festival was taking place all around town. We stopped to watch one of the acts which included 4 dancers in painters suits doing a unique style of modern dance. At one point we were about to leave before it was over and the dancers broke into a section of the dance that included focusing on an individual spectator. For some reason I was their first choice. I tried to play it cool, but probably just looked like a complete idiot. The next person they chose took advantage of the situation and took a few selfies while it was happening. My selfie game isn't very strong, so I have no proof that any of this actually happened.
We stopped and had a drink at Nuet Nigenough, a favorite place of April and Dusty. The owner was incredibly nice and informative about the selection of wine and beer. We chose a Belgian barley wine aged in red wine barrels with cherries. I had a fruity non-sour beer taste. It was one of the best I've had.
After drinks we walked back to the metro and rode it across town back to their house. As we walked to the metro, one of the street musicians was playing Gabriel's Oboe, a favorite song of mine from The Mission soundtrack. The song was used in my sister's wedding and has been a favorite of mine for years. There was something about hearing an oboe play that song I love that made the day complete. I tried to record a little bit of it one my phone but only managed to record the last few seconds.
April and Dusty prepared an incredible feast when we returned home and we enjoyed dinner with good conversation and great friends. We spent some time trying to remember back to how long I have personally known April and Dusty. It has been more than ten years. I played music for April and Dusty's wedding almost 5 years ago. I knew April through mutual friends when she was in college. I loved the food for dinner, but I think I enjoyed the fellowship and catching up with friends even more. Thanks for hosting Mike and I. We owe you big.I always feel a little more cultured when I hang out with April and Dusty too. Before dinner we enjoyed a delicious appetizer tray. Mike really liked the parmesan cheese (which was actually a 30 year old gouda). We all laughed at Mike's simple description of such a fancy cheese. Good times.
Tomorrow I plan on going to church with April and Dusty in the morning. They go to a small church plant made up of many different nationalities. I'm not sure if I will head out in the afternoon or wait until Monday. It wasn't convenient for me to attend church last week. Not that convenience is a good reason to go or not go to church. But I felt like I should go this week. I truly miss the fellowship of the body of Christ when I don't go to church. It is part of who I am as a person and during this trip I need to remember to feed my soul as well as my body.
July 12, 2015 | Food for the Soul
July 12 | Brussels, Belgium | Sabbath Rest Day
I slept in until about 9:30am. That's really late for me. I could tell I was tired and it was nice to just sleep until I naturally woke up. April and Dusty let me know that church was at 10:30am and was within walking distance. I found the nicest clothes I brought and put them on. They were mostly clean.
April and Dusty go to a church call "The Well." It's a non-denominational community group that meets together on Sunday for worship and teaching. It also has a community service arm called "Serve the City." About 15 people were there on Sunday and there was at least 5 or 6 different nationalities represented. The service was in English.
After we arrived and grabbed a cup of coffee the service began with some worship music. One of the attendees led us in two songs on guitar, Holy is the Lord and This is Amazing Grace (both songs I knew). After worship we were led in a discussion of a few chapters of Mere Christianity, their study for the summer. It was a great discussion and I tried to chime in a little, having previously read Mere Christianity. The discussion was even led by a guy from Pensacola. He had even graduated from Washington High School. He joined the Air Force and was now stationed in Brussels. It's coincidences like this that make you realize how small the world is.
I'm really glad I stayed and went to church. It was good food for the soul. I needed to slow down and spend some time in worship and fellowship with others. I debated heading out to the next destination after church, but decided it made more sense to wait until the morning. I probably could have only got in 40 miles before dark. Plus the Wimbledon final started at 2:00pm and I wanted to watch.
After church April and I came back to the house while Dusty headed to the Sunday market. I worked on the blog for a bit when I returned before the Wimbledon final began. Dusty, Mike and April went out for lunch while I decided to stay behind and continued working on the blog. They returned about halfway through the final. It was a good game, but I wanted Federer to win, so I was a little disappointed. It was relaxing just siting on the couch watching though.
I was also able to watch the live webstream of the ICON service at First UMC. It was great to see familiar faces and see that the service and the church were doing fine without me. I really enjoy my job and look forward to returning after the trip.
Dusty and April made delicious pizza for dinner. We also listened to an old time radio show, which is a Sunday night tradition for them. I know I've said it already, but Mike and I are extremely grateful for their hospitality. We hadn't originally planned to stay two nights, but they were very gracious and allowed us to. And we were their very first house guests in Brussels. What an honor. They are such gracious hosts and incredible cooks. We suggested they open a bed and breakfast.
April and Dusty get free international phone calls on the weekends so I took advantage and called my parents, Kyle and Geoffrey to catch up on what's going on. It was good to hear their voices. After dinner we went to bed relatively early because we wanted to get on the road early. I did forget to mention that both Mike and I have lost between 8-10 lbs already on the trip. It's hard to eat enough to keep the weight on. We knew we were losing weight, but we were able to confirm it using the scale at April and Dusty's house. As it turns out biking across a continent is a good weight loss program, even when eating 5 meals a day, including ice cream.
July 13, 2015 | I Guess it had to Rain Eventually
July 13 | Brussels, Belgium to Maastricht, Netherlands | Jeb and Mike | 77.9 miles | 6 hr 52 mins | 3874 feet ascent | 672.4 Total Trip Miles
Rain, rain, rain. That is what it did all day. It wasn't really a hard rain. It was more of a sprinkle, with slightly harder rain every once in a while. There were even a few times when we took off our raincoats for a few minutes, only to have to stop and put them back on a few minutes later.
But the day started off really well. We all woke up pretty early, around 6:45am. By then Dusty already had coffee ready and April was already on her morning run. Mike and I quickly packed our panniers and bikes, enjoyed the best cup of coffee I've tasted in a long time, pumped up our tires using an actually foot pump, and then headed out.
Even though it was raining, at least we had a bit of a tailwind most of the day. We didn't eat breakfast before we left, but instead picked up some supplies at a grocery store for both breakfast and lunch about 10 miles down the road. I bought our regular lunch supplies, but then I also bought a packet of Belgian waffles to snack on during the day.
In spite of the rain, the tailwind and the early morning start were helping us make great timing. By about noon we had covered nearly 40 miles. Garmin (the GPS) did try to trip us up a few times sending us down terrible dirt roads. Dirt roads in the rain makes for very messy bikes and panniers. Not to mention the one time I hit a rut in the dirt road wrong and had to lay my bike down in the mud. Thankfully I had switched out of my clip-in shoes and was able to jump off my bike before crashing. Nothing was hurt on the bike. It just got really dirty. I felt like a mountain biker or a BMX racer.
We took our lunch break nestled in the cove of an apartment building, trying to get out of the rain. The mailman, who was also on a bike, came into the building to deliver mail while we were eating our lunch. "A lot better in here than out there," he said. We agreed. Then he pedaled off into the rain. I was pretty sure everybody was going to have soggy mail today. (We passed a lot of other bicycle mailmen during the day. Can you imagine delivering mail on a bike?)
I'm not sure if this is true or not, but it appeared to me that most stores are closed on Mondays in Belgium. All the shops we passed on the ride were closed. A lot of the restaurants were closed. There wasn't even that much traffic. It was a rather quiet day all together. So either it's a thing to be closed on Monday, or everyone calls in sick on rain days in Belgium. Thankfully when we arrived in the Netherlands later during the day, it appeared that they stayed open on Mondays. That's helpful when trying to find dinner.
The second half of the day was spent biking on some local Belgium bike routes. They are all numbered and signed well. Most of them led us through fields of crops. On the right was cherries ready to be picked. The trucks were in some of the fields actually picking them. On the left were pears. They weren't quite ready. We also passed some grain and corn, both trying hard to grow taller each day. They were probably enjoying the nourishment of the rain more than we were.
Throughout the day I was surprised by the number of birds that would stay in the road right until our bikes arrived and then would slowly fly in front of us before darting higher in the sky. I wanted to find a way to put reigns on them and have them pull me up a few of the steep climbs that had returned during the second half of the day. These are the kind of thoughts which go through my head while riding. Scary, I know.
Mike spent most of the day listening to Serial, a podcast that came out last year. Dusty, April and I all suggested it to him the day before. It was a great way to make the day and riding go by faster. I might listen to some podcasts on future days. Since Mike was tuned into that, the ride was pretty quiet. We didn't talk much, except on breaks.
By about 3:00pm we had made it across Belgium and were crossing the bridge over the river that divides Belgium and a tiny sliver of the Netherlands that reaches down beside Germany. Soon after we arrived in the Netherlands it started raining more. By this time we were soaked.
The first few miles of the Netherlands were scenic. In addition to the bridge we crossed there was a cool old home/mansion on the side of the road soon after entering the country. We were planning on staying in Maastricht that night and it was less than 10 miles from the border.
The city was a little larger than I was expecting. We needed to find a place to sleep and, more importantly, dry off. The first hostel we stopped at was all booked. We used the WiFi from the hostel to find a hotel across town that was just a few more euros than the hostel. And when we arrived at the hotel we were impressed. We had to keep our bikes in the hotel parking garage locked up (they are really dirty and need to stay outside anyway), but the hotel it very nice, but very inexpensive. After we dried out, we elected to just eat at the delicious hotel restaurant instead of venturing out into the rain.
There is still a chance of rain tomorrow, but it looks like less of a chance than today. That's good. So far what've I've seen of the Netherlands, I like. It's incredibly bike friendly. Many of the buildings, bridges and the design is modern, mixed with historic. Everyone rides a bike, wears dark rimmed glasses and looks really smart. An thankfully almost all of them speak great English in addition to about 4 other languages. Even the rain couldn't dampen the ride today. We made a good distance, made it to a new country and are all settled in for the night by 9:00pm. Now we just need to do the same thing again tomorrow, minus the rain.
July 14, 2015 | It's Always the Darkest Before the Dawn
July 14 | Maastricht, Netherlands to Bonn, Germany | Jeb and Mike | 79.5 miles | 7 hr 19 mins | 5059 feet ascent | 751.9 Total Trip Miles
I've noticed that Europe, especially places like Belgium and the Netherlands, are always taking bikes into consideration. First of all, their infrastructure isn't just based around cars. They have considered biking a legitimate form of travel and provided the space to do it safely alongside automobiles. A whole network of bike lanes exist. Stairs have a slanted rut alongside them for you to place you bike tires in making it easier to roll your bike up the steps. Even roundabouts in Belgium and the Netherlands have a special section for bikes. Speaking of roundabouts, Mike and I have become much more proficient at seamlessly moving through the traffic circles. On day one we almost got in an accident at our first roundabout. After two weeks, we have it down to an art.
We were hoping the weather was going to be better today. The receptionist last night said that the chance of rain was lower. Well, the weatherman and the receptionist were wrong. Rain again. This time it was even more than a drizzle. Even though we had a chance to dry out last night, day 2 of rain wasn't going to be fun. However we had no other option but to slowly move forward.
Maastricht is a relatively large city, but thankfully we were able to get out of the city area rather quickly. Once out of the city we faced a collection of climbs, some shorter than the others. At the first sight of a gas station we stopped. We had elected to not eat breakfast first and instead wait until our first stop. This was it.
I pieced together a breakfast of champions from inside the small Texaco. A chocolate milk, powerade (no gatorades over here) and a cinnamon raisin roll with a slice of Brie cheese inside it. Wasn't sure what to think of the roll, but on first taste was very pleased with its danish-like taste.
We tend to eat our gas station treasures while sitting on the curb outside the gas station. This is a time when a lot of people will come up and talk. The first was an older German couple who were riding bikes and had stopped by the store. "Trekking?" the German man asked in broken English. "Yes, we are on a tour" I responded, with no attempt to speak broken German. "Very good. Very good."
The next group was four college age guys from the Netherlands biking to Switzerland. Their English was much better. We talked about the rain. They were only on day 2. So far all they've know of their trip is rain. They wanted it to clear up as much as we did. They were still in good spirits though.
So much of tour cycling is psychological. Actually I think the mental strain of the trip is more than the physical strain. Today was hard. The climbs were tough. The rain didn't stop for the second day. It was taking us a long time to do anything or go anywhere. It's days like today that make you wonder why you ever chose to do something so miserable. The thought to give up and go home to the comfort of your own bed and routine starts to creep in. And it's easy to give in to the thought. I know we both wanted to call it quits for the day before noon, before even 20 miles. But that wouldn't have been good. We needed to keep moving forward no matter how slow.
By about lunch we had covered about 25 miles, but we're in a desperate need of a long break. We found a burger place in Aachen, Germany. They had all the basics: WiFi, covered outside seating to watch our bikes, bathrooms, good food, and abundant ketchup. All the other places we've been to have been stingy with their ketchup. I think they all enjoy mayo on their pommes frites.
We took our time during lunch. We were in no hurry to get back on our bikes in the wind and rain. It would have been easy to stop there and call it a day and hope for better weather tomorrow. But I knew we could do better. I knew we could press on. We didn't need to be in a hurry. We just needed to slowly press on.
During lunch Mike downloaded some more podcasts. He was hoping it would keep his mind off the rain. While they were downloading I went in search of an ATM. We've been warned by many that Germany prefers cash over cards. Some restaurants refuse to accept them. So I'm making sure I always have some cash on me. I found an ATM a few blocks away and even bought a few postcards on the way back. I'm not a fan of the 1€ and 2€ coins. You get them as change for everything and they start to add up quickly. I had almost 20€ in change, didn't realize how much it was worth and it was weighing down my wallet and my bike. Now I see why some men carry man purses in Europe.
After lunch we did press on. It was still tough going. More hills. More rain. I was having a little brake trouble and that makes me nervous on big hills. I was able to fix it pretty easily though, which is good. On one particularly steep downhill Mike had to slam on his brakes after a bus pulled out in front of him. He didn't fall or run into the bus, but he did do some nice skidding on his bike. Thankfully he has some good bike handling skills. Not sure it would have turned out the same way if that had been me.
Things were bad, but I knew it couldn't last forever. You have to teach your body and mind to outlast the bad circumstances. In the words of Florence and the Machine, "It's always darkest before the dawn." I knew I just had to wait for that dawn to come. Sometimes that dawn takes a while to come, but thankfully today it came at about 5:00pm.
It finally stopped raining. The sun didn't necessarily come out, but at least water wasn't falling from the sky anymore. And the hills finally went away. The hills had given way to long, flat fields of grain. The towns were divided by these fields and small roads had been carved out to connect the towns. It was amazing to ride on these roads. The car traffic was minimal. We had a slight tail wind and were now averaging about 16 miles per hour. We were so encouraged by the change of circumstances that we even raced down the roads. During the first straight I reached 23 mph. My goal was to reach 24 mph during the next runway. This continued until I couldn't reach higher than 26 mph.
That late afternoon we even saw some wildlife. Mike almost ran over a cute little hedgehog. Thankfully he swerved out of the way thinking it was horse droppings. After passing he realized it was much more than that. The hedgehog looked straight at him as if saying thank you for sparing his life. I had a deer jump out of the grain in front of me and prance across the road. It then hid in the grain until I went by, peaking up occasionally to see what was going on. I tried to snap a few pictures, but he was camera shy.
We made quick time on the last 10 miles on the ride into Bonn, where we were staying for the night. I noticed that many of the streets in Bonn were named after composers. I later found out that Beethoven was born in Bonn. That explained the street name of Beethovenstrasse. That's quite a mouthful.
That evening we stayed at the home of Uwe-Jens Linder and his wife. Uwe-Jens is a journalist and his wife is a nurse. This was their first experience hosting on Warmshowers. We were very grateful that they had accepted for us to be their first guests. When we arrived (an hour later than we had planned) they greeted us with open arms and they didn't care that we were late. We parked our bikes in a private spot in their apartment cellar and carried our bags to their third floor flat. We were able to grab a quick shower before devouring a delicious home cooked meal of lasagna, salad, bread, olives, stuffed tomatoes, beer and German wine. For dessert we had fresh strawberries and cream. It was such a perfect ending of the day. I had two full helpings and could barely keep my eyes open after dinner.
You could tell that the Linders had opened their home to host because of their love for cycling. No stranger to cycle touring, Uwe-Jens showed us pictures from two of his trips where he climbed many of the esteemed le Tour de France mountain stages. The stories and pictures were both impressive. This is part of the reason I enjoy staying at Warmshowers homes so much. You learn more about the culture and traditions. You eat authentic food and see how others actually live. The Linders were so gracious and we are very thankful.
As we headed to bed we even found a piece of chocolate on our pillows. What a contrast from how the day began. I'm so glad we had mentally pushed ourselves through the day. We hadn't given up and now we were better because of it. That's what this is all about. Pushing through the pain and waiting out the dark until the dawn comes once again.
July 15, 2015 | Following the Signs
July 15 | Bonn, Germany to Rhens, Germany | Jeb and Mike | 63 miles | 5 hr 43 mins | 2411 feet ascent | 814.9 Total Trip Miles
Breakfast was an assortment of meat, cheeses, bread and yogurt. We never expect Warmshowers hosts to provide meals, but most of them do. It's a nice bonus. When I host people at the church I always take them to breakfast. It's a nice gesture and a great way to get to know them. Uwe-Jens shared the same understanding. He explained during breakfast that Germany has a greater selection of bread than France. France is just really in love with the baguette. Germany varies it up. The bread he served us was a lighter bread that is easy to digest.
Uwe-Jens even let us make sandwiches for lunch and take the extra strawberries from breakfast. After breakfast we packed up then went to get our bikes out of the cellar. Uwe-Jens provided us with bar tape (my wrap had been coming off) and a foot pump (it's always nice to have tires at full pressure) to repair our bikes from the roughness of the road. I also fine tuned my brakes a little more and changed clips on my cycling shoes. They went above and beyond as first time hosts. We can't thank them enough.
During a break today we met two other young cyclists on their way to Amsterdam. Seems like a popular destination for twenty year olds. We had spaghetti for lunch later in the day. It was good, and it was also the only menu item we understood. For dinner we both had a variation of schnitzel which is a breaded pork chop. I tried to explain that to Mike about 3 times. Then the vegetarian waitress tried to explain it to him. He was still shocked to find out it wasn't like a hotdog when it arrived to the table. He ate it though. Mine was delicious.
After leaving their house in the morning we made our way to the Rhein river. The EuroVelo route which we were trying to get on was supposed to follow the Rhein, so we went in search of this grand route. To our surprise we found it. It is like the promised land of bicycle routes. So many touring cyclists. We passed hundreds today alone. I was concerned that it wouldn't be well signed because of my experience on the TransAmerica trail in 2013. But I was wrong. It was well signed. That makes more sense why the map we had of the route wasn't very detailed. The map is meant to get you on the route. The signs are meant to keep you on it. Or so we thought...
We turned off our GPSs and were making sure to stay on the route alongside of the river. At one point the route took us over the river and through the city a little. Then we made it back to the river and continued on. It felt sort of like the trail we were on, but it was missing our EuroVelo signs. We figured this section just included a little less signage. About 5 miles later we took a break. I pulled out my phone during the break and was not happy to realize that we were no longer on the Rhein. Somehow when we crossed the bridge through the city around the city of Koblenz we had started following the Moselle river which forks out from the Rhein in Koblenz. Now we had to turn around and rebike the 5 mile section we had just biked. This was a first for us and we wanted to fix the mistake quick. We made quick time of the return journey and were back in Koblenz in 30 minutes. Then we found the Rhein again. And sure enough it was the promised land again. Hundred of other cyclists. Well signed. I never want to leave this trail.
Instead of staying in Koblenz we continued down the trail in the right direction for five or so miles until we found a hotel directly on the route in Rhen. Surely we couldn't get lost if we stayed directly on the route. The hotel wasn't too expensive and you could tell it was geared towards touring cyclists. They let us keep our bikes in the garage and we carried our panniers to the room. We were on the second floor (room 114) and our window backed up directly to the train tracks. These train tracks were very well used too. All night both commuter and freight trains whizzed past the room. That explains why they provided ear plugs and a packet of gummie bears on each pillow. Candy on the pillow two nights in a row. I like that.
Today, more than 2 weeks into the trip, is the first day I think I'm starting to grasp the greatness of the trip that I am on. Sometimes it's easy to ignore the levity of the situation while in the midst of it. Today it hit me though. As I was biking down the Rhein river with castles watching overheard and hundreds of neighbor cyclists enjoying the sport I love too, I was deeply humbled at the experience I was living. As my bike raced to keep up and pass the tour boats in the river next to me, I couldn't help but think how fortunate I am to be in this very place right now. Yes, it is hard work everyday, often out of my comfort zone. But that is the beauty of the experience. Getting off of the couch, out of my house and experiencing the world. It's a great thing.
I did listen to a little music on the ride today. Mike is still listening to podcasts so we don't talk much. Because the route just follows a straight line for most of the time, I figured music was appropriate. I listened to some U2. That is probably what got me so sentimental.
July 16, 2015 | Feels Like Summer
July 16 | Rhens, Germany to Mainz, Germany | Jeb and Mike | 57.3 miles | 4 hr 40 mins | 1476 feet ascent | 872.2 Total Trip Miles
Today was the perfect example of a good day. It even feels good to say that. Both Mike and I were feeling good and riding strong. Though we only rode 57.3 miles today, we got were we wanted to go fast and with minimal resistance. We are camping tonight in Mainz. In a few hours I'm going to dinner with Vic and Kirsten Bennett, members of First Church. Kirsten is from Germany and they both are visiting family in the area right now. It was important to me that we at least meet up for dinner since we both happen to be in the same city on the other side of the world. That's why we stopped in Mainz for the night.
This is also our first time camping on the trip. I'm a little embarrassed to say that. I don't like to consider myself the "bike from hotel to hotel" type. I like to think I can rough it a little bit more than that. However, camping just hasn't been convenient until now. Now that we are on the EuroVelo route there are campgrounds directly on the route. It's great. It cost less than 20€ for both Mike and I. That's a lot better than even the cheapest hotel. And the sites normally have showers and wifi. I hope to use more of these while on the main route.
I can count about 10 touring cyclists staying at the campground so far tonight. A family of 4 with two elementary age children are all bike touring. A lone younger touring cyclists has set up next to Mike. There are also a collection of other older cyclists scattered throughout the park too. Mike wasn't sure what to think about camping after a hard days bike at first, but once settling in here, he really likes it.
The campsite is directly on the Rhein river right across the bridge from Mainz. We thought we had got slightly off the route to find it, but then realized we had accidentally got back on it. I'm now sitting in the shade next to my tent writing this blog. It's 6:30pm here. I can hear the sound of church bells signaling the time across the river. I also hear the sound of a desperate air pump as a group of three determined guys struggle to pump up an air mattress with a hand pump. A little dog is barking behind as it sits on the lap of a lady outside her modest camper. Mike is hanging out in the beer garden where he is hoping to speak with some locals and take advantage of unlimited wifi for 1€. Campgrounds are great places to people watch. So many interesting things going on.
We started the day off a little later than we normally do. We weren't on our bikes until about 9:30am. We took advantage of the free breakfast with our room. I was really excited when I saw peanut butter as an option on the buffet. I quickly made myself two peanut butter and jelly sandwiches and ate them both.
I also spent some of the morning updating the blog from the past few days. I don't like to get behind. I haven't uploaded pictures yet though, because the internet at the hotel wasn't great. Hopefully I'll upload those soon.
On our first stop we bought some more sunscreen. We could tell it was going to be a hot day today with very few clouds. People had warned us that after the rain of the past few days another "heat wave" was coming. The sunscreen we got was thick. It was hard to make the white rub into your skin. So instead Mike and I just looked ghostly ill for the bulk of the day.
After applying the sunscreen we continued on our ride only to become what I can best describe as being "tarred and feathered." The dandelions were back in full force today as a gentle headwind blew them constantly across our path. The stickiness of our thick sunscreen was a magnet to the floating flowers. It was quite humorous for a while. Then it was just annoying. There were also swarms of little bugs that sometimes we would bike through. They too would find it hard to get off our skin. I can only imagine what might be stuck in Mike's beard.
By noon we had gone 25 miles. For the first half of the day we raced to keep our average pace high. It sure is hard to raise that average pace, but it sure is easy to lower it. At the end of the day our average pace was 12.28 mph which I believe is our highest of the trip. I had the average pace at 13.5 mph for a while.
At around 30 miles we took a swim break in the Rhein. It was getting real hot by this point and the water was just too tempting. We saw a number of other cyclists doing the same thing. The water felt great, but the sand was a little slimy. It did help cool us off for a while.
At around 35 miles we stopped for lunch at a beer garden in Bingen. We had BBQ chicken and french fries. It was great. It took a little more time than I normally like to spend for lunch. But the break was nice.
The word of the day after lunch was "hot." The route took us a little bit away from the river in open fields with no shade. It was hot. Thankfully you do get a breeze while on a bike. Our water supplies depleted quickly, but we had enough to make it to Mainz. There was a small drink stand next to the road and we were quick to devour a sprite and a cold water. It was a needed refreshment.
Mike particularly enjoyed part of the ride over one bridge after lunch. There were two bike paths, one which went lower and one which went higher. I'm not sure what the purpose of having two was, but he chose one and I chose the other. So why he was at his highest point, I was at my lowest and then we reversed. Then this repeated. It was pointless, but fun.
When we arrived in Mainz we stopped at a gas station to refill our water bottles and have an ice cream treat. The gas station also had a Subway sandwich shop offering 30cm subs for 5€. I wonder if they also have a song for their commercials.
Mike just came back from the beer garden and it appears a bee flew in his drink and it accidentally stung his tongue. This is Mike's third bee sting of the trip. He also tends to rub up against all kinds of plants that make him itch. Thankfully we are sleeping in separate tents tonight. I'm sure he will be ok.
Well I'm going to dinner with Vic and Kirsten soon. I'll let you know how it goes later. It'll be great to see more familiar faces in foreign lands. It'll be good to eat dinner too. And I'm looking forward to a night of camping too. So much to look forward to and be grateful for.
July 17, 2015 | Following Rivers and "Forbodden" Shortcuts
July 17 | Mainz, Germany to Mildenberg, Germany | Jeb and Mike | 76.3 miles | 6 hrs 10 mins | 2450 feet ascent | 948.5 Total Trip Miles
I stayed up a little bit later than normal last night. It was great to have dinner with Vic and Kirsten Bennett and some of their family while they were in Mainz. It's amazing that the timing worked out for me to meet them while they were visiting. They are a great family that I know from Pensacola and it felt like a little bit of home in the middle of Germany last night.
Kirsten ordered me some authentic German food including a bratwurst, German potato salad, cabbage salad, and a German beer. It was all delicious. We then walked around some of the most historic areas of Mainz, enjoying gelato cones as they pointed out famous buildings, along with places they used to work and play when they both lived in Mainz. We walked past the Gutenberg Museum which pays homage to Johannesburg Gutenberg who was born in Mainz and invented the movable-type printing press making information available to the masses. They were great tour guides and I had an incredible evening.
After walking around downtown they drove me back to the campground where Mike and I were staying. I wished them farewell and headed to my tent. Mike was already asleep when I returned around 11:00pm and I checked to make sure all our bags and bikes were secure. Everything looked good so I headed to bed.
It was nice getting to camp. It was still hot at 11:00pm (probably in the 80s) and it took me a while to fall asleep. The temperature dropped into the 70s later in the night and it became very pleasant to sleep. I slept well throughout the night but was awoke by lightning and wind at around 5:00am. The storm was more bark than bite and it really didn't rain. It moved on within 30 minutes and I went back to sleep until around 7:00am.
At 7:00am I decided we should probably get moving because it was supposed to get in the 90s again during the heat of the day. Even though the humidity is low and their is a breeze while biking, that still feels hot. You have to drink so much water to hydrate during the heat too. Biking becomes much more labor intensive in that kind of weather. Thankfully Mike was already up and thinking the same thing. We both took down our tents and packed up our bikes. We were on the road by 7:30am.
Our first stop was for food at a local grocery store. We bought our regular lunch supplies plus some donuts for breakfast. Donuts and chocolate milk. I love that I can eat that guilt free while on the trip. I'm not actually a huge donut fan, but the carbs and sugar really do help give you an energy boost while cycling.
Mike and I are really good at following rivers. The only problem is that we are really bad at following the actual rivers we are supposed to be following. Yes, today we made another mistake and started following the Rhein river again instead of branching off to the Main river which our route continued on. We thought we were following the signs correctly (another EuroVelo route does continue following the Rhein for a bit) but at some point lost track of these signs too. One wrong turn and you'll miss the next sign. There is very little room for error.
We had already traveled 10 miles south when we realized the mistake we had made again. At this point we had to decide what to do. One option was to bike back where we made the mistake, which we discovered was at the very beginning of the day. That would have meant that we wasted 20 miles of biking. I am never a fan of wasting miles or biking backwards. The other plan we came up with was to bike due east and try and meet back up with the river when it dipped back down. We charted it out on the map and decided if we were able to make this plan work we might have actually saved ourselves some time but going a more direct route instead of following the ups and downs of the river.
It was a big, 50-mile gamble. We really didn't know what kind of roads or what level of hills we would encounter. That's the adventure of it though. So we pulled out our GPSs again and started mapping a route to Aschaffenburg, due east, where we could meet back up with the Main river. Because we weren't able to charge our electronics the night before, we had to ration when we used the GPSs and our phones. Even my external battery was dead. I used my GPS first and then we used Mike's when my battery died.
Thankfully the plan worked. By the end of the day we had travelled over 75 miles and probably gained an extra 20 by taking the shortcut by going due east. We turned a bad situation into a good situation. It felt good that the plan actually worked. We did decide that we should stop and check the map much sooner then we have been, making sure we don't get 10 miles off route before realizing it.
It wasn't a flawless route between where we realized our mistake and when we made it to Aschaffenburg. At one point the GPS took us on a road which ran next to what I can only describe as the secret headquarters of an evil multi-national corporation. It was a big, modern looking campus with lots of cars in the parking lot and mysterious people working on something inside. There were cargo containers stacked one on top of another in various places and many of them were labeled with big blue block letters. I wasn't sure what the letters spelled, but I'm pretty sure that was the name of their evil empire.
Our GPS continued taking us straight past the campus heading due east. Towards the end of the campus we encountered a gate and a guard. The guard was off to the side so we continued on straight just like the GPS said. Garmin (as we refer to her) was convinced the road went straight through to where we wanted to be eventually. "Forbodden! Forbodden!" The guard started yelling as we rode past his booth. We stopped and looked at him. "We can't go that way?" we asked in English. He looked puzzled and simply responded "Forbodden." I guess that was a no. So we turned around. Thankfully we had only been on their evil campus for less than a mile. Not much time lost.
We looked on the map and found a few roads which appeared to go around the campus. After riding on the new roads, Garmin finally recalculated and designed us a new path to the Main. Thankfully the new path was great. You never know what she'll choose. You can adjust the settings, but the condition of the roads are always a mystery until we get there. Our favorite part of the ride was through a wooded area during this section. The path wasn't even paved, but it was packed, hard dirt and some gravel. It was shaded the whole time and relatively flat. It was another named bike trail. (There are so many bike trails everywhere in Germany. That is part of the reason it's hard to stay on the right one. You get confused by the other routes) We made excellent time on this section of the route and loved the seclusion and the scenery. You just never know what the route looks like around the next turn. That's what makes it so much fun. Every pedal is an adventure in an uncharted world.
After we got to Aschaffenburg and found the Main, it didn't take us long to find the correct EuroVelo route. Now we just have to make sure to stay on it like we are supposed to. We started heading in the right direction (we checked and double checked) and started passing other touring cyclists again. It's so good to see other cyclists doing the same thing. That's one of the reasons we like the EuroVelo routes. And because Mike and I are keeping a quicker pace, we tend to pass a lot of other cyclists going the same direction. Touring cyclists that is. We still have road bikers, riding their carbon fiber bikes, carrying no weight, whiz by us. We both look forward to riding our road bikes again when we get home.
Around 2:00pm it was getting real hot. It was probably in the 90s at this time and the route had us out in the open. By this time the water in our water bottles was even hot. Hot water will keep you alive and going, but it sure doesn't taste refreshing. We pressed on as long as we could, but at one point it was getting miserable. Mike suddenly turned off the road and parked his bike under the shade of the tree and started walking to the rivers edge. Within a few seconds he was swimming around. There was a boat in the center of the river full of girls, and for a moment I thought he was heading over to jump onboard! This seemed like an excellent idea so I stripped down to just my cycling shorts and jumped in too. It felt great. The water was cool and lowered my body temperature. I didn't want to get out. After 5 or 10 minutes I made myself. "You can't get much more European than this," Mike commented as we were getting back on our bikes. Hot days biking through Europe while cooling off in cold European rivers next to castles. It's a pretty neat experience.
The swim kept us refreshed for about 10 minutes and then the heat set in again. We had already decided that we would stop around 5:00pm and around 75 miles. We were very happy with our progress for the day and made our way into the town of Mildenberg. (I have a lot of trouble remembering the name of this town for some reason. However, I did just realize it is written on the side of the building in front of me. That will help.) We wanted to get a hotel for the night because we desperately needed to charge our electronics. We chose the first one we found and the nice lady at reception said we were in luck. The nicest room in the small hotel had just opened up because another touring cyclists wasn't able to make it to the room they had reserved. She gave us a very reasonable rate and we took it. The room is rather spacious, has a lot of electric outlets and even has a second story balcony overlooking the river and the city.
During heat waves like this you do have to suffer through the heat a little. Very few places have air conditioning, including our hotel room. We opened up the window to cool things off, but we knew it wouldn't help much until the sun set (4 hours later). It's now about 10:30pm and it's starting to cool down a little. I'm siting on the balcony of our room and writing this blog. Now that it's cool enough to finally go to bed, I'll sign off and wish you all a "gute nacht."
July 18, 2015 | Momentous Days
July 18 | Mildenberg, Germany to Kitzingen, Germany | Jeb and Mike | 106 miles | 8 hrs 17 mins | 3051 feet ascent | 1054.5 Total Trip Miles
The owner of the hotel where we stayed was adamant that we not miss the breakfast. "It's really something" she said. And she was right. It was one of the nicest spreads of any place we had stayed yet. Your traditional German options were available (lots of lunch meat and cheeses) but there was also a selection of cereals, a fruit bar, different breads to choose from, an assortment of jams, and more. It really was great. I settled on some strawberry yogurt covered with fruit, a peanut butter and jelly sandwich and a lot of orange juice. That's a breakfast meant to get you going and keep you going.
We appreciate how passionate the owner of the hotel was about her job. She seemed to be doing everything possible to do at the establishment and she seemed to be enjoying every moment of it. Finding a job you love is so important. I'm fortunate to have found that job. Mike is excited to find a vocation he loves when he returns home.
After breakfast we hit the road. We were out of the room and on our bikes by 8am. We enjoy places to stay on the route, because you don't waste any time or miles getting back. The weather was cooler today (high was only supposed to be in the 80s) and the wind was light for most of the day. We knew our route would continue following the Main river for the entire day, so we locked into a good pace and started pedaling. We were making great time. We hit 40 miles by noon. That's always our goal mileage by noon, but it hasn't really happened before. It felt good to have a productive morning on the bike.
At 51.5 miles we crossed the 1,000 mark of the trip. That's a big deal to me. Though it's just an imaginary goal post, I think it's mentally important to celebrate these successes. Mike wasn't sure what to think, but was kind enough to humor me by participating in a 1000 mile picture. It's actually the first picture including both of us from the trip. I had to set up the tripod and timer to make it work. No matter what, we've biked 1,000 miles in Europe. No one can take that away from us. Before we had left town that morning we purchased lunch supplies and ate a second breakfast. Mike even bought surprise peanut M & Ms for the mileage celebration. It was a nice treat. We enjoyed a quick lunch. I guess that was our third meal of the day and it was only noon.
We did a pretty good job staying on the route today. Every once and a while we would miss a sign and would get off the route for a little bit. We could always make our way back to it by pointing our bikes towards the river though. I don't know if it's because we are moving faster then your normal cycling tourist or maybe we are less observant, but it seems like we always miss a few signs. We did realize that having four eyes looking for route signs is better than two.
It seems like every German town we passed today was either having a festival, fair, or the circus was in town. Really. We passed at least six events like that. I knew it was Saturday, but I started wondering if there was a particular holiday or something that was being celebrated. It appeared even ducks were invited. As we entered one town a mother duck and her three ducklings were crossing our bike path towards the circus. We had to put on our brakes to avoid them. They eventually found their way across. We told them to be careful.
We took a few more breaks that afternoon along the route. This section was equipped with really nice picnic tables in the shade. It was a nice treat to eat our snack at an actual table. "I wonder who maintains all this?" Mike asked. I have no idea, but they must love their job too. It was really well kept.
The one thing that wasn't prominent along the route was gas stations, where we would normally buy water. I'm sure gas stations were inside the towns, but the route was keeping us out of the towns mostly and we didn't want to waste time getting off route. Beer gardens, offering food and beverage, were available along the route though. We were getting desperate for water because we each had less than a bottle left. We stopped at one of these beer gardens and asked about water. Their only option was water with gas (carbonated water). I'm not sure what is the fascination with carbonated water over here. We were desperate though and each bought two bottles. The bubbly water did its job of keeping us alive, but it is not a replacement for regular water. The sparkly aftertaste kept me thirsty and I was not refreshed. Beggars can't be choosy though.
It's been incredible to watch Mike progress on this trip. Today was the day where I could definitely see that Mike had found his mental and physical groove. Day one was tough for Mike. Today Mike was doing almost all the pace leading and showed no signs of weakness or need to stop. Our end of the day average pace was 13.4 mph. I'm pretty sure that is the highest of the trip. That average includes biking in towns, which is much slower. For the bulk of the ride Mike was keeping us above 17 and 18 mph. Sometimes even in the 20s.
Today we also started drafting off of each other to help conserve energy and increase our speed. According to Mike, he has been doing that since day one. I hadn't realized that. It was nice to push for a little bit as pace leader, but then drop into second position and enjoy some extra forward momentum. It really is more efficient to ride like this. This explains why the peloton in le Tour de France is such a force to dealt with. That is the quintessential example of drafting.
Around mile 85 I hit a wall. Not an actual wall, but I often get pretty close to hitting a few of these too. I could tell my body needed something. If you looked at my shirt, hat and biking gloves they were all covered in sweat stains. My body was caked in layers of salt from all the sweat. I felt dehydrated and was pretty sure I needed some salt too. I tried to keep up with Mike, but I couldn't. I let him know that we had to search out a gas station or I wasn't going to be able to go much further. Thankfully we passed one on route within the next five miles.
I quickly went inside an found a powerade and 2 huge bottles of natural water. I wanted to open them right in the store and start chugging. However, instead I had to stand in the longest line to check out. It really did take like 10 minutes. It's seemed like the longest 10 minutes of my life. As soon as I gave the cashier the money, I opened and finished the powerade in one gulp. I then drank half the water bottle. I poured out the rest of the sparkling water in my water bottles and used it to clean some of the dirt off my bike. I then put the good water in my bottles. Now I just needed to wait a few minutes for the fluids to quick in.
Right next to the gas station was a McDonalds. We had rode about 90 miles and it had been at least 20 miles since our last food break. We didn't want to over do it at McDonalds though. We learned that lesson with pizza at the beginning of the trip. We each got a double cheeseburger and small fries. It actually hit the spot pretty well. The salty french fries were a plus too. Mike wasn't excited that he had to pay extra for ketchup though.
By the end of our first dinner at the golden arches I was feeling much better. Mike still seemed in ideal condition and showed no signs of stopping. At this point we knew we weren't even going to look for a place to stay until after 100 miles. Mikes longest ride before the trip started was 60 miles. The longest ride of the trip so far was around 86 miles on day one. We were really hoping to reach the 100 mark today. It seemed like our best chance. I really wanted Mike to join the 100 mile club. And the fact that it was on the same day we hit 1,000 total miles was an added bonus. If you are keeping track of points, I'm sure we scored a few today.
Even around mile 95 Mike was showing no signs of weakness. I couldn't even keep going fast enough to stay in his draft. I was feeling better with the fluids, but my legs were much happier keeping the 18 mph I was managing. Mikes legs wanted a pace closer to 20+ mph.
The first town we arrived to after the 100 mile threshold was Kitzingen, Germany and of course they were having a festival too. People we lined up on the steps by the water and watching people on the other side of the river in the late afternoon sun. You could hear German over a loud speaker and music started after the speaking stopped. It looked like some kind of music festival. A bunch of people were gathered around a stage.
The bulk of the buildings in the city seemed to be on the opposite side of the river, so we walked our bikes over a pedestrian bridge across the Main River. We did stop in the middle for a few minutes to take in the sights. It was such a great day and by chance we had ended in a great town. You never know where you are going to finish each night. So many variables are involved, it's really hard to plan. We have basic ideas, but each ending point is an adventure. It's always nice when they work out really well.
The second hotel we found had a room available and we took it even though it was on the second floor of what appeared to be floors with 20 foot ceilings. My legs definitely felt sore as I walked up the 4 flights of steps. It was 8:30pm by this point and we had spent one of our longest days on the bike. The hotel restaurant closed at 9:00pm and we needed to replenish some more calories. We both rushed down and order a cordon bleu with salad. It was great.
After the meal I was exhausted and told Mike that I was headed back to the room. He said he'd be there after he finished using the Internet. I walked back up the four flights of stairs only to realize that Mike had the room key. So I walk back down, got the key, and then walked back up again. At least we didn't have to walk our bikes up the stairs. That might have done me in. We were able to store them in a room downstairs.
I made sure to do 15 minutes of stretching before bed. I knew I was going to feel the soreness in the morning. I was trying to minimize the pain as much as possible. Once morning comes, it's time to repeat the whole process again. I doubt we have another 106 mile day tomorrow. We are shooting for more like 75 miles. And there is no way I had enough energy to write the blog. (This is written the next morning before breakfast.)
It's a shame that our room number wasn't room 106 instead of room 206. It would have been really symbolic on such a momentous day and it would have also saved our legs walking up two flights of steps. All things considered, it was a perfect day.
July 19, 2015 | Ferries and Festivals
July 19 | Kitzingen, Germany to Bamberg, Germany | Jeb and Mike | 72.8 miles | 5 hrs 16 mins | 1433 feet ascent | 1127.3 Total Trip Miles
As you might expect, we had a bit of a slow start the next morning after our first 100+ mile day of the trip. It was also the first morning where my muscles were noticeably sore. I spent some time stretching, trying to work out the soreness. I was pretty sure the ride would be fine today once I got the muscles moving again.
At about 9:30am we started packing up our bikes and by 10:00am we were on the road. We are still on the EuroVelo route following the Main river. Making sure to follow the correct route sounds easier then it actually is. There are so many bike signs it can be tricky to always choose the right one. And if you get just one wrong then you are messed up for the next one. However, we have got a lot better at stopping at the intersections when we are confused and making sure that we are going the right way. We are hoping to avoid any more 10 mile off-track moments.
It was forecast to rain (90% chance) around noon, but that rain came early at around 10:30am. It was the most intense rain of the trip so far, with a strong wind and a little lightning. It only lasted for about 10 minutes though. I was hoping that this wasn't an additional shower and that this was just the noon shower early. It turned out the weather man was wrong and just got the time a few hours late. That was good news.
Around the same time that the weather was starting to pick up our bike sign included a U-turn shape on it pointing directly into the Main river. I figured this was the end. They must have got tired of installing signs so they just encouraged everyone to drive into the river. I was rather confused. What do we do now? There was a boat docked to the other side and within a few minutes of us starting to weigh our options we noticed the boat was coming towards us. It was a small ferry meant to shuttle people and cars (and bikes) across the water. That was going to be very helpful. I was not looking forward to swimming.
For only 0.80€ each we were carried across the small river on the ferry with our bikes. The ride took less than 3 minutes from beginning to end. There was one car and driver that joined us on the ride. And we were all soaked from the pouring rain. Driving that ferry all day from one side to the other has to be an incredibly monotonous job. I guess it's cheaper then building a bridge though. Later in the day the route took us on a second ferry which took us back to the original side we were on into a different town. This ferry was a little more popular and had about 6 cars and 4 bikers. It was about the same size and cost 0.10€ less. I must admit that I enjoyed the ferries just because they were so unusual to me.
After the rain went through we had a WSW wind for most of the day. It was probably around 10mph. For half of the day we were going NE. For the other half we went SE. The Main river makes the shape of an upside down "U" at this section. The good news was we weren't hardly ever going west and the wind helped push us along at a decent pace. Our end of the day average pace was 13.8mph, a new high for the trip. And the route continued to be relatively flat.
For a section our route took us through what I'm guessing is part of the wine country of Germany. There were rows upon rows of grapes for as far as the eyes could see. They were not ready to be picked and they were being attended to in different sections by vineyard workers. I had tasted some German white wine a few days before and it was very good. I imagined it would still be a long while before these grapes became wine.
We didn't have the opportunity to buy lunch supplies today, so we needed to find a place for lunch. After the wine country we passed the Museum Stammheim, which features an impressive display of models, planes, and other exhibits from Germany's military history. It also had an attached beer gardens where we stopped for lunch. We didn't actually go to the museum. I just read the brochure while we were waiting for our food.
In addition to being sore in the morning, both Mike and I had slight dehydration headaches at the beginning of the day. We had tried so hard to drink enough water, but it's really hard to keep up with the water intake. As a result, I decided to finally use my Camelbak that I had brought on the trip. It was a nice change. I was now carrying double the amount of water. Plus it was more convenient to take a sip, so I ended up drinking more. The extra weight on your back is a small price to pay for the added water and convenience. Mike brought a Camelbak too, but he hasn't used his yet. I'm definitely using mine again next tomorrow and likely until the end of the trip. Plus it feels good to use something that had recently been unused even though I was carrying it with me the entire trip.
The rest of the day seemed to go by pretty quick. We made good time in between towns with the wind at our back. Towns would slow us down a little bit, as the route would zig-zag us through the town. One town did take use right through a street festival. The road was closed to car traffic with vendors and booths set up all the way down the central street. It was Sunday and the town had come out in full force to support the festival which included vendors for everything from food, to belts, to purses and more. We tried to pedal our way through the people, but had to stop a bunch of times. We probably should have rerouted to some side roads, but we didn't want to miss the next turn sign for the actual route. So instead we just slowly made our way through the mass of people while trying not to be tempted to shop on the way.
The last 20 miles of the day we had a generous tailwind and it was still flat. Mike has fallen in love with these sections which allow him to maintain a crushing speed of above 20mph. He describes going this speed as an incredible rush that gives him an endorphin high. Biking can be addictive, and this is a good example of why. Even while trying to draft I have trouble keeping up with him at this speed. I tend to be a slower 18mph. Regardless, we both made quick time of the last 20 miles and had arrived to Bamberg about 6:30pm, where we planned to stay for the night.
It felt good to have a 73 mile day directly following the 106 mile day. Each day I hope to get around 75 miles. We have been making good time and getting good mileage the past week. That's encouraging.
The last story of the day is pretty embarrassing, but it would be a shame not to write about it. We didn't want to hassle long with finding a place to stay for the night so we basically chose the first hotel we saw. It appeared to be a little bit nicer than what we normally chose. It was about 40€ more expensive than we normally pay. However we didn't want to deal with the hassle of finding some place cheaper. Sometimes you are willing to pay for convenience.
Thankfully the hotel let us bring out bikes to the room. After rolling them into the room, we changed clothes and got ready to find dinner. The hotel had a restaurant and once again we were willing to pay for convenience at this point. The menu looked great, but it too was expensive. We clearly should have chosen a different hotel and restaurant. It was our fault for being lazy once we arrived in town. Mike ordered fish and I ordered a pork filet. When the meal arrived it looked delicious, but it was incredibly small. We are talking a decadently small portion like you see at fancy restaurants, with fancy plate presentations and the like. We both knew this wasn't going to cut it. We had both eaten less today, not taking nearly as many snack breaks. We also knew we couldn't afford to fill our appetites at this expensive place.
So after we paid for dinner we sought out cheap food to satisfy the rest of our appetite. And sadly we became those Americans who walked over a mile from their hotel just to fill up on McDonalds cheese burgers and fries for the second day in a row. We discussed the merits of what we were doing on our walk. "I believe Napoleon said it best" Mike explained. "Sometimes quantity is quality." I think both Mike and Napoleon might be on to something.
July 20, 2015 | Morgen
July 20 | Bamberg, Germany to Munchberg, Germany | Jeb and Mike | 62.2 miles | 6 hrs 15 mins | 7066 feet ascent | 1189.5 Total Trip Miles
"Morgen!" "Morgen." Pedal pedal pedal pedal pedal. "Morgen!" "Morgen." Pedal pedal pedal pedal pedal. That's basically the sound of the first four hours of our day for the past week. When it becomes afternoon I'm not really sure what to say as other cyclists pass, so I don't really say anything. Everyone is very friendly.
We wanted to continue on the D-Route 5 out of Bamberg, but we were not having an luck finding it. At one point it looked like the 5 switched to 11 and so we followed that. But then we also lost the 11. So we decided to use the GPS instead. We were hoping to make it Munchberg that evening which is getting close to the border of the Czech Republic. Garmin suggested a 60 mile ride to Munchberg. We knew it was going to include more hills than the EuroVelo route, but we didn't know how many hills. So we headed off in the direction Garmin instructed us.
It wasn't too bad at first. It was a slow, gentle incline up. Then we made it to a small town. It was similar to the small, quiet towns that we had passed on our own routes through England. It seemed a little eerie to be off the crowded route that we had spent with many other cycling tourists the past few days. We seemed to be the only people in town. A few road cyclists on their carbon fiber bikes did pass us in the town. I guess they were doing their hill training.
After we got to the end of the town was when the real work began. I noticed on my GPS map that the road was a bunch of "Z" indicating they were switchbacks which means it was going to be steep. And it was. Nearly 1500 ft and I don't know how long later we were on the top. I didn't expect this to be s straight up and then straight down hill. I figured we had to climb into the hills, where we would spend our day, and would descend down that evening. That is basically what happened. However there were a series of smaller climbs and descents throughout the day. These smaller climbs ended up totaling more than 7000ft of ascending. That was by far our highest daily ascent total.
By midday we were getting concerned about lunch. We didn't have the opportunity to pack any extra food and the only thing we could find in our pack was one square of chocolate. I ate it without telling Mike. We were hoping to come across a small town in the hills, but those were becoming few and far between. Where had Garmin taken us?
Thankfully one of our short downhills led us in to a small town named Kasendorf. Their was a hotel with a restaurant, but it didn't look open. Mike checked it out while I went to the ATM across the street. We weren't sure if the restaurant was really open or not, but the lady we found agreed to turn on the stoves and make us some food. Who knows, maybe we were the first visitors she had seen for a while. She didn't speak hardly any English. She didn't speak any really. We were able to point at the menu at what we wanted. Mike got a Cordon Bleu with frites and I got a schnitzel with frites. Some how we were able to communicate to the lady that we were Americans. She seemed to like that. "Americans!" she said, followed by a lot of German words. "Americans!" And then she slapped me on the back as she walked back in the kitchen.
After refilling our water bottles (which I had become less worried about since using my Camelbak) we continued on. The afternoon was full of more literal ups and downs. Mike and I didn't say much. We were just trying to get the hard work done. The hills caused us to ride separately more so than they previous three weeks. Sometimes Mike was ahead. Sometime I was. With only ten miles until our destination we had no idea how much climbing was left. Were were at 2000ft and I didn't think Munchberg was in the hills, but I was wrong. After one more substantial up and down we rode into the city of Munchberg.
It was a tough day. Like I said, Mike and I didn't say much the last half of the day. We were too exhausted. Even after finding a place to stay for the night we were slow to go search out dinner. I eventually found a take-out Chinese place around the corner. It was pretty entertaining trying to order Chinese food in German. I've said before that when I order Chinese food in the states I never get what I think I was trying to order but always love anything I get. This was again the case. The two language barriers clearly changed my intended order, but it was still delicious.
July 21, 2015 | To Be Continued
It's getting to the point in the trip where some decisions have to be made. I had hoped that I could finish before the beginning of August, but with less than 10 days left and only 1200 miles into the trip it was becoming obvious this wasn't going to happen. I knew I was going to make a difficult decision, but I was avoiding it. I didn't expect to be making that decision this morning though.
Mike wanted and deserved a break. He has been putting up with me for three weeks and I feel sorry for anyone who has to do that. Honestly, I wanted a break too, but sometimes I'm so goal driven that I don't listen to my body. The previous day had done us in. Mike made plans to catch a train (which happened to be very close to our hotel in Munchberg) the next morning to Prague. He let me know that was what he was doing and that I was invited to continue cycling to Prague and we could meet back up in two or three days, depending on how long it took me to get there. I figured this was what I was going to do.
The night before I was continuing to read the book which I started at the beginning of the trip by Barbara Brown Taylor (see blog post "Home by Another Way" on June 29th). The chapter I happened to be on was about Gideon called "Show Me the Sign." It was an appropriate chapter for the decision I was going to make. I had an incredible amount of angst of the decision for a variety of reasons. It's not my desire to hide anything so I'm just going to put it out there. I didn't want to stop because I would feel like I failed my goal. Cycling 1200 miles is nothing to laugh at, but it wasn't my initial goal. But then again cycling the final 1200 miles alone didn't seem like something I was going to enjoy. I truly love the pain, misery, and work involved in cycling long distances. But misery loves company. At least that's what I found out. I honestly thought I wouldn't mind doing part of the trip alone. I even told many people that before I left. But when it came down to it, I just didn't want to do it that way.
So this morning I got on the train with Mike to Prague. Tomorrow is my birthday and spending it restfully in the beautiful city of Prague seemed like a good idea. I haven't given up on finishing the trip, however it's looking likely that it'll have to be continued next year or later from Munchberg, Germany. And I think I'm becoming okay with that. It's my lifetime goal to see as much of the world by bicycle that I can. During the past three weeks I successfully biked 1,200 miles through 6 countries. That's three weeks well spent in the summer of 2015 and a worthy addition to my lifelong goal.
So what's next? I'm not 100% sure yet. Right now I'm siting in my hotel room on the 16th floor of Corinthia Hotel in Prague. I'm going to hang out here for at least the next few days while I decide what to do next. It'll involve returning to the states by the end of next week and returning to the job that I love. And it'll include more cycling, in distant lands, in the future, I'm just not sure when yet. And it'll involve more blogs, but this is enough for now.