2017 Scandinavian Bicycle Tour
On July 1, 2017, Andrew Branch and Jeb Hunt began a 13-day bicycle trip from the coastal town of Bergen in Norway, to Stockholm, the beautiful capital of Sweden. Traveling 850 miles across two Scandinavian countries, they saw breathtaking sights while facing the elements and the unexpected adventures of bicycle travel.
Photo Gallery of Scandinavian Bicycle Tour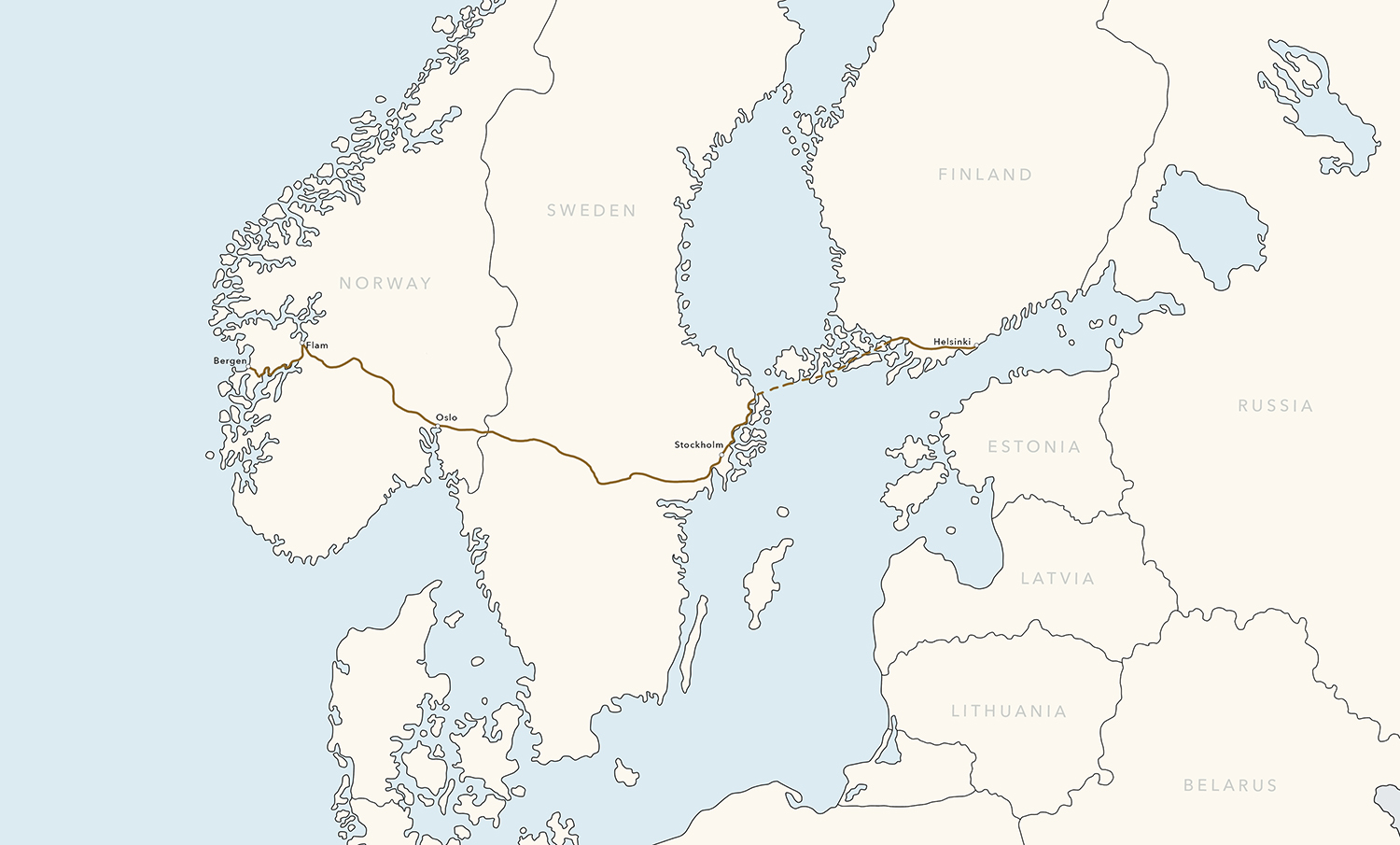 This blog details the 2017 bicycle tour of Jeb Hunt and Andrew Branch from Bergen, Norway to Helsinki, Finland.
June 21, 2017 | Here We Go Again (T Minus 7 Days)
Well, it's been a while since I've written a blog post. Almost two years since the last one, I guess. Obviously I don't tend to write much in between bike trips. I started these blogs mainly as a way to document my long distance bike adventures. The blogs serve as a way for me to remember many of the details of what happens day by day during the trips. When I'm older, I want to be able to read these stories and remember things I might have forgotten. I admit that I have read and reread both the blog from my 2013 trip across the US and the blog from my last bike trip in Europe in 2015. While the pictures I take tell much of the story of the trip, the words I write help weave these pictures together. The fact that some people, other than me, also enjoy reading these blogs during my trip is a complete surprise to me. However, I do use this as an additional motivating factor to encourage me to faithfully continue my blogging during the trip.
So, my third long distance bike tour begins one week from today. I'll be continuing my bike across Europe, albeit the starting point is different from where I ended in 2015. I've decided to take the ride north and bike across the beautiful Scandinavian countries of Norway, Sweden, and Finland. I'll start in Bergen, Norway which is on the west coast of Norway, on the North Sea. I'll then head east, and a little north, to bike by fjords before eventually making my way through Sweden, and Finland. The final destination for this trip is Helsinki, Finland. Here is a rough map of the route we plan to take. As I learned during the last trip, the route is always subject to change.
Unlike my past two trips, I already have a return airline ticket purchased, flying home from Helsinki. So, I really need to make it there by July 17th. This will make for a slightly shorter trip than last time, but I have no doubt it'll be an amazing and action packed adventure just like the other trips.
This time my good friend Andrew Branch is joining me on the trip. This will be his first long distance bike trip, but he is no stranger to biking or adventure. Andrew hiked the entire Appalachian Trail from Georgia to Maine in 2014. This is an adventure accomplishment far beyond anything that I have done. I've known Andrew for about 10 years and we are great friends.
There is still much that I need to do to get ready for my departure in a week. My touring bike should arrive today. I am using the same bike (2014 Kona Sutra) that I've used on the past two trips. I shipped it to San Francisco so that I would have access to it while I was there earlier this month. Once it arrives back home today I need to get new tires, get a quick tune-up, and then repack it, so that it's ready to be checked on the airplane next Wednesday.
I've started going through my gear and hope to finalize everything that I plan to take this weekend. The plan is to carry about half the stuff that I've taken on my last trips. I'm just going to use two rear panniers, instead of four panniers (2 front, 2 rear). It might be tricky to reduce the gear to this amount but I'm determined to do it. Every bike trip I realize that I have packed too much and don't use some of the stuff I bring.
If I don't write more before I leave next Wednesday, I'll be sure to start my blogging when I arrive on the shores of Norway. I'm looking forward to it. Hopefully you are too. The past two trips have been great. Here is hoping that the third time's also a charm!
June 28, 2017 | So far, so good.
Well so far, so good. The trip is only officially 45 minutes underway, but I'm going to go ahead and count my blessings. I'm always a little anxious when it comes to checking my bicycle and following the specific airline guidelines for checking a bicycle internationally. The rules and prices vary by airline and sometimes airline tickets counter workers are less than excited to see a large bike box entering the line.
However, American Airlines (I usually fly Delta) was incredibly accommodating and nice about it. And the whole process of checking my bike, getting my boarding pass, and going through security took 20 minutes. I think that is one of the fastest check-in times I've ever had, even without a bike.
My plane doesn't leave until 2:30 so I still have a bit of a wait. The last thing I wanted was to be running late, with a bicycle box in tow, so I made sure to get here in plenty of time. That probably helped the speed of the check-in process as well.
Some of you have asked about my layovers. I fly from Pensacola to Charlotte. From Charlotte I take an overnight flight to London Heathrow. From London Heathrow I take a flight to Bergen, Norway. I will arrive in Bergen tomorrow (Thursday) about 1:00pm. That makes for about 17 hours of traveling and what feels like almost 24 hours with the time change. I don't have the best track record when it comes to sleeping on overnight flights, but I have found that a little NyQuil on overnight flights is helpful. So, I am prepared with my two NyQuil capsules and hopefully I'm writing tomorrow about a restful nights sleep.
Once arriving in Bergen I'll unpack and reassemble my bike, most likely in the parking lot outside the airport. Pray this part goes smoothly. When packing for a trip like this it is important to remember that everything you pack has to be able to be carried on a bicycle. The clothes I am currently wearing at the airport are the same clothes I will wear in the evening once we finish biking for the day. I really only brought the clothes I am wearing and bike clothes, not counting a rain jacket and a pullover.
After putting my bike together in the airport parking lot, I will make my way about 6 miles to where I will be staying for the night. I reached out to a Warmshower's host a few days ago to see if they would be available to host when I arrived and they graciously agreed. They seem like an incredibly nice couple and I look forward to meeting them. For anyone who is unfamiliar with Warmshowers (I have blogged about it during my previous trips) it is a website for touring cyclists that connects cyclists with individuals who are willing to host them for a night. It's an incredibly neat society and a great way to meet new people with a shared interest.
Drew won't arrive until Friday night. I intentionally purchased my tickets to arrive earlier so that I had time to work out a few logistics before Drew arrives. (I think Drew actually goes by "Andrew" now. But I'm used to calling him Drew, so I may refer to him as both Drew and Andrew. Maybe even Drewbie from time to time. Don't be confused. They are all the same person.) He has a long flight tomorrow. Direct from San Francisco to London. That's a pretty lengthy flight. He then has one more flight to Bergen.
I'm pretty stoked that Drew is coming on this trip. Part of what I enjoy about the bike trip is experiencing the adventure with someone I know. At this point, I'm not necessarily sure I'd enjoy doing something like this alone. I know it would still be a positive experience, but it would be different. Each trip has been unique, and part of that is the different people I have traveled with. I know Drew well and I know he will be great company.
I have a list of things I want to do in my day and a half before Drew arrives. I have a list of things to pick up from some bike shops and outdoor stores. Most of these things are items which can't easily be checked on an international flight, such as denatured alcohol for the camping stove and CO2 cartridges for quickly pumping up bike tires. I'd also like to find a good map of Norway to have as a backup to our GPS'. Technology is great, but it never hurts to have a paper backup.
Well, I'm going to find something else to do to help pass the time now. Only about an hour until it is time to board. I should be able to write more tomorrow once I get settled in at my Warmshower hosts in beautiful Bergen!
June 29, 2017 | Everything was going perfectly until...
Well, I've made it to Bergen. It is about 11:15pm and I think the sun in finally deciding it's been out long enough today. I'm writing from the basement of the home of Reidun Eggesbo and Tim Francombe, gracious Warmshowers hosts where I am staying for tonight and tomorrow, as I wait for Drew to arrive. I'll tell you more about them later.
The flights from Pensacola to here were smooth and all were on time. I didn't get as much sleep as I would have liked on the overnight flight to London, but I did get some sleep which is better than some people can say. I had a center aisle seat and was seated next to a group of high schoolers and their chaperones from Kansas City that were headed to Europe for a school trip. They were all very nice and easy to chat with.
The connection flight at London Heathrow was smooth and before I knew it the wheels of the plane were touching down at Bergen airport. Going through customs was also smooth. The customs agent asked what my reason for visiting Norway was and when I explained that I was biking for the next three weeks, he seemed like he genuinely wanted to go along as well. Once through customs, I didn't have to wait long until my bike arrived. While I was waiting I noticed two bike boxes in the corner that looked like the exact bike boxes that I had used. They both had different names on them though, and were empty. Seeing the empty boxes did give me the impression that I might be able to reassemble my bike right there in baggage claim. Just to be sure I wasn't doing something I shouldn't, I asked one of the airport workers if it would be alright for me to reassemble the bike in the corner. They said it would be fine and told me just to leave the box and trash next to the other bike boxes. Everything seemed to be falling into place.
Once my bike arrived I dragged the box over to the corner and started opening it up. I wasn't in a hurry. I decided I was going to be slow and methodical while unpacking the box and putting everything together. It was only about 1:30pm and I knew that I had plenty of time before dark and I also knew that my Warmshowers host worked until about 5:00pm.
It took me about an hour to put everything together. An hour could also be measured by the time it takes two other planes to unload and for those passengers to collect their baggage in baggage claim. Bergen airport doesn't seem like that large of an airport. Maybe about the same size as Pensacola airport. Maybe a little larger. I believe Bergen is the second largest city in Norway, with around 250,000 people.
All was going perfectly until I realized I was missing one piece of my bike. I couldn't find my front skewer, which attaches the front wheel to the frame of the bike. I had got my bike tuned up and new tires added a few days before I left but I hadn't thought to check for the skewer. I dumped out the box thinking it might just have blended into some of the packing material in the bottom of the box, but unfortunately it was nowhere to be found. It's rather important for the front wheel to be attached to the bike (obviously), so this wasn't a welcomed development. However, this is part of what bike touring (or any kind of adventure) is about. Things are going to happen that you don't expect and it is my job to problem solve and figure out how to overcome the situation.
Thankfully even without the skewer the wheel loosely set into the frame and was held into place enough to support the weight of the bike and the panniers. This meant that I could walk my bike, I just couldn't ride it until I got a new skewer. Figuring this out was a relief because a bike the rolls is better than a bike that doesn't roll. So at this point I decided that I could walk my bike with all the panniers attached to the home where I was staying for the night. I knew the six mile journey which was only going to take 30 minutes on bike was now going to take much longer. But, I also knew that I had plenty of time.
Thankfully there was a bike path directly attached to the airport. This bike path which branched off many times in many directions during my walk, was extensive and impressive. I could tell I was back in Europe. I was passed by many cyclists and after a while I started to envy over all their bikes with functional front skewers. But I pressed on, knowing that I could push my bike the 6 miles in a few hours.
On a positive note, the weather was beautiful. The forecast for today hadn't been favorable as I'd been watching the weather forecast for the past few days. Supposedly this month in Bergen has been incredibly rainy with them receiving rain something like 26 of the 29 days so far. It was in the mid 70s and partly cloudy skies. Perfect weather for a nice stroll. I used google maps to guide my walk towards my hosts for the night. It is a bit of a balancing act when using my phone for directions over here. I am trying to use as little data as possible on my phone so that I can save it for emergency situations. But I also needed it to help guide me where I needed to go and I hadn't taken the time to set up my bike GPS yet.
I thought maybe there was a chance that I would pass a bike shop on the way where I could buy a skewer. Every once in a while when I was checking my phone to make sure I was still going in the right direction I would check to see if there was a bike shop close. Unfortunately they all seemed to be in the center of town, which is not where I am staying tonight. The Warmshowers host live in a small suburb called Hop right outside Bergen.
Sure enough the walk took me about 2 hours and I arrived outside what appeared to be the address from their warmshowers profile. It was about 5:00pm at this point, which I thought turned out well because they had mentioned they worked until 5, though they thought their daughter should be home before then. I knocked on the door, but no one answered. I decided to sit on their front steps and just wait. I had emailed them earlier to let them know that everything was on time and that I would arrive that late afternoon. I wasn't quite sure how to text them. There are county codes and stuff that you need to make sure are on the telephone number when dialing. I paid for an international plan for my phone with unlimited texts but hadn't got a new SIM card, which some people do when traveling overseas. I was texting back and forth with Drew, which worked fine, and he suggested making sure +47 (country code) was at the beginning of the number. That seemed to do the trip.
After only waiting for 15 - 20 minutes Reidun pedaled up in front of her house and welcomed me. It turns out that her husband Tim had briefly been inside since I knocked but had apparently went in a different door and didn't see me sitting on the front step. I was glad that I finally made it to my destination for the night. After 24+ hours of traveling with limited sleep and a six mile walk pushing my bike, I was ready to have a place to recoup and get a good nights rest before having a fresh start tomorrow. They quickly made dinner when I arrived. It was a tomato sauce, black beans, and rice dish, which was delicious. I explained about my skewer problems over dinner and they were confident that they had an extra skewer that I could have. By the end of dinner the had found an extra skewer that fit. There are also a few extra items that I needed to pick up before Drew arrives tomorrow. One was an extra water bottle for Drew and some fuel for our camping stove. They had both of those items at their home too. Wow. I am so thankful!
After dinner they showed me where I would be staying which is in the basement area of their home. Thankfully their windows have shades which help block out the light since even at midnight it is not completely dark yet. They let me know that they would be going out for a little bit, and I told them that I was planning on calling it a night early to catch up on my missed sleep. After a quick shower and sending a few texts letting people know I made it, I tried to drift asleep. It was about 7:30pm. I slept until about 11:30pm, but then woke up and didn't quickly fall back asleep. It is at this point that I decided to write this blog of what happened today. It is now about 12:15am and it is almost dark. Still a little bit of dim light visible outside the window in the basement door. As soon as I post this I will attempt to sleep until 6ish. Or at least until the sun rises at 4:15am.
Drew just texted and he is headed to the airport. He has a really long flight ahead from San Francisco to London. I'm really looking forward to him being here. We are going to have so much fun. Twenty four hours from now he will be here and we will get started. Until then, I am going to first try and get a little more sleep.
P.S. Pardon any typos. I'll go back and correct them when I proof this later.
June 30, 2017 | Exploring Bergen and Welcoming Drew
Well, I wasn't able to fall asleep until about 2:00am. I guess I should have waited and not taken the nap so early. The good news is after waking up briefly a little after the sun rose in the 4:00am hour, I was able to make myself return to sleep until 10:00am. That gave me a full 8 hours and I woke up feeling refreshed. After I got ready for the day I ventured upstairs to see what was going on. It was a Friday and it appeared that everyone was at work. I found a note on the counter that said they were gone, but it instructed me how to come and go as I needed and told me where the hidden key for the bike house was stored.
Every warmshower host that I've meet is so generous and so trusting. This is another such example. My plan for the day was to bike into downtown Bergen and explore the sites while I also collected various supplies that I needed to get. I didn't need to get a whole lot of supplies because Tim and Reidun had helped a lot by providing many of the things on my list yesterday. However, I still wanted to pick up some CO2 cartridges in case we got a flat and find a paper map to have as back up, if possible.
I navigated into town using google maps on my phone. I probably should have unpacked my biking GPS and got it set up to use as I went into town, but I figured that was something I could do at the end of the day while I was waiting for Drew. I didn't take the most direct path into town, but I eventually made it and was much more efficient on my ride back to the house. There were a few more issues that I noticed on my bike ride into Bergen. Not major issues, just some things I needed to fine tune before we start the ride tomorrow. Another good reason for a short ride today.
I was getting hungry so the first stop was to find something to eat. Because I was by myself ideally I wanted to find something outside so that I could keep an eye on my bike. Norway is an incredibly safe place, but I figure you should also be careful in the downtown area of any medium/large town or city. I ended up eating at a place called "Michelsen", which was named that because it was located directly next to a statue of Christian Michelsen in a park in a large park in the center of town. Apparently Christian Michelsen was the first Prime Minister of independent Norway from 1905 to 1907 and a popular politician of his time. The park which had a large lake in the middle was crowded on this Friday. I'm guessing partly because the weather was absolutely beautiful. Supposedly it had been a very rainy June and today was one of the first days where it was nothing but blue skies. Hopefully it stays that way. I liked the restaurant enough that I even stopped by again on may way back home to grab some late afternoon ice cream. Not a bad decision at all.
After lunch I explored the very touristy areas of Bergen. All the sidewalks were filled with tourists who had poured off of tour buses parked off the main road or maybe they were from the large cruise ship which was parked in the distance. This area of Bergen looked just like the classic pictures you see of a coastal Norwegian town. Stunning wooden townhouses and shops. A fish market right next to the harbor. It was definitely a neat experience to see this all first hand, even though it did seem touristy. I prefer some of the sites that we will probably see in the next few days. The back roads of Norway. The natural beauty. That's what I like to see on these trips.
Eventually I made my way to the Armadillo Bike Shop. I was trying to take my time getting there because according to Google it said they closed from 2:00pm - 3:00pm for one hour in the middle of the day. When I had first thought about heading over there it was like 1:50pm and I figured by the time I found it, they would be closed for that hour. So I just took my time hanging around the fish market and casually strolling the downtown area until I made my way over there at 3:00pm.
Initially I had contacted this bike shop while I was in the states because I was planning on mailing my touring bike to them to assemble and tune up before I arrived. They had agreed to do so, but by the time I got around to shipping it I realized that it would not arrive in time. So instead I decided to send it as oversized luggage on the airplane. I felt that at the very least I could go and buy the CO2 cartridges from them.
The shop was small and had a cool downtown vibe to it. The owner greeted me and I asked him if he had any cartridges. He didn't think he did, but then realized he might have some elsewhere. He told me to wait a few minutes, while he left the store and went somewhere. He arrived back a few minutes later with a packet of three, exactly what I needed. I have no idea where he went, but I'm glad he found some.
At this point I decided I should probably start heading back toward the house because I figured it would take me an hour to get back. I was more efficient on the ride back, now that I had got my bearings a little more. No one was still home when I arrived back. I went back to the basement area and enjoyed some quiet down time. I figured starting tomorrow every day was probably going to be action packed.
Drew's plane was scheduled to arrive at around 11:45pm and I was planning to meet him at the airport and help him with his bike box and gear. Tim and Reidun had suggested that I take the tram which had added a connection to the airport recently. They said it would be a perfect way to easily transport the bike and box as well. If I would have known that, I could have also taken that when I arrived and saved myself the two hour walk. But I'm not complaining. I liked the adventure. Plus part of the reason that I chose to arrive a day early was to figure out things just like this.
Drew and I started texting after he arrive at London Gatwick. He had a lengthy layover there and was hoping to get a little sleep in a nap room he had reserved. After a few hour nap he learned that his flight was being delayed. It didn't say for how long, but we knew it wasn't going to be on time. Eventually a new time was posted and what was going to be a late night arrival (11:45pm) became a very early morning arrival (12:45am).
So I waited to venture to the airport until about midnight. That was a earlier than I needed to, but I wanted to figure out the tram and I also realized I could grab something to eat for dinner at the airport as well. The tram was incredibly easy to figure out (it only goes two directions on one line) and it took less than 30 minutes to get to the airport.
It was great to finally see Drew. I could tell he was happy to finally make it to Bergen as well. We carried his bike box to the tram and then headed back to our host home. It had taken Drew a little while to get his bike box from baggage claim. It seems like special luggage is alway last. The tram stop is only about a seven - ten minute walk from where we were staying, but that seven - ten minute walked seems a lot longer carrying a bike box up the hill. So by the time we got back home it was nearly 2:00am.
Tomorrow Drew will have to put his bike together in the morning, so we aren't sure when we'll be heading out to begin the journey. We know it will be tomorrow though. July 1st. Sounds like a great day to start the adventure.
Not My Average Weekend
Saturday, July 1

There must be something about sleeping into 10:00am. I can't think of the last time I have done that in the states. I'm almost always up at 6:00am. But we slept until 10:00am. I guess I don't normally stay up until 2:00am regularly either.
After we woke up, Drew started putting his bike together. Drew knows a lot about bike mechanics so I even got him to look over a few of the things on my bike when he was finished. The process to put the bike together, pack our bags, and fine tune everything took a while. While we were doing this Tim and Reidun offered to fix breakfast, which we were excited about. It was a delicious breakfast of eggs, bacon, and toast. Over breakfast we talked about our planned route and Tim showed us a few different options with better bike trails and less hills. Tim then offered to ride with us for about 10 miles. He had planned to take a leisurely ride anyway and this way he could lead us out of town and set us on the ideal path.
By the time we were ready to go it was almost 2:00pm. It was such a treat to have Tim leading the way. Warmshowers hosts are the best! Especially Tim and Reidun. We couldn't have asked for anything better. Tim took us on some neighborhood bike paths that we would have never known about and sure enough about 10 miles in wished us well and we continued on our way alone.
Once we got out of the suburbs of Bergen we started riding next to lakes surrounded by high mountains. I'm not quite sure what exactly are the qualifications to be considered a fjord but I could tell the landscape was slowly transitioning into this. Bodies of waters surrounded by tall cliffs. These are absolutely beautiful to bike next to. This is what we were hoping for.
After a little while we stopped at a grocery store called "Meny" to pick up some snack supplies for the next day or two. Drew found some ham, cheese, and bread for us to make sandwiches when we got hungry. We also got a bottled water to refill one of our bottles. Unfortunately it was carbonated water. I accidentally do that every time when in Europe. When will I learn.
I think we overestimated a little bit where English would be used. While most know English as a second language, they do all seem to speak Norwegian primarily. And all the signs are in Norwegian. So sometimes we have no clue what we are really buying or doing. When Drew was checking out from the Meny store he used the self-checkout. I'm not sure if he was just trying to challenge himself, but there wasn't an English option available. So he had fun with that. Also in order to exit the self checkout you have to scan your receipt at the exit gate. I'm sure that is explained somewhere in Norwegian near the exit, but Drew eventually figured it out.
We stopped again a little bit later because we realized we had forgot to get camping stove fuel as well. Drew found the type he needed at another gas station down the road.At this point I think we had most things we needed. With all the stops and stars it was about 4:15pm now and we had gone about 18 miles. Our first ferry of the day was at 22 miles. I guess instead of building bridges from one side of the water to the other that like to do ferries. We will end up taking another ferry later in the day as well if we make it to our goal for the day. The ferries don't take very long, probably 20 minutes, and normally cost about 35 - 40 Norwegian Krones to take a bicycle across. They are pretty efficient with loading and unloading the cars on the ferries. I can tell they do this once, or twice, or 20 times a day.
The ride continued along the water for most of the rest of the day. A few times it would turn inward a little bit. I learned that usually meant some larger hills as you crossed over some of the mountainous area. Needless to say, biking on the road along the water, tended to be a little flat with smaller ascents and descents.
This continued for most of the rest of the day and by 10:00pm, with still an hour before the sun set, we made it to our second ferry of the day in the town of Tørvikbygd. When we were about 1 mile away from Tørvikbygd we could see the ferry heading into the port. We knew if we missed the ferry we would have to wait another hour or so, so we tried to push hard to make it. It would have helped if the one mile wasn't what appeared to be straight up. Well, it wasn't straight up, but it was a sizable hill, and even though I was trying to hurry, I didn't appear to be going any faster. I guess I just didn't have much stored power left in my legs after 8 hours on the bike.
Thankfully we did make it in time for the ferry. They were loading the last line of cars when we coasted down the ramp and onto the boat. The ferry took us across the water to the town of Jondal, where we planned to camp for the night. We had gone about 66 miles which is a good first day, and higher than the average we need to complete a day to make it to Helsinki in our allotted time.
There weren't any good camping spots inside the small town so we continued on the road towards the next city with intentions to find a spot soon off the road. Drew is the camping expert (having hiked the entire Appalachian Train a few years ago) so I was fine camping wherever he deemed a suitable place. As we biked onward we did ride through our first few tunnels. They weren't very long. The first was about 50 meters and the second was 100 meters. Even though it was getting close to sunset, you couldn't really tell it. It had been overcast all day and the temperatures were really comfortable.
After the tunnels and up the road about a mile Drew noticed a sign which labeled the area. It looks like we were now in a national park/wildlife type area, which would be an ideal place to camp. As he was reading the sign located slightly off the road he commented that there would probably be a decent spot down there, off the road a bit. I agreed, pointing out that another car with a pop-up camper on the top was already in the parking lot/pull out area behind where the sign was.
The campers, who looked like the were traveling on holiday, we're brushing their teeth outside their vehicle. After the finished brushing their teeth I asked them if they knew if there were any good campsites around. Cleary not from the area, and armed with a pop-camper and not a tent, they kindly said they didn't know and had stopped because there was this graveled parking lot/pull out for them to park their car and camp. That makes sense. I should have figured that out before I asked the question.
Drew left his bike and started exploring for a good spot. Within 10 - 15 minutes he found a good spot just a little bit down the path. As I was walking to meet him and see the spot for our home for the night, the car campers were climbing into their pop-up and waved at me. "Have a good sleep" they said. I smiled, waved back, and wished them the same.
Drew had found a nice spot which was off the road, was clear, and mostly flat. We set up our tents first and then Drew started making some water to pour in some of the Mountain Home brand dehydrated meals that I had brought. I was looking forward to some warm food. It was about midnight, but still we didn't need to use a flashlight or anything. Honestly at this point I'm not even sure why I brought a flashlight.
We had some idea that it might rain overnight so Drew suggested I might want to fit as much of my stuff I wanted to keep dry in my tent. On my previous trips I had normally kept my panniers of stuff near my bike, except for just the things I needed in my tent. However, I heeded Drew's advice and took most of my stuff (except my bike, of course) into my tent. My tent is an incredibly small, one person tent. It isn't even large enough to entirely sit up in. It is designed just for sleeping. I was able to put both panniers along the side of the tent so that I still had a path for my feet to stretch out. It made for a crowded home, but if it did rain, I'd be happy I followed Drew's suggestion.
Sunday, July 2
Sure enough, it rained. I'm not sure how long, but probably most of the time we were asleep. We only got about 5 hours of sleep, waking up at about 6:00am. You can only ignore the daylight outside your tent for so long. It was still raining when we woke up and I was glad that I had everything in my tent. I was able to redistribute my panniers to make sure the things that definitely needed to stay dry, like my clothes, shoes, sleeping bag, and camera, were well protected inside the panniers before I left the dryness of the tent. The hardest part of this was doing all the redistribution and moving around inside a tent that you can't even sit up in. I think my back was more sore from bending over doing this, and not from riding all day.
As much as I didn't want to leave the dryness and the warmth, I knew we had to. Our tents were right next to either so of course we were able to have a discussion from inside our tents. Trying not to avoid the inevitable, we got out and tried to quickly put our tents away. It didn't take long and we were soaked. We had switched into our biking clothes so we knew it was going to be a long, wet, rainy, cold day. We weren't quite sure how much the weather would slow us down, but we were going to push it as hard as we could.
The one bad thing about our campsite was the gnats. They were being a little annoying. Honestly I thought the cold would have killed them off. However, I guess Norwegian gnats have adapted to the cold weather.
By a few minutes until 8:00am we had taken down camp, reloaded our bikes, and were ready to go. Once back on the road, we tried to adjust to riding in the rain and cold. You would warm up briefly as you sweated up the hills, but as soon as you quickly went back down the chill would set in. We didn't have anything for breakfast, because of the rain and because we hadn't really packed anything for breakfast, and were hoping to find a place to eat soon. We were aware and had been warned that most places weren't open on Sunday though. With that information on hand we each ate an energy bar so that we weren't riding on an empty stomach. It wasn't the ideal breakfast but it was better than nothing.
Before long I could tell that we were headed for a largest climb so far. We knew the next few days would have some climbs. The GPS is attached to my bike (Drew has one too but we are only using it as a back up for battery reasons) so I could tell what was coming up. Though the GPS doesn't tell you the upcoming elevation, I could tell that the Z formation of the roads were switchbacks taking us over some large hill.
Drew is a beast and had no problem with it. I think he was made to do something like this. Regularly biking the hills of San Francisco helped too, I'm sure. I struggled, having to walk some. But eventually I made it as well. I was sweating and warm when I got to the top, but of course, was shivering on the way down in the cold and rain.
The rain didn't really let up much the whole day. It wasn't a hard rain, so it could have been worse. It was just a constant drizzle. I think this weather is kind of typical for this region. It's definitely not the most pleasant weather to bike in, but it is just something we are going to have to deal with. That being said, today wasn't easy.
Once we made it back down to the road by the water, it took us through towns that included farms. Outside the farms, farmers would set up booths with some of their products for passerbys to pick up an item and leave money. First we passed an apple orchard and then noticed a booth with 3L bottles of apple juice. Apple juice sounded delicious to me, but a 3L bottle was a little too large to carry around on the bike. Next we passed a stand selling a bunch of different types of fresh jams. We stopped and decided to pay the 40nkr and grabbed a small jar of fresh blueberry jam.
Utne was the next town where we needed to catch a ferry to the other side. We were hoping that we could find something to eat there as well. When we arrived in Utne we were of course still soaked. We looked for a place to dry off, and a nice couple from Wales mentioned that the hotel near the ferry (Utne Hotel) served some coffee. We thought that would be a good first step to warm up. We placed our bikes behind the hotel and made our way inside and sure enough they had coffee. We took our time and enjoyed multiple cups. The Welsh couple had also mentioned that there was a museum in town that had a cafe, but we weren't sure what time they opened. After coffee we made our way to the museum, which was at the top of a small hill. Located on the second floor of the museum, the small cafe had a lovely view of the water where we could see when the ferry boats arrived.
When we were walking towards the cafe we noticed a sign pointing us in the right direction. The sign had the picture of what appeared to pancakes. "I sure hope they actually serve pancakes. I hope that wasn't just a stock photo they used." Sure enough they sold pancakes! They called them something other than pancakes, but the lady running the cafe mentioned that back in the day the ferries used to make these large pancake-like treats for travelers. Eventually the ferries stopped selling food, so the cafe made them available. It was basically the only thing they had, but I was excited about it. Drew ordered two. I ordered three. She also mentioned that it was common to put preserves and sour cream on them as well, as she placed two jars on our table. I figured I'd eat them like intended so I placed both on top. They were delicious.
Halfway through our pancake feast we could see the ferry getting close to pulling into town. We would have to rush, stop eating right then, hurry downstairs to get our bikes, and then quickly ride down the hill to make it in time. We unanimously agreed that we would instead hang out in the warmth and dryness of this cafe for another hour instead, and finish our pancakes and savor it a little longer. The woman running the cafe was fine with our decision and told us we could stay for as long as we'd like.
About 10 minutes before the next ferry was scheduled to arrive we made our way back. Halfway down we noticed the ferry arriving perfectly on schedule. This ferry seemed a little larger, could definitely hold more cars, and was completely packed once we were loaded. It even had a second deck where people could sit and watch. It was also a little bit longer ride, taking about 30 minutes to reach the other side.
We had switched into dry shoes during the coffee and cafe break, but switched back to our wet cycling socks and shoes while on the ferry. The last thing I wanted was to have both pairs of shoes wet.
Once on the other side, the road continued near the water. Thirty or so minutes into the ride we went through another tunnel, this one much longer at almost 2km. It's a unique experience cycling through a tunnel. Thankfully this tunnel was equipped with a flashing sign that informed motorists that cyclists were in the tunnel as well. After turning off the coastal road we were surprised to find a dedicated bike path which was pointing towards the city of Voss, which was our next destination. Though our GPS had charted for us to take the large roads, shared with cars, we decided to take the dedicated bike path. The sign which pointed us towards Voss also said 20km which also gave me the impression that the path may take us the whole way there.
The path was a good choice. It began very flat. You could tell it was designed to be a very family friendly bike path, with fresh asphalt. It was pleasure to ride on. Eventually the dedicated bike bath turned into a small road, but there was very little car traffic. Once they built the larger main road they must have decided to connect these smaller roads via bike paths and create and alternate path for cyclists to Voss. It was a welcomed development for the day.
The flat eventually gave way to a gradual ascent, which eventually turned into a steep ascent, which eventually turned into switchbacks. Drew pointed out that the main road below us went through a tunnel through the mountain. Instead the makers of the bike route decided to take us over it. Fueled with my three pancakes I was in better condition to bike up the switchbacks and surprisingly made it to the top easier than I was expecting. On the way up we biked past an impressive waterfall. Halfway through the climb and in a good rhythm we didn't stop, but instead took some pictures while on the bike and stopped once we reached the top to look down. The sign at the top let us know that we had made it to a large plateau area at the top of this mountain. There were restrooms at the top as well. Inside the the restroom was a glass wall looking out over the river. I've never seen a restroom with so nice a view.
The ride into Voss was great. The plateau kept us flat for awhile, until the last 5 miles into Voss was a constant downhill. I love prolonged descents. Makes the ascents totally worth it. We had stopped briefly after the first ferry to pick up some more supplies to make sandwiches in case we got to a point where we needed a snack again. Not knowing what the route to Voss would be like, we did stop and have a quick snack. If we would have known it was going to be a constant descent for miles we would have probably not stopped.
Once we arrived in Voss, which is a large city at what appears to a hub for many adventure visitors to the fjords of Norway, we looked for a place to dry off and find some dinner. We found a cafe with a good place to place our bikes. We both order a hamburger with cheese and bacon. It was delicious. While inside the rain continued and we just couldn't imagine continuing for another section that evening. We had agreed that if the weather let off or cleared up we would continue on a little bit, but after drying off slightly we decided the nearly 50 miles we had went today to Voss was a good accomplishment, especially in this weather.
So we made plans to find a place to stay in Voss. We agreed that getting a hotel room, which would give us a place to try out gear, would be an added bonus. Thankfully a room was available just a few blocks away at a nearby hotel. We plan on waiting until about 9:00am tomorrow morning to head up. Drew needs to visit a bike shop to buy a few spare tubes. He doesn't have any spares and we figured we should be prepared just in case something happens. I do have three spares, but our tubes are different sizes.
So tomorrow we will continue on. Tomorrow we should reach our northernmost point of the trip before setting our sites east. The fjord we are heading towards tomorrow is supposed to be quite impress. I am looking forward to it.
Contrasting Days
July 3rd
After a restful nights sleep we woke up around 8:30am and made our way to find a bike shop after we got ready. We knew there was a bike shop in town because we passed it when we first arrived. The lady at the shop didn't seem very knowledgeable about bikes and was unable to find the tube size that Drew needed. We each had a pastry for breakfast at a nearby bakery before visiting a sports and outdoor store looking for a pocket knife for Drew. They didn't have the kind of knife he was looking for at this store but surprisingly they didn't have the correct size tube. Having accomplished most of our agenda before leaving town we headed back to the hotel and packed up.
The night before we had laid out our tents to dry. However our shoes didn't dry as well. Instead we used a hairdryer to try and get them as dry as we could. It worked decently well, but it was a smelly job blowing hot air on sweaty cycling shoes. Once we were satisfied that they were dry enough we headed out toward the town of Gudvagen. Gudvagen will be our northernmost point of the trip and from their we will have to take a ferry to the city of Flam. The ferry ride is supposed to be pretty impressive taking you amongst some of the most spectacular fjords in Norway.
As soon as we got out of town we had a nice bike path and a generous descent that seemed like a continuation from last night. Eventually the bike path disappeared and we had to ride on the main road which was pretty crowded especially with tour buses carrying lots of eager tourists heading to Gudvagen as well. As we traveled this main road towards Gudvagen the scenery became more and more dramatic. It really was unreal. Unlike anything I have ever seen. Huge cliffs with towering waterfalls. Too many waterfalls to count. If I had to imagine a picturesque bike ride to take, I couldn't have even imagined this. It was incredible.
We stopped for lunch on the way to Gudvagen at a picturesque spot off the main road. We are impressed how many picnic tables are around Norway. Norwegians are a people who like to be outside and the picnic tables are a testament to that. We enjoyed our lunch sitting at the picnic table which was next to the lake where you could see a snow capped mountain in the distance. I wondered how many people actually used these picnic tables that were everywhere. Well, as we were leaving two vehicles pulled up and got out to eat at the tables. Apparently they are well used.
Eventually we left the main road again because the main road continued through a tunnel that bikes weren't allowed in. When you can't go through a tunnel it means you have to ride a path over the tunnel. And by over the tunnel, I mean over the mountain. That means a lot of climbing ahead. This climb was a little different though. Being amongst this scenery was unreal. The climb was hard, but doable. At the top there was an overlook where a few cars had stopped to take pictures. We stopped as well and marveled at the sights some more. Right after this overlook was a sign indicating a 18% decline on the way down. That is a crazy steep decline on a bike and made me nervous. You have to really, really trust your brakes. One of the couples at the overlook asked us about the upcoming descent and I admitted I was nervous. "We will be right behind you if anything happens, so don't you worry" they said. That was kind of them.
It was a crazy descent. By far the steepest I've ridden. The scary part was the switchbacks. If your brakes didn't slow you down you would pummel right into the side of the road and plummet to your death. Thankfully that didn't happen. I rode my brakes pretty hard, I was probably 2 or 3 minutes behind Drew. Drew has become accustomed to both climbing and descending hills. So he knew what he was doing.
Once we hit the main road again we were going fast. Up to 30mph at one point. The wind was at our bake and the road was a slow but generous downward slope towards Gudvagen. At one point a car pulled alongside me while biking and it was the couple who we saw at the overlook at top. They smiled and waved. I gave a thumbs up and smiled back. Soon we had arrived to Gudvagen. Gudvagen was small, consisting mainly of just a ferry terminal and a few shops surrounding it. The ferry terminal was packed though. Loads of tour buses. Lots of tourists. This was clearly a popular thing to do. We arrived at Gudvagen at 3:00pm and purchased tickets for the next ferry which was at 4:30pm. While waiting we decided to get some food from the restaurant next to the ferry terminal area. I tried Norwegian meatballs with potatoes, gravy, and a type of dressing. It was actually very good. Drew had fish and chips.
The ferry took 2 hours to arrive in Flam. Our ferry wasn't actually that crowded, since it was one that just carried passengers and not cars or tour buses. The scenery during the entire ferry ride was so impressive. Words can't describe it. I bet I took a few hundred photos. The ferry provided audio commentary of some of the sights and towns that we passed along the way. That was a nice touch. It also had a cafeteria where we got coffee and tea during the ride.
When we arrived in the Flam we stopped to pick up some more supplies because we knew we would be away from some towns for a while. There was a tiny grocery store in Flam and we bought a few blueberry muffins for breakfast, stuff to make sandwiches and a few other snacks.
Feeling good about the progress we had made this morning to Gudvagen and the two hour break we had on the ferry we headed off only to have to turn around about a quarter mile down our path. The bridge of our path was out and they were building a new one, but it wasn't finished yet. There was no way over without turning around. Glad it was only a quarter mile down the path. It could have been much worse. Once we found the alternate path, which didn't take long, we continued on. The path took us on small roads with very little car traffic. We passed some cyclists. I'm surprised by the number of families we pass cycling. I love that families are riding their bikes together as a family activity. One of the families even had their small dog running along side them as they rode down the path we were riding up.
At some point our road turned to a gravel. We knew that we had gravel roads in our future because we were heading to ride on Rallarvegen. Rallarvegen (or The Navvy Roady) is a gravel road that was built between 1902 to 1904 in connection with the construction of the railway line in this area. It is now popular as a trail for cyclists. We weren't quite to the Rallarvegen yet, but we were getting close and we knew it.
After a little while stopped for a sandwich snack using the supplies we had bought in Flam. After our snack we continued on until we reach the beginning of the Rallarvegen. The beginning of this trail is a sight to behold. I knew there was no way I was going to be able to ride my fully loaded bike up these gravel switchbacks with cycling shoes without crashing. I just personally don't have the bike handling skills to pull it off. So instead I changed into tennis shoes and decide to push my bike up. Drew bikes most of it, but as some point he joins my pushing parade. I watched a video of someone going down it. I'd die. I decided I want to live and tell about this adventure. So I should probably just walk this beginning section. So that's what I did.
After the switchbacks were over it continued to climb somewhat, but it wasn't nearly as tough. At about 11:45pm we were feeling good about our progress for the day and decided to find a camping spot. I figured everyone would stop around this time. Nope. Two cyclists ride down at around 12:30am while we are setting up camp. Well, I guess there are people crazier than us. It was pleasant to hear the sound of rushing water in the distance as I drifted to sleep inside my tent. I'm glad that I was about to have a peaceful rest because I was going to need it for the upcoming day. If I had known what was coming up I probably would have turned around and walked straight back down the mountain I pushed my bike up.
July 4th
This was a Fourth of July I will never forget. We started off eating some blueberry muffins, which just happened to say "American Style" on the outside of the packaging. I thought it was a fitting breakfast for Independence Day. I had thought about eating the blueberry muffin last night before I went to bed, but I decided not to, knowing that I would have been sad in the morning if I ate it the night before. Delayed gratification. It was worth the wait. While enjoying our blueberry muffins Drew commented on the melody that one of the birds was singing. "Does that sound like Mozart? Or is it Beethoven?" We decided it was Beethoven. We were done with breakfast, packed up and on the trail again by about 10:30am.
What we did next was by far the hardest thing I have ever done physically. Over the next 9 hours we only traveled 15 miles. But it was a hard 15 miles. The first five miles were slow but doable. We knew it would take us a while at this speed, but we didn't expect all day. Early in the day I had commented that as we climbed we were getting closer and closer to the snow. "It would be nice to at least touch some snow on this trip" I said. "I wonder if we will get close enough?" I should have held my tongue. I forget exactly how many miles we had gone but at some point there was snow covering the path. I remember Tim in Bergen mentioning that there might still be snow at points of the Rallarvegen this time of year. I should have understood what he was saying a little bit more. Dragging a fully loaded touring bike up a hill that is covered in snow for 10 feet isn't easy. After making it through the first one I started to wonder what we had got ourselves in to. This was definitely going to be an adventure. I just hope I make it through the day.
After we made it over the first snow drift on the trail, there was a second one. The third one was a little bit longer. The fourth one was a little bit steeper. We passed two cyclists going the opposite direction after about the fifth or sixth one. They were clearly worn out as well. "How many more are there?" we asked. "Probably about 40 or 50 more" they said. "It's tough, man, it's tough. Drink lots of water."
We weren't quite sure what we had signed up for here, but at this point we had about 8 miles to go until the next town of Finse. The next four or five hours were exhausting. Biking a short section and then dragging the bike through the snow. Walking your bike, then dragging it through the snow. We were now in the 4000+ elevation and it was getting pretty cold. You'd warm up doing all the work of dragging the bike, but as soon as you stopped to rest you'd get cold again. And our feet were freezing. We didn't bring the right shoes to be walking through snow. I had switched into my tennis shoes to do this and they were soaked from the ice and freezing. This continued for what seemed like forever.
Eventually we made it to the next town of Finse. It took us about 9 hours of really hard work to go 15 miles. I knew the Rallarvegen was going to be hard, but I wasn't really expecting that. Now when I say we reached the town of Finse, we are talking a small town. Like really small. It is more of a train stop. Actually the only way to Finse is via the Rallarvegen or by train. No other roads lead there. Next to the train stop is a hundred year old hotel called Finse 1222. It is like an oasis in the middle of nowhere. We went inside Finse 1222 to warm up and figure out what to do from here. We weren't even halfway through the Rallarvegen and there was no way we were going to do that again. We contemplated catching the train to the next town and inquired with a worker at the hotel about how to do that.
While researching train times the hotel worker had struck up a conversation with us and we explained that we were worn out from just dragging our bikes over 50 snow drifts. "You just came from that direction? That's really impressive" commented the hotel worker. He then preceded to give us both fist bumps. We explained to him that we had planned to continue on but were just to tired. "I'm pretty sure there are no more snow drifts in the next section and it's a beautiful ride. You have done the hardest part by far" he said. Well that changed our mind a little bit. We knew we didn't want to finish it today, but if there was no more snow we figured we'd like to say we finished the Rallarvegen. So we decided to stay a night at Finse 1222.
"Do you have a room available tonight that we could stay in?" I asked the worker. "Well there are only 6 people currently staying, so yes, we have plenty" he said. "There was no one here last night so we closed." I guess that is the problem with having a hotel that is only accessible by bike or train. "Do you have a place we can store our bikes?" I asked. "You can just leave them outside in the bike racks" he said. "You sure they will be ok" I asked. "Remember there are only 6 people here and about 10 people in town. They will be fine" he said. Good point.
We found out the meals were included in the the cost of the hotel stay. We had initially inquired about food while we were deciding what to do but they let us know that it was only for hotel guests. They weren't sure if they would have enough dinner for us, since we had decided to stay so late. They said they needed to check with the kitchen and get back with us. As we were unpacking our stuff they found us and let us know we were in luck because they did have enough food. "Dinner is at 9:00pm" they said.
At around 8:55pm we made our way down to where they let us know dinner would be. We weren't really sure what to expect. We thought it might be family style where the 8 hotel guests sit around together and eat, sort of like a bed and breakfast. It was one of the most impressive meals I have ever eaten. Three courses. The first course was stuffed portobello mushroom with rucola salad. The main course was grilled mountain trout fillet with goat cheese, mint quinoa risotto, caramelized fennel and capers lemon butter. Dessert was chocolate and coffee cream pot with home made lemon and passion fruit sorbet. It was all divine. I was not expecting anything like that at all. However, it was an incredibly welcomed treat after such a hard day.
One other tidbit about Finse. Filming for Star Wars: Episode V The Empire Strikes back took place here in 1979. Areas around Finse represent Echo Base on the planet Hoth in the movie. And the actors in the movie stayed at the Finse 1222.
After the delicious meal we headed back to the room and quickly went to sleep.
July 5th
The day started with another delicious meal at Finse 1222. It was a continental type breakfast with so much to choose from. Eggs, bacon, fresh fruit, ham, salami, roast beef, fresh baked bread, cheeses, vegetables, and anything else you could think of. "Be sure to make yourself some sandwiches and take some fruit for lunch as well" one of the hotel workers informed us. "There are bags to but them in on the counter." Wow. They even want to provide you lunch after you leave. That is impressive. Sure enough I made myself two sandwiches, one was a peanut butter and strawberry jelly sandwich. The other was ham and cheese. And I took a banana and an apple. Drew made similar items.
The contrast between today and yesterday could not have been any more different. Just like the hotel worker said, the second half of the Rallarvegen was much better. Rolling gravel hills. It was really fun to ride. We had covered 16 miles in an hour. That's more than we did all of yesterday. Sometimes we would have to stop for sheep that wondered unto the bike path. This happened two or three time. All part of the experience. So much fun. Thankfully the weather continued to be beautiful. It was still a little chilly, but the sun was out and helped to ease the chill somewhat. At one point I started to have a little trouble with my front brake, but Drew (being an excellent bike mechanic) made quick work with it and got it working again in no time. The Rallarvegen ends in the town on Haugastol and we were there in a little over an hour or so from when we left Finse. Haugastol plays up the fact that it's at the base of the Rallarvegen and has a bike shop, gift shop and restaurant to feed cyclists returning from the Rallarvegen or cyclists about to head out on it. "Do you want to eat pizza here since it is available and save our packed lunches for later?" Drew asked, noticing the the restaurant served pizzas. "Sure" I said. "Pizza sounds great."
After lunch we continued on our journey. At the this point we are heading east towards Oslo. The only reason we initially went north from Bergen was to see the fjords and bike the Rallarvegen. With both of those done it was time to start heading east and try to make it to our next country of Sweden eventually. The road we took was more of a major highway and had a lot of traffic the whole time. But it was fast road with what seemed like a smooth downhill the entire day. By 4:15pm we had done 65 miles. By the time we pulled into our campsite outside of the town of Fla we had done 91 miles. That should help us make up a few miles from yesterday.
If everything goes well we should get close to Oslo tomorrow. To do that I better get some rest. I think the sun might be set enough now at midnight that I may be able to fall asleep in my tent.
3 Nights Camping and A Lot of Miles
July 6th
Sorry that it is taking me every few days to update the blog. And there will probably be a lot of typos in this as well. I will correct them later. We are pushing really hard on this trip and that doesn't leave much time for blogging. Just biking, eating, and sleeping. I am taking good notes during each day so that when I do find time every few days I can recount the happenings of the day with detail.
The campsite we stayed at outside of Fla was actually part of a campground. This is the first time we have done this and not just wild camped. The nice thing about that is that we had water, showers, and wifi. And the cost to pitch a tent is minimal. The only negative was that the spot for our tents was next to the playground. One of the items on the playground was a trampoline, sunk so that it was level with the ground. It seemed to be the most popular item on the playground with children jumping and making a "thump, thump, thump" noise until about midnight and starting again about 6:00am.
I still slept well, but the sound of the children playing did wake me up a little earlier than normal and I ended up packing my gear a little earlier than Drew. Normally we wake up at the same time and are ready at exactly the same time. This is unlike my previous trips where I normally had time to work on the blog most mornings while I waited on the other person I was traveling with. It was nice just to have a little time to sit and relax that morning.
After Drew woke up and packed his stuff we headed on to find breakfast in the town of Fla. We found a cafe next to a McDonald's but they were closed for the hour between breakfast and lunch. We didn't want to wait so we decided to go to the McDonald's out of convenience. One positive of this McDonald's (and I am assuming others in Norway) was that they offer sweet potato fries as an option instead of regular fries. We both chose the sweet potato fries and they were quite good.
For most of the day we continued on 7, a slighter larger road with more traffic. This would be a pattern that would continue for the next few days. During this part of the trip we were hoping to start covering a little more ground and make up some of our lost time and miles/kilometers. Part of that is taking a little more direct routes, which is often on slightly larger and busier roads.
We stopped in the town of Noresund for lunch which seemed more like a truck stop than a town. We ate at the one place we could find which advertised itself as an Asian Pizza and Grill. We both thought that to be a weird combo. Drew noticed that Norway doesn't seem to have much of a food culture. Maybe we are just visiting the wrong places (I'm sure this is a factor), but we have had trouble finding any signature dishes in Norway besides the Norwegian meatballs I had in Gudvagen or the pancake like things near the ferry. We both just had a hamburger again. Both Drew and I are normally much healthier eaters and it's interesting to watch us order and eat things we wouldn't normally eat - such as McDonald's for breakfast and then a hamburger for lunch. Because of the amount of calories we are burning we struggle to eat enough everyday, so we are tending to choose high calorie foods. We are typically eating about five normal-size meals a day with four sections of biking in between. So the typical schedule would be eat, bike, eat, bike, eat, bike, eat, bike, eat. Doesn't sound too bad does it?
Thankfully wind hasn't been too much of a factor on this trip. After lunch though we did have our first introduction to a slight headwind. It didn't play too much of a factor though, which is a good thing.
I have written about this in previous blogs of previous trips, but I will mention it again. I love to wave at people when I pass them on a bicycle. I just enjoy the process of it. To me it's a simply gesture that acknowledges a shared humanity and just brings people closer together if even just a second. So I tend to give a slight wave to every cyclist we pass. Sometimes I even wave at the farmer tending to his crops next to the bike paths. And they almost always wave back. Sometimes they even wave first. It's a part of cycle touring that I love.
Towards the end of the day our roads did take us through some beautiful farmland areas. The way the wind would blow through the crops on each side of the road, creating wave-like ripples in a dance of nature, was mesmerizing. I could watch it for hours. It was a nice calming way to end the day on the bike.
We made it to the town of Roa, which was slightly more residential than we expected it to be. We were hoping to find a wooded area to camp on the outskirts of town, but there didn't seem to be any good options. Instead we found a small park behind what appeared to be a school. The park had an open clearing of grass. This is a different style of camping than Drew is used to . Having done the Appalachian Trail, he is used to camping deep in the woods, not in the middle of town. On my bicycle tours I have camped in the middle of towns like this before. I once even camped next to a dug out by a baseball field.
We were a little concerned that school might still be in session and that kids would arrive early in the morning to see our campsite. But we figured if that was the case we would wake up quickly and pack up. Our total mileage for the day was 76 miles, which is a another good day of forward progress. If we can keep up this above average mileage, we should be able to get back on the time schedule we need to finish on time.
July 7th
Thankfully it appears that school is out of session in July in Norway. No kids showed up the next morning near our campsite. It turned out to be a really peaceful, quiet spot to camp for the night. Not much traffic nearby at all. It was actually quieter than our sites at the campground the night before.
When we woke up the weather was overcast, but not rainy. Thankfully we have only had one rain day so far, and we were still able to do 50 miles that day. Since then the weather has been ideal. We stopped to pick up some supplies at the Kiwi Mini Pris. We have passed a lot of these Kiwi Mini Pris as we have traveled across Norway. Because of the font they used on their sign, the tented windows, and the shape of the building Drew thought they were auto stores. I could see why he thought that. I initially thought that until I saw a sign outside one of them advertising some kind of grocery, so I started assuming they were some kind of quick grocery store chain.
So this morning we definitely confirmed that it was a grocery store and not an auto supply store. We bought a few items for breakfast and supplies for sandwiches for lunch. We found some chocolate milk for the first time on the trip and this was a nice treat for breakfast to go along with our pastries we had selected. We each ate one pastry for breakfast and saved our second pastry for our first break in an hour or so. We tend to stop every hour to an hour and a half to take a slight stretch break. It really is helpful to just stop a get off the bike every 10 - 15 miles.
One activity/sport that I didn't even know existed until this trip is what I would call "road skiing." I just looked it up and it is actually called roller skiing. Roller skiing is the off-snow equivalent to cross country skiing. Roller skis have wheels on their ends and are used as a sort of summer training exercise for skiers, but has become a competitive sport of its own right. Roller skiers use ski poles to push them along the road.
During our first leg of biking today we passed a mother and son roller skiing. She appeared to be teaching him the proper technique and guiding his progress. He could not have been more than 6 or 7. They were making good progress and for a while we played a game of leap frog with them and a commuter bus on the road as we each stopped for various reasons and then would pass the other as we sped up. A few miles down the road we passed some other roller skiers all lined up and facing the opposite direction. They looked around our age and appeared that they were about to start an informal race somewhere.
During our second section of biking for the day we were once again on a large road. Because there was a slight head wind Drew decided to try and draft my bicycle, making us more efficient and this seemed to be working pretty well. We figured we could switch later and I could draft off Drew. Drew did warn me that if I did slow down or stop suddenly for any reason to let him know since he was riding very close to my bicycle to catch the draft.
"I'm stopping!" I yelled before slowing down. "That was a definite license plate! That was definitely a license plate!" I said as I was slowing down. I was trying to not get my hopes up about finding a license plate on this trip. They have become treasured souvenirs from my trips having a least found 1 on each tour. (Between 35 - 40 on the first tour, and 2 on the second tour.) I wasn't sure if I was going to find one on this trip, but after walking back the twenty or so feet from where we stop, sure enough I found a Norwegian license plate. It's funny how much joy the simple task of finding that brought me. I appreciate that Drew appreciated how excited I was, as well. I strapped it to the back of my bike on top of the panniers and we continued on, this time with a huge smile on my face.
We stopped in Lillestrom for lunch and had a BBQ sandwich which was delicious. We didn't realize that it didn't come with a side though so we left a little hungry. We continued on but figured we would just have a second lunch in an hour or so. We were hoping to make it to Sweden tonight if possible. I know we will be close and if the conditions continue to be right for us to have another long day we will make. We were both excited about reaching the achievement of successfully biking across Norway. Maybe too excited, because after our next break at a gas station an hour or so later we headed off on the wrong road. We didn't realize it until about 6 miles down the road. This kind of mistake happens all the time, but it was longest go in the wrong direction so far. There wasn't much of a shortcut to the right road, so we had to retravel much of this road back to get on the correct road. This made our day 12 miles longer and put us making it to the Swedish border in jeopardy.
After we made it back to the correct road it started with a climb up into the hills. It wasn't a terrible climb, but was noticeable after having mostly rolling hills during the rest of the day. After making it up the initial climb the rolling hills returned and we made quick work of the roads that were left between us and the Swedish border. The name of the last road we were to turn on before crossing the border was FV241, which was named much differently than the other roads we had used. When we found it, it was a dirt/gravel road into the roads. It appeared to be like a logging road, but we decided to take it anyway, confident that it would take us to the border. I felt better when we were passed by some cars heading in the same direction. That told me two things: 1) This was an actual road that led somewhere and 2) it was a substantial enough road that a car could travel on it. These were both comforting things.
"I feel like we a sneaking into Sweden" I told Drew. "Yeah, except for those security cameras up there, I think we are." Drew said pointing to 2 large security cameras mounted on posts about halfway through. I was pleased to see that there was an actual sign welcoming us to Sweden when we made it to the border. Because of the size of the road I wasn't sure this would be the case. I actually didn't even realize that the sign was welcoming us to Sweden since it wasn't in English. But Drew did figure out that the sign meant entering Sweden. We took at picture at the border and may have even gave each other a high five in celebration. This was a notable accomplishment of the trip and reason to be happy. At this point we were happy to have covered 85 miles, another big mileage day, and make it to the order. We wanted to find a campsite soon and since we were in the middle of the woods on a small dirt road, we figured that wouldn't be hard to find.
Less than a half mile from the border we found a campsite that would work. It wasn't an ideal campsite, but there was enough level ground to fit two tents. Not much grass, mainly dirt with some holes, and the area was rather marshy. I realized how marsh-like the terrain was when I stepped in the wrong area and one of my tennis shoes completely got stuck in mud. I was not happy about this since I brought only one pair of tennis shoes and my biking shoes. That shoe will be staying outside my tent tonight.
The small gnats were terrible at the camping spot as well. We decided to eat our Mountain House dinners (spaghetti) in our tents to avoid the bugs. I tried to get in my tent as quickly as possible hoping to keep as many of them out as possible. I would say I mostly succeeded.
July 8th
Around 3:00am or 4:00am it started raining. It woke me up while I was sleeping. At times it was just a drizzle and at times it would get heavier. I wasn't complaining because I was inside my tent and day. Maybe it is just a short shower I thought and it would pass by the time we were ready to wake up and get on the road. I pushed myself to go back to sleep for a few more hours. At about 7:30am it was still raining. At this point I was wondering how long it was going to rain. Hundred of gnats had decided to campout in the dryness between my rainfly and tent and I could see them swarming around in that area. I knew as soon as I went outside I was going to be attacked.
By about 8:00am it was still raining and I realized it was going to probably be a very wet day. Drew's tent was close enough that we could talk back and forth and we realized that we should probably get up and get moving even with the rain and the bugs. So as soon as we said "go" it was a mad dash to tear down our stuff as quickly as possible, pack it on our bikes, and get moving. While we did it as fast as we could, this process takes a while. So of course we were wet and bugs were attacking. It was not a great start of the day.
We had about 5 miles left on this dirt road until we made it to the town on Skillingmark, Sweden. There was a small store that was said to open in about thirty minutes so we retreated to the porch of a nearby place within sight of the store so we could see when it opened to go and find breakfast. We weren't sure whose porch we were using to try and dry off. Initially we thought a church might meet there because of the flyers posted on the bulletin board outside. Soon we realized it was a vaffelcafet, or a place that served waffles. It looked like it was supposed to open at 11:00, so we figured we could at least hang out there for a little while until workers started to arrive.
Once the store opened we pieced together a few snacks from inside the store for a type of breakfast. Some grapes, a chocolate milk, and some muffin snack thing. It wasn't the best breakfast. We took our pieced together breakfast back to the porch. I was stating to get rather cold because of the rain, but I was doing the best that I could to stay positive. The porch had outlets for us to recharge our phones and the building even had wireless internet with the password posted on the bulletin board outside the building. So we decide to hang out here for a while.
We had spread our stuff out on the porch quite a bit to let it dry a little bit if possible. At about 10:00am the first car pulled up outside the cafe. She was an middle-aged women and I'm sure we looked like homeless people camping out on their porch. I was aware that this was probably an unwelcome sight. We had just camped for our third night in a row, we both smelled bad, and we were soaking wet. We collected our stuff and tried to look the least amount of homeless that we could.
A few other people started to pull up and they appeared to be workers as well. By the point we had packed all our stuff up and moved our bicycles to the ground in front of the porch. We were just sitting on the porch to stay dry a little bit. When the next worker walked in we mentioned that we were just trying to stay dry and would even love to buy some waffles once they open at 11:00am. We figured we could wait another hour to try and give the rain some time to pass.
At 11:00am we walked in and began talking to the workers. They were very sweet to us, offering us coffee and waffles. We fully intended on paying for our meal but it appeared that they couldn't get our credit cards to work correctly. After trying multiple times they told us just to eat for free. That was very kind of them. The waffles were delicious and I was very happy that they had given us the benefit of the doubt and didn't just initially kick us off the porch when they arrived. It's an important thing to remember when you first see or meet someone. Hear there story, don't just make a quick judgement.
After a warm breakfast in a warm surrounding with warm people we decided we should press on. We didn't know how far we would make it, but we figured since we were going to be wet, we might as well go as far as we could tolerate. It continued to rain but surprisingly we were covering a good bit of ground. We were on busy roads for most of the time, which isn't a great combo with rain, but it was working. In a 4 hours we had made it 40 miles to the town of Arvika. The rain was non-stop with only small breaks. Hoping to make it even farther we grabbed a quick lunch at McDonald's again (this time they didn't offer sweet potato fries) and got on the road again.
Before making it to Arvika we did ride by another touring cyclist. She had just left for her tour and she was trying to head in the direction of Oslo. We pointed her in the right direction at an intersection. If I was her I would have waited and started my trip tomorrow when it wasn't raining. We were feeling pretty good about ourselves because every we were riding even in the rain, however we really didn't have a choice. She did have a choice and she chose to ride anyway. She is definitely more hardcore than us, we decided.
It rained until 7:00pm. That is a long day of rain. However at 7 we were still cycling and it was such a welcome sight to see the sun come out. A rainbow even appeared, somehow summarizing how we felt about the sun finally showing up. We had initially thought about staying in the town of Kil, where we were going to stay at a hotel for the night. Three nights of camping had been enough for now and we wanted a shower, to dry our stuff, and no bugs for one night. However when we made it to Kil we were filling so good that we decided to press on 12 more miles to the larger town of Karlstad.
The ride from Kil to Karlstad was great. It was flat and the weather was great. The town of Karlstad was quite a bit larger than our previous towns, with an enclosed arena even on the outskirts of town. We made it to the center of town and started to looking for a room to stay in. The first three places we stopped all said that they were completely booked for the night. We were surprised by this. One of the hotels finally told us that we had chosen a bad night to look for a place to stay because there was concert going on at the arena and there were a lot of out of town visitors. Apparently the musician Hakan Hellstrom is a big artist in Sweden.
Eventually we did find two single rooms to stay in near the center of town. We asked why we couldn't just share a single room to save money and they said that wasn't possible. I realized why when we finally go to our room. The shower and toilet were a part of the room enclosed only by a glass wall. After figuring this out I am glad that we had separate rooms.
After taking a shower and laying out our stuff to dry we went in search of dinner. Some places were starting to close, since it was about 10:30pm but we did find a place that served pizza and pasta. We both got pasta with a Swedish appetizer of shrimp in a dill mayo. It wasn't that bad, but wasn't that great either.
Karlstad appears to be an interesting town. I think the concert may have got out about 11:15pm because as we were finishing dinner the town started getting very crowded with college-aged kids. The place was now hopping but we were ready to go back to our rooms and go to sleep. Our rooms didn't have any windows, which was actually an added bonus because you didn't need to worry about the sunlight. It felt like a cave though. A few times I woke up during the night and had no idea what time it was. It was a comfy bed and bug free. Nice respite from camping.
Tales of the Sverigeleden
July 9th
We decided that we'd take it a little slower today and give our bikes some needed maintenance and care. After breakfast at the hotel we picked up a few supplies at a market and then headed to a nearby park to work on our bikes. We found a spot of grass near the water, which also happened to be near the opera house. There was a tent with a piano set up outside the opera house and someone was playing classical music. It made for a nice ambience to work on our bikes.
Our bikes were very dirty from riding in the rain the day before, and we needed to check our brakes, tighten some screws, add some chain grease, and stuff like that. We took our time and made ourselves a sandwich for lunch when we were done. After we were satisfied that our bikes had been decently cared for we decided to finally head out on the road. We were now in search of the Sverigeleden, a bicycle network in Sweden, that would guide us all the way to Stockholm. With a little help from Google we found the Sverigeleden and we quickly realized how great it is. Riding on the Sverigeleden was like just taking a leisurely stroll on our bikes. We didn't feel rushed or stressed by cars. Much of the route is on either dedicated bike paths or on small country roads with little or no traffic. I think we are going to like the riding of the next few days if it stays like this. Drew was in charge of planning this section of the route and he did an excellent job finding this.
An added bonus of riding on the Sverigeleden is that we no longer have to follow our map, google, or GPS, but can instead just follow the green signs which indicate the Sverigeleden. It is very well signed at every turn. It is like a treasure hunt or playing a game of "I Spy." I actually find it quite enjoyable to look out for the next green sign. I am easily entertained.
I forgot to mention that yesterday we passed the 500 mile mark for our trip. We are making good time and we should be in Stockholm and then Helsinki on time. I also forgot to mention that I found another license plate, this one from Sweden, during the rainy day yesterday. Both of these were great things.
While riding on these small country roads you begins to notice things. The first thing I noticed was that almost all of the houses and barns were red. Not just any red, but the same color of dark red/burnt orange red. It is ridiculous how many of them are the same color. I am thinking about 85 - 90% in the countryside. It really is a nice color. I am going to look up the CMYK value when I get home and research it a little bit.
During the ride we also passed a yard with a robot lawn mower. I had heard of these before but had never seen one in person. It was battery powered and just doing its thing in the front yard cutting the grass. I wasn't sure what it was at first, then we figured it out. Welcome to 2017.
At one of the gas stations, which appeared to be a popular spot to stop off the main road there was a place called "The Burger House." While we had just planned to get a snack at the gas station, we couldn't turn down the opportunity to have a hot meal. The smell of the burgers were just too enticing. So we went ahead and ordered two cheeseburgers and fries and they were delicious.
The riding conditions were nice, but today was one of the first days we started to have a bit of a head wind. It wasn't too bad at first but towards the end of the day it got pretty strong, and rather annoying.
That evening we biked about four miles off our route so that we could stay at a nice campground on a huge lake. There were a lot of campers there, but it didn't appear that many people were actually there. We did our "chores" (that is what I now call setting up my tent, etc) and then walked down to the water to take some pictures and just hang out for a little bit. Eventually we made a Mountain House meal (Chicken Curry) for dinner and then called it a night. Thankfully because of the wind the bugs weren't bad at all at this campsite.
July 10th
Ever since we had the delicious waffles (vaffle) on the cold rainy day a few days ago we have been in search of another delicious waffle at another vaffle cafe. There seems to be a little vaffle cafe in most towns, but they also never seem to be open when we are there. When we left the campground we were in search of waffles for breakfast and weren't going to stop until we found them. At about 11:00am we rode into a town with a sign advertising a vaffle cafe and we were excited. When we pulled up to the cafe there was about 6 or 7 people playing pétanque. One of the players walked over when they saw us wondering what time they opened and let us know that the cafe didn't open until noon. As much as we wanted a waffle we didn't think it was best for us to just wait an hour. So we moved on hoping that the next town would have our waffles waiting on us.
About noon we arrived in the next town and sure enough they had a waffle place too. However, upon walking up the steps to this cafe we noticed that they didn't open until 1:00pm. I don't know what it is about our luck and waffles, but this just wasn't seeming to work out. We were getting hungry at this point and decided to just find any place that was open, and we didn't care if they served waffles or not.
We finally found a pizza place that was open in the small town of Åtorp. The owner did not speak English and we tried to point at the pizza we wanted. There were a lot to choose from and we thought we were trying to order a veggie type pizza without egg. However, I guess we accidentally ordered two pizzas, one with pulled pork on it and the other with ham. I'm not really sure how we ordered all that, but it turns out that we were glad that we ordered two pizzas and they were both good. We devoured them both.
While biking through a small farming village we heard what sounded like gunshots. I was a little surprised by this and looked around to see if we should indeed run for cover. Thankfully it was just someone outside beating the dirt out of a mat. It sure did sound like gun shots though. We were also chased by a dog for the first time today. Wasn't much of a chase though. The dog gave up pretty quick and Drew was convinced he could have out biked him anyway.
After 64 miles we ended up in the town of Askersund. It was a really nice town with a river running through it. It had a nice river walk type area, including a few shops set up that sold Swedish ice cream. I hadn't tried any Swedish ice cream and was looking forward to this after dinner. We were getting a little tired of just eating a lot of carbs and foods that we wouldn't normally eat, so we decided to try and find a slightly healthier and lighter meal for dinner and then have our ice cream.
We found a place near the water and ordered fish with grilled vegetables and potatoes. It was a nice change from the food we were having. This is the type of meal I would normally order when I wasn't biking and didn't need to eat so many calories. And after dinner, sure enough we went and tried the Swedish ice cream. I got one scope of chocolate and one scope of brownie ice cream on a waffle cone. It was so good. And at least I got to have some form of waffle today. Maybe I will finally get to have another waffle for breakfast tomorrow. We will see.
Our plan was to wild camp a little outside this town so we decide to head out and find a spot to camp. Before heading out we actually went ahead and used the restroom in town to brush our teeth and sort of get ready for bed before we went to our camp site. I think this is partly what it feels like to be homeless. You take advantage when there is a bathroom and running water around.
About 7 miles up the road we find a wooded area a little bit off the road that will work fine for a campsite. We quickly set up camp and are in our tents by 9:30pm. We really feel like we are getting close to Stockholm and know that before long we will reach our goal for this trip. But first, we need another nights sleep.
July 11th
Our biking clothes smell terrible. Well most things we have smell terrible at this point. But we have been wearing the same biking clothes all day every day since the beginning of the trip and they smell bad. We haven't had the opportunity to wash any clothes and we have gone a few days without showers. That being said, putting on the biking clothes in the morning isn't always the most enjoyable thing. But, that it is exactly what has to happen every morning.
In search of our elusive waffle cafes we head out again to find breakfast. The first place we run across is a grocery store, so we again pick up some sandwich supplies and a few pastries to hold us over until we find our cafe. A few towns down the road we see a sign for cafe, but of course it is closed and there is no sign posted when it will open. At around lunch time we do finally find an open cafe! So excited that we might actually get to have our waffles again, we enter only to find that they have a very limited selection of food options and none of the options are waffles. The one sandwich they offer is a flatbread sandwhich with lettuce, Swedish meatballs (cut in half), and a sauce made of beets. I'm not sure what to think of this smorgas (sandwich) but I decide to give it a try. Drew instead settles for a piece of cake. The sandwich wasn't that bad, thought I don't think I will start regularly putting beets on things. We had beets with our meal last night too. They must like their beets.
The ride for most of the day, especially the second half, was very nice. I was telling Drew that I like when the sun is out but we are riding on paved, shaded routes with rolling hills. And the ride today was just like that. We even saw a few deer run across the road during the ride today.
I was feeling pretty good about my performance during the trip so far. I've been riding strong, haven't really been sore at all, and haven't even fallen off my bike once. Well that changed today. I am not even sure why it happened. I forgot to change gears and while going up a hill, switched to the wrong gear making it even harder to pedal up the hill. As a result I couldn't move the pedals and the bike began to fall over. I tried to unclip my shoes fast enough, but it didn't work and i just fell over clipped it. It's bound to happen. Now the funny part about this story is what happened next.
We were literally about half a mile, maybe less, from where we were staying for the night when I feel off the bike. As I lay in the middle of the road trying to unclip, get up, and collect my bike and few things that had spilled out during the fall, a group of about 15-20 triathletes run over the short hill where I am just starting to get up. First of all I am wondering what the heck is going on. Second of all I am wondering how I timed this like that. One of the triathletes asks me something in Swedish as I am standing up. As I stare at him blankly, he says "Are you ok, man?" "Yes, I am ok. Thanks for asking." I say. Drew asked if I was okay as well. Yes, I was fine, just a little embarrassed by the circumstances and the timing of the fall.
After I got back on the bike and we biked towards where Drew had found for us to stay for the night I began to hear pop music playing louder and louder. As we turned the corner there was a field full of people exercising to this loud music in what seemed to be a cross-fit type class. It reminded me a lot of the fitness class that meets outside on the grass at church led by Denise Van Atta. Only this class was 10 times as large. I looked around expecting to see the Swedish version of Denise with blonde curly hair.
After we passed the cross-fit people we came across a classic car show. We have passed a lot of people driving classic American cars in Sweden. They must like to collect them. This car show makes me think this even more. Next to the car show was a volleyball game going on, next to the volleyball was a miniature golf course, and down the road by the lake, people were getting in canoes. "Where are we staying Drew?" I asked. "This place looks like summer camp." Sure enough there was a campground as part of all of this too. I'm still not exactly sure what this place is, but it is sort of neat. After registering, we found the section for tent camping, which is by the lake. As we dodge the geese and park our bikes, the triathletes who were running down the hill when I feel off my bike were now getting out of the water near our campsite. It must be like a training club or something. This whole thing must be some kind of sports camp for adults. I guess we should fit in though, being that we biked 60 something miles today.
After a quick shower we went in search of dinner. We found a place outside our camping area but within walking distance that was delicious. The menu was in Swedish but the waitress explained what each item was. We both ordered a pasta with sirloin in a heavy cream sauce. It was so good. And of course we had ice cream for dessert. I know I am talking a lot about what we eat. It really is part of the biking experience. And I don't normally get to eat ice cream everyday. On top of that I know that I have lost some weight on this trip. That is the crazy thing. I will be sure to blog about how much I lost when I get home. It is just hard to eat enough calories everyday to replenish what we are burning. It is fun to try though.
We are about two days away from Stockholm. We plan on arriving on Thursday. From there we were take a ferry near Helsinki and prepare our bikes to be shipped home. I expect our total mileage to be somewhere between 850-950 miles which is about what we were thinking when we started. It is been great so far and I look forward to the five or six days we have left before returning home.
Stockholm and Helsinki
July 12th
The campground was another nice experience but I feel like I didn't take advantage of some of the outlets that were available to recharge my batteries for my phone and GPS. I looked around for outlets, but didn't really find any outside. Drew found some inside the bathroom and he decided to leave his external battery charging during the night, which was a smart idea. I should have done the same. I realized this in the morning, but that didn't give much time for things to charge.
Our campsite wasn't too far from the town of Katrineholm so we decided to visit there first before we headed out of town, even though it was a little out of the way. We finally made it to a McDonald's in time for breakfast and got two breakfast sandwiches a piece, along with a spare sandwich each to take for a snack later. I was relieved when I found some available electrical outlets to continue charging my stuff while we ate. However, its appeared that these outlets were the only two in the store and soon after taking up both of them, another customer asked if I would share one with her. I did the polite thing and shared.
We made two additional stops after breakfast, one to an ATM to withdrawal some more cash and to a grocery store to find some more sunscreen. We were about to run out of sunscreen and the sun was shining in full force. Even though we've been very faithful to wear sunscreen we still have impressive biking tans. It is one of the marks of a serious touring cyclists. Once we took care of our errands, we were on our way.
We anticipated a lot of rural riding, similar to the previous days, but I think today was one of the most rural and town sparse rides we have done. Any town we rode through only had a few buildings and no cafes or gas stations to replenish our water. Because of this, the day seemed rather long and harder than previous days. Things even got worse when we realized that some of the signs for the Sverigeleden that we had been following had led us into a bit of a circle. This made a long day even longer.
Thankfully during our detour we did find small market where we replenished our water and pieced together a lunch of bananas and some sandwiches. I even found a jar of peanut butter, which isn't incredibly common, so I snatched that up and we enjoyed peanut butter on everything for the next few days.
We kept pushing on because we were hoping to make it to Stockholm tomorrow and we wanted to get as close to the Baltic Sea today as we could, making our trip into Stockholm only about 60 miles the next day. Drew decided camping in the nature reserve near the coast would be a good stop for the day. Right before the reserve we even got to briefly bike by Nynäs Castle, a beautiful Swedish castle.
Our campsite for the night was very nice, with flat-grassy ground, and even had a covered area with a running faucet. It was like a combination of wild camping and being at a campground alone. Once we found this great spot, we set up camp, and then quickly went to bed. We are looking forward to being in Stockholm tomorrow, which will be the end of our long biking days. We will still need to make it to Helsinki, but most of that will be via a ferry hopefully. We will still need to use our bikes for transportation, but most of this will just be city biking and not traveling from city to city. Our flights leave from Helsinki on Monday and we still have to get ourselves and our bikes to Finland before then. So there is still a lot of logistics left. But first, sleep.
July 13th
Breakfast consisted of oatmeal, bananas, and peanut butter, all supplies we still had in our panniers. After breakfast we headed out towards the coast. The past few days we have also had a bit of a headwind from time to time. Today was no exception. It wasn't constant, but could be forceful at times. When we arrived in the town of Trosa around lunch we were excited to find multiple options for places to eat. The place we decided on had a variety of waffle options so we ordered sweet waffles with strawberry jam and cream. We took our time eating these and after about 30 minutes decided to order a second set of waffles that were more savory. These waffles had brie cheese and salami on them. They were both delicious. As soon as we left the waffle cafe they locked the door. I'm not sure if they closed at noon or if we were just too much for them, but I found it funny regardless.
The night before we had researched ferries from Stockholm to Helsinki on our phones and were having trouble finding any availability for Friday. We would have booked these earlier, but we weren't sure exactly what day we would arrive in Stockholm. Now that we knew what day, it looked like the ferry was going to be full. We weren't quite sure what we were going to do, but we figured something would work out. When I saw a small ferry in the distance as we were biking after lunch I joked to Drew, "Maybe we should ask that ferry over there if they would take us all the way to Helsinki." A few miles later we realized that we did have to take that ferry, although it was just for about a 5 minute ride across a little body of water. We hadn't realized our route included any ferries today.
We couldn't have timed our arrival to this ferry any better. The last car was pulling on the ferry as we were coasting down the hill. We simply coasted straight on to the ferry. A few minutes later we rode off. And this ferry didn't event cost anything to ride. That was efficient.
By the end of the day we did make it to Stockholm. Stockholm is a major city and city biking can be a lot slower than rural biking. So once we made it to the suburbs there was traffic and things were slower going. Thankfully bike paths are everywhere. Even from way out in the suburbs. This city was built to accommodate bikes just as much as automobiles. It's a beautiful thing.
Once we arrived in town we found our hotel that we booked for the night. The hotel assured us that if we locked up our bikes outside the hotel they would be fine. It's nice that both Norway and Sweden seem so peaceful and crime free. I know there is some crime, but it just doesn't seem as prevalent.
To celebrate making it to Stockholm, which took us 13 days to travel 850 miles, we decided to go out for a nice dinner. We found a highly rated restaurant on the Foursquare app called Cafe Tranan. We went there and sure enough it was very popular and the food was delicious. It was a great place to think back upon the last two weeks and remember all the different experiences we'd had in such a short period of time.
When we got back to the hotel after dinner we decided to check on the ferry for tomorrow once again. It appeared that we could get on the ferry for tomorrow, however, there were no rooming accommodations left for the overnight ferry. We decided we needed to book it, no matter what, so we went ahead and booked it online, knowing that an overnight ferry with no place to sleep might be long and uncomfortable. However, it is all part of the adventure.
Booking the ferry was a big logistic I am glad we were able to do before going to bed. I wasn't looking forward to having to figure that out tomorrow. Knowing that we did have a ticket to Helsinki, was comforting even though the ride itself may no be comfortable. We will see tomorrow, won't we.
July 14th
It felt a little strange to know we didn't have to bike very far today. That routine of biking long miles the whole day isn't easy, but it is a routine. However, I was looking forward to a few days of rest before returning home. We do still have a number of logistics to work out before we get home and sometimes I think figuring out the logistics can be just a tiring as biking all day.
After a tasty hotel breakfast, we did something we had wanted to do since day two. We found a laundromat to wash our clothes. There was no way we were going to wear these dirty clothes on the airplane. They'd probably kick us off the plane. We timed our trip to the laundromat pretty well. By the time our clothes were done we had just enough time to return to the hotel, pack up, and leave before check out time at noon.
We didn't need to be at the ferry until 2:30pm so we took our time riding across town and stopped at a pizza place for lunch. When we got to the center of town, especially around what appeared to be a governmental building of some type, we encountered a huge crowd of people all focused on the building. Of course our route took us directly through the crowd and while walking out bikes I asked one of the bystanders what they were looking at or waiting for. "Today is the princess of Sweden's 40th birthday and she is going to make an appearance at 1:00pm today" she said. That helped explain things. It was about 12:30 and the crowds were already pretty impressive. More and more people were coming as we slowly made our way with our bikes through the crowd. Once we reached the other side I looked up and saw what appeared to be a news helicopter hovering overhead as well. I guess all this was a bigger deal than I realized.
We enjoyed pizza at a great cafe on the way to the ferry. It was just us and a few other commoners enjoying lunch while everyone else was at the princess' party. At about two we made it to the ferry terminal, found check-in, got our tickets, and lined up with the cars to board with our bikes. The boarding process took a while. The bikes and motorcycling were the last of the vehicles to board because they are the easiest to fit in small spaces. We probably waited in this line for an hour. At one point it even began to sprinkle a little. I was not going to be happy if I got soaked right before being on a ferry overnight. Thankfully it stopped quickly.
After placing our bikes in our assigned spots we made our way up stairs. The ferry had about 12 or so levels and deciding where we were going to call home base was the first thing to figure out. A lot of people went to their cabins to place their luggage, but we didn't have a cabin. Instead we found a place called Club Mar which was what appeared to be their nightclub area. It was pretty empty at this point except for the band that was doing a soundcheck on the stage.
The couches and chairs in Club Mar were comfy, so we figured if we called this corner home, we might be able to catch some sleep at some point. If not, this was going to seem like a ferry ride that lasted forever.
After the ferry departed we inquired at the information booth if anyone had not shown up and if there were any open cabins. There were not. After just hanging out for a bit we spent some time deciding which restaurant to eat dinner at before deciding on The Grill. Everything we did, we did slowly to try and make the time pass quicker. Drew eventually ordered a cheeseburger while I ordered a fish and potatoes. A purposely wrote "a fish" because that is exactly what I got. The whole thing. From head to back fin. It was delicious and there was so much meat. I was pretty impressed.
There were a number of restaurants and lounges available to hang out, snack, and buy drinks. For the next few hours we explored most of the ship making our way from lounge to lounge. We even visited the top deck of the ferry which was nearly empty. Just a few people were standing up top, which was outside, watching the land disappear as we headed towards Helsinki. We decided this would be the best place to sleep because we had sleeping pads and sleeping bags on our bikes. We figured people would leave us alone up here.
Between 11:30pm and midnight we decided to go get our sleeping supplies from our bikes in the car level, but the door was locked. At this point we realized that access wasn't allowed during the ferry for security reasons. This really changed our sleeping plans. With this new revelation we had to figure out a plan B. We made our way to Club Mar which was really starting to get kickin' at this point. However there was a corner booth in the back that was empty. We sat there thinking if we put in our headphones we might be able to overplay the music while we tried to sleep. Drew had just laid down at the booth for a few minutes when an official came around the corner and informed us that we couldn't sleep there. "If you don't have a cabin find a corridor somewhere else to sleep" he said. We weren't sure what that meant, but we knew it meant we couldn't sleep there.
The grill where we had eaten earlier was now closed and as we walked towards it we realized there were others sleeping in this area. After some hesitation we figured this would be a better place since they'd have to wake us all up if sleeping wasn't allowed here. It took me a while to let my guard down enough to sleep in this open space, but eventually I did get a few hours of sleep, sprawled out on a long booth near some tables. It wasn't actually all that uncomfortable. It makes a difference being able to lay horizontal.
July 15th
When morning came, people emptied their cabins in search of breakfast. This of course woke us up, as the grill was part of a major thoroughfare to the breakfast buffet. We opted to wait and eat breakfast when we arrived in Helsinki. Before much longer we were there. It felt good to finally be in Helsinki which is the final destination of our trip and the place where we fly out on Monday.
Our hotel check-in wasn't until 3:00pm so we had some time to kill before then. We had a delicious almond croissant at a bakery and then made our way to a bike shop we had found to inquire about bike boxes to pack our bikes in for the airplane. Thankfully the had some and said we could come and pick them up anytime before they closed at three today. We said we'd come back before then.
Since our hotel was only a few blocks away we went to see if our room just happened to be ready early. Thankfully it was and they let us check in about 4 hours earlier. This was such a welcomed treat, after having slept in a booth the night before. They even let us take our bikes to our room, which is spacious enough for us to dissemble and pack our bikes tomorrow. After relaxing a little bit we walked the short distance back to the bike shop, retrieved the boxes, and brought them back to the hotel.
We had some time to kill today so we researched some good restaurants and things to do in the afternoon. We decided on a highly recommended place called Fafa's for lunch. This was a Mediterranean place that served delicious hummmus, pitas, and falafels. After lunch we visited the Designmuseo, a museum dedicated to Finnish design. Design is a subject that interests both Drew and I. It was a nice museum, focusing on many of the contributions that the small country of Finland had brought to the design world. I was unaware that many of these designer were Finnish.
After the museum we went back to the hotel room to nap for a few hours. For dinner we ate at a tapas restaurant called Bar Teos which was recommended by one of Drew's friends who lives in Helsinki. She would have loved to join us but was actually backpacking in the Sarajevo region while we were in Helsinki. We ordered a bunch of different items off the tapas menu and they were all great. This provided another time for Drew and I to reminisce about the experiences of the past two weeks. The memories are so great already and the trip isn't even fully completed yet. By the time we were done with dinner it was nearly 11:30pm and we made our back to the room.
Tomorrow we pack up our bikes and I even hope to watch the Wimbledon final on TV while doing this. On Monday we both fly back home. It has been an amazing trip. I couldn't have asked for any better experience. I plan on writing two more blogs after this, one during the journey home and the other after I return which talks about readjusting back to my normal routine. Until then, I hope you enjoy your weekend.